Celebrating 50 Years of
LFQ
Elsie Walker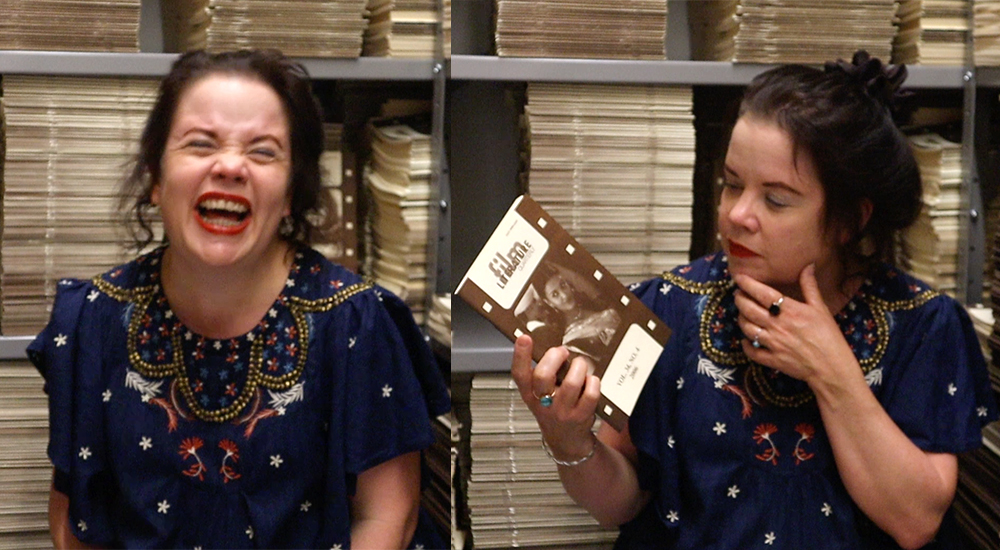 I first discovered Literature/Film Quarterly (LFQ) at the library of Auckland University (New Zealand) in 1996. I was studying two wildly different adaptations of King Lear: the British, existentialist, jagged film directed by Peter Brook in 1971, and the Japanese, epic, painterly film directed by Akira Kurosawa in 1985. I suppose I was looking for "answers" on the mysteries of both these adaptations, but instead I found many ways to understand them in the pages of LFQ. Like most graduate students, I realized that I was joining a long conversation that began long before I even existed. I was as humbled as I was excited.
In 2000, I published my first article with LFQ and that set me on a new, more certain path. Little did I know that a few years later I would apply for just one job in America, solely because editing LFQ was mentioned in the job description. This is how LFQ quite literally changed the direction of my life. Twenty years later, I look back with gratitude on what LFQ has allowed me to do: in editing this journal, I'm in a position to honor those founding editors (Jim Welsh and Tom Erskine) who put faith in my work when I had the least confidence in it. Jim and Tom have joined the dearly departed, but I salute their legacy by paying it forward.
This very special issue honors a tradition that Jim and Tom began: publishing the work of well-established trail-blazers alongside up-and-coming scholars. My Associate Editor Ryan Conrath and I both believe in the importance of this balance. We therefore include the exceptional work of two undergraduate students—a study of anime adaptations of manga by Robin Laning, and a creatively imagined "case file" for a deceased character from Watchmen by Cailen Fienemann. Along with featuring these innovative students' writings, Ryan and I decided to open up this issue's contents by including several videos essays. There are two informal presentations on LFQ's history by Ryan and me. We proudly include a third retrospective video essay by Julie Grossman, which is her a response to an article from our archives: Laurence Raw's "Shakespeare, Performance, and the Psychology of Adaptation in George Cukor's A Double Life (1947)." Laurence Raw passed away just a few years ago. He was a great editorial board member of LFQ for many years, and we feel the significance of his work as an ongoing presence in the world, especially through Grossman's exciting revelations about where it can lead us.1 Rounding out this issue, we have three superb articles by leaders in the field, two of which are responding to other articles from our archives: John Alberti and Amanda Konkle explore the new queer resonances of James Brunton's analysis of Carol (Todd Haynes, 2015), and Allen H. Redmon writes movingly about the ongoing significance of R. Thomas Simone's article about Kurosawa's Ikiru and Tolstoy's The Death of Ivan Ilych.2 The final article is by a long-time hero of LFQ: Tom Leitch. With deceptive playfulness and characteristic precision, Leitch rethinks concepts from Roland Barthes's "From Work to Text" in relation to adaptations of Little Women. He shows that even the most revered or "standard" theoretical works can be re-understood as part of an ever-widening conversation.
Thanks to our authors and editorial board members, LFQ has endured through turbulent times. We had an impressive run as a print publication, but continuing that tradition was not financially feasible. We are proud to have joined the online open access movement as of 2017. The printed journal held subscriptions in over 30 countries, but now we reach new audiences everywhere by being free and web-based. Thousands of people visit our pages every month and we take joy in all those unseen presences who make the job so meaningful. To anyone reading this particular page, thank you for supporting LFQ. This journal has made my life bigger, not only in my particular professional trajectory, but in the ways I understand so many texts, films, and unending dialogues around them. I hope you find something in our contents that makes life bigger for you too.   
Notes
1 Please note that this article by Raw is archived within the JSTOR Arts and Sciences database, along with all LFQ contents up to the last three years. We are very grateful for the contract with JSTOR that makes it possible for us to share our archives so easily in libraries around the world. All our online content (since we became a web publication in April 2017) is available through our current website: https://lfq.salisbury.edu/.
2 Both of these articles are versions of presentations at the plenary session celebrating "LFQ at 50" for the Literature/Film Association (LFA) conference in New Orleans, LA last October. I am grateful to the LFA conference organizers and association members who celebrated this milestone with us so generously.
Works Cited
Brunton, James. "Representing Queer Identity After Same-Sex Marriage: Biopolitical Revisionism in Todd Haynes' Carol." Literature/Film Quarterly48.3 (2020), https://lfq.salisbury.edu/_issues/48_3/representing_queer_identity_after_same_sex_marriage_todd_haynes.html
Simone, R. Thomas. "The Mythos of 'The Sickness unto Death': Kurosawa's Ikiru and Tolstoy's The Death of Ivan Ilych," Literature/Film Quarterly 3:1 (1975), 2-12.
Raw, Laurence. "Shakespeare, Performance, and the Psychology of Adaptation in George Cukor's A Double Life (1947)," Literature/Film Quarterly 44:1 (2016), 48-59.
Walker, Elsie. "Pop Goes the Shakespeare: Baz Luhrmann's William Shakespeare's Romeo + Juliet," Literature/Film Quarterly 28:2 (2000), 132-139.