Beer-Infused Czech Adaptations: Bohumil Hrabal's Prose and Jiří Menzel's Films
Tanya Silverman
A society's culture may be understood in terms of its social customs as well as its artistic achievements. When considering Czech society, a certain beverage pervades both understandings: pivo, or beer. The Czech Republic regularly tops surveys for being the country with the highest annual beer consumption, with the 2021 national average amounting to 143.3 liters per capita, according to World Population Review ("Beer Consumption by Country 2021"). Vibrant pub life and bountiful lager production serve as veritable socioeconomic phenomena wherein Czech beer culture thrives. Perhaps unsurprisingly, the popular beverage also infuses into myriad Czech cultural products. Be it Jaroslav Hašek's modernist novel The Good Soldier Švejk set during World War I or the 1990s television series entitled Hospoda, or "Pub," numerous forms of Czech media incorporate beer.
Author Bohumil Hrabal is one important Czech cultural figure of the 20th century whose prose brims with beer references. Hrabal's many fiction and non-fiction narratives frequently offer glimpses into Czech pub settings in which colorful patrons deliver beer-inspired verbal outpourings. The Czech cultural canon also accounts for a rich filmmaking tradition especially recognized for the 1960s movement known as the Czechoslovak New Wave. One important director to emerge from that period is Jiří Menzel, who worked with Hrabal and his texts during that era for the feature films Closely Watched Trains (1966) and Larks on a String (1969), now considered New Wave classics.1 Menzel naturally included beer in many filmic scenes he rendered out of Hrabal's literary work, for example, in Cutting It Short (1980), a whimsical interwar period piece that takes place at the Nymburk brewery, where Hrabal grew up.
So, how may we interpret the role that beer plays between Hrabal's literature and Menzel's adapted films? What meanings do the motif's recurrence in the author's writings produce, and how does the auteur implement these meanings into his filmic articulations? To explore these cruxes, I have chosen the figurative paradigm of lightness and darkness as a means to gauge the interplays between the two figures' works. The tensions of lightness and darkness inform the relationship between Hrabal and Menzel on a variety of levels. In CzechMate: In Search of Jiří Menzel (2018)—the epic, 448-minute documentary by Indian filmmaker Shivendra Singh Dungarpur—Menzel describes one of his continuous fascinations with Hrabal's literature as stemming from the author's skill of enmeshing lightness and darkness: "In a single sentence, he writes things that make you laugh and at the same time you find a certain depth and sadness in it." Menzel was born in Prague in 1938, and he died there in 2020. He left to Czech national film culture a record of Hrabal adaptations that are known to espouse levity and soften the rougher attributes of the author's prose—a legacy to which younger Czech filmmakers continuing the tradition after Menzel must address (Rynda 23).
Naturally, the phenomenon of lightening the literary source material for filmic adaptations is not uncommon. In his seminal book on adaptations Novels Into Film, George Bluestone notes how the Hollywood system demands directors to consider moving pictures' commercial appeal for mass audiences as well as official and unofficial censorship codes. The expectation to popularize a text (read by thousands) into a film (meant for millions), which Bluestone describes, may very well entail "lightening" in the latter version (34). Aside from pursuing an extensive career outside of the inherently capitalistic Hollywood system, Menzel created six Czech adaptations of Hrabal's works throughout different political periods: the liberalized Communist 1960s, the restrictive Communist 1980s, the post-Communist 2000s. Menzel's lightening inclination transcends era- and industry-specific political and financial demands and therefore invites an auteur-centric interrogation particular to his methodology.
Numerous colleagues and critics of Menzel acknowledge that the director tends to lighten Hrabal's literature in his films. Among those who commented on Menzel's adaptations in CzechMate, contemporary Czech director Jan Hřebejk expresses that Menzel makes Hrabal's works more conciliatory or accessible. Other interviewees see the adaptations less positively; filmmaker Karel Vachek dismisses Menzel's Hrabal adaptations as flat-out kitsch. Scholars broadly agree that Menzel lightens Hrabal's prose in adaptations as well. Jiří Voráč, Peter Hames, and Jonathan Owen point out Menzel's tendency to leave out Hrabal's graver elements in movies that markedly subdue the author's surrealist style (Voráč 22; Hames 47–8; Owen 497). Hames cites the ending of I Served the King of England (2006) in which Menzel omits the killing of the protagonist's pet dog from the book and instead adds a more pleasant onscreen scene wherein the character "raises his glass to the camera" (48). This study innovates by concentrating on the content of that very glass—light beer—and delving into the dialogue that accompanies the conclusive gesture. Owen foregrounds corporeality and sensuality to argue that Menzel takes cues from Hrabal's erotic encounters that transport characters from the mundane and routine to the "marvelous" and "unrepeatable" (502). By emphasizing characters' desires for beer instead of bodies, this paper examines alternative notions of temporality that accord with repeatability and reliability. The following analysis moreover explores the temporal and intermedial problematics of prose-to-film narrative transposition and interprets Menzel's use of beer to attempt to resolve them.
To look beyond the general ubiquity of beer in the prose of Bohumil Hrabal, I have chosen Hrabal's novella Too Loud a Solitude as a paragon text and determined three key facets: circularity, modesty, and voluminosity. I have subsequently examined the ways in which these specified facets relate to the presence of beer in earlier examples of Hrabal's work, including the novel I Served the King of England and several of the author's short stories from the 1960s. To then scrutinize the ways in which beer plays a role in Jiří Menzel's "lightening" techniques, I have reviewed the director's film adaptation of The Death of Mr. Baltisberger from 1966 and I Served the King of England from 2006. These two specimens act as bookends to a forty-year span of Menzel's filmmaking career in which he created six works out of Hrabal's texts. In addition to containing notable changes pertaining to beer, the films exemplify dark thematic nature: The Death of Mr. Baltisberger involves a fatal motorcycle accident while I Served the King of England concerns periods of Nazi domination and then Stalinism in Czechoslovakia. Both films end with beer-infused revisions that connote cyclicality and effuse levity. Petr Bubeníček considers adaptation to be an "open dialogue" between two "equipotent," "autonomous" interlocutors wherein the audio-visual version appropriately modifies and adapts the text (6). That Menzel adapted six of Hrabal's works throughout different stages of his career motivates us to broaden the correspondence beyond just a pair of texts and consider the greater discourse. 
Bohumil Hrabal was born in 1914 in the city of Brno, Moravia, and grew up on the premises of a brewery in Nymburk, Bohemia. As for his artistic development, Hrabal started with poetry in the 1940s and 1950s and then published books as a professional writer in the 1960s. With the 1968 Warsaw Pact invasion of Czechoslovakia came the conservative period of late Communism known as Normalization. Facing censorship, Hrabal turned towards publishing stories unofficially in samizdat format; he was permitted to print several texts officially in the mid-70s after making "self-critical" apologies in a magazine interview ("Hrabal, Bohumil"). He applied to his writing his biographical experiences from manual labor jobs such as working as a train dispatcher, a volunteer at the Kladno iron and steel works, and an employee of a paper recycling facility (Pelán 18). Hrabal's best-known works include the books Closely Watched Trains and I Served the King of England, both of which were adapted into films by Menzel. Hrabal died in Prague in 1997.
Hrabal's works have been translated into over twenty languages ("Hrabal, Bohumil"). His literature therefore gives insight into Czech culture and the beer therein to international audiences, offering references to anything from local brew toponyms to memoir-style recollections of drinking at the Golden Tiger, a pub in Old Town Prague where the author's legacy as a regular continues to date. Beyond the notable prevalence of beer in Hrabal's works, how may we more precisely understand the attributes of the beverage's textual presence? To get a sense of that, let us turn to Hrabal's Too Loud a Solitude a novella in which beer plays a crucial role, appearing on approximately one out of every three pages.2
Hrabal originally published Too Loud a Solitude in samizdat format in 1976. The novella elicits a lyrical, surreal tone as it follows the inner monologue of the protagonist, Haňťa. The character leads an interstitial lifestyle by embracing simple pleasures and maintaining his intellectual curiosity. Haňťa identifies two key activities that have structured his life for the past thirty-five years: one, compacting wastepaper in a hydraulic press, and two, consuming copious amounts of beer (2). An avid reader who revels in philosophical studies, Haňťa salvages discarded books from the compacter to add to his home collection. Repeatedly manifesting in Haňťa's thoughts are quotations that dwell on the heavens and humanity, for instance, Kant's concept of "the starry firmament above me and the moral law within me." Hrabal juxtaposes the ethereal ideas with Haňťa's observations about grotesque earthly realities including sewage, rodents, and corporeal decay. Along with compacting discarded paper and pondering life cycles, Haňťa's routines entail replenishing his beer supply by making runs to the pub (18). Much to his boss' ire, Haňťa drinks as much beer at work as he does at home (36, 46).
In contrast to his wholehearted appreciation for beer, Haňťa exhibits a dislike, even a disgust, towards a particular beverage full of nutrients but bereft of alcohol: milk. Whereas beer acts as a continuous, cyclical component of Too Loud a Solitude, milk comes up sporadically, typically appearing during outstanding or uncanny occasions (12, 93). One such occurrence happens when Haňťa visits a state-of-the-art paper compacting facility. He encounters a gigantic press that outperforms his hydraulic model's output twenty-fold (62). Operating this behemoth are fit, young men from the Brigade of Socialist Labor. Haňťa finds their mechanical method of destroying countless books without caution or pause to be "inhuman" (65). The "biggest shock," however, that leads Haňťa to the realization that "the good days" of his comfortable cycles are doomed comes when he observers the workers "shamelessly guzzling milk" throughout shifts and breaks. According to Haňťa, "everyone knows that even a cow would rather die of thirst than touch a drop of the stuff!" (66). It seems that Hrabal's use of hyperbole here underscores Haňťa's reactions towards the unnatural, "inhuman" connotations of drinking milk, an ostensibly salubrious beverage. Ideals of progress and perfection imply forward-oriented trajectories that conflict with Haňťa's reliable cycles, complemented by his modest beer and his modest machine.
Haňťa exhibits fewer positive associations with alcoholic beverages beyond his cherished beer, a voluminous drink of relatively low alcohol content. When he recollects winning a lottery, the idea of having money seems to collide with his preferred modesty, propelling him to swiftly drain the whole of his gains. He invites his love interest Manča to a ski resort; she goes off to ski the slopes while he passes time by sipping on cognac. Alas, the jaunt gets ruined after Manča inadvertently defecates on her skis when relieving herself in the woods and then reemerges into public view with the evidence (Hrabal, Too Loud a Solitude 29). Though they attempt to drink away the embarrassing episode, Haňťa admits that "neither cognac nor champagne could erase the image of Manča's promenading her business in front of everyone" (31). Acquiring money had allowed Haňťa to escape from his humble routines with beer and acquire fancier options. At the same time, the stronger, less voluminous alcoholic beverages ultimately fail to calm him on his vacation or help him escape from conditional unpleasantries. Rum, meanwhile, takes on morbid meanings when Haňťa consumes it when mourning the death of his beloved uncle along with when he contemplates suicide towards the end of the story. Feelings of impending obsolescence envelop Haňťa as he sips a "local brew" at the Black Brewery in Prague's New Town and ruminates over the futility of his existential cycles, "because from here on in it's just one melancholy circle after another and going forward means coming back" (88). After a final "beer and three rums," Haňťa encounters a circular temporal symbol in the form of the New Town Tower clock that "told a useless time: I had nowhere to go, I was floating in space." Haňťa's growing dismality corresponds with a gradual subsumption of beer to rum until he fatefully makes up his mind to take his life by crushing himself in the paper compacter (94–97).
While terminative notions of death and suicide pervade much of Hrabal's prose, at the same time, a slew of his stories take place in lively settings wherein characters cyclically replenish their beers. Vibrant, beer-infused environments and energies appear throughout the short stories that Hrabal wrote in the mid-1960s. "A Dull Afternoon"sees an aloof youth annoy vociferous elders in a pub, puffing cigarette after cigarette, sipping beer after beer, while tuned into his book but out of their banter (49–61). "The World Cafeteria" features a tap woman (paní výčepní) continuously refilling rounds for drinkers, routinely swooshing mugs down the bar surface or stacking them upon a dumbwaiter. A refrain that recurs throughout the story underscores cyclicality while constructing the cafeteria's steady soundscape: "Boisterous music and conversations, occasionally breaking into wild laughter, filtered down from the mezzanine lounge" (175–177). Several recurring loops of action play out in the story "At the Sign of the Greentree." As the tavernkeeper, František Chlumenský, re-reads the death notice for a schoolteacher, each new iteration of his ruminations over the information motivates him to pace back to the beer tap, disperse a šnyt, or foamy pour, and gulp it down.
Though the story takes place during dusk, Hrabal lets readers know that Chlumenský's beer routine had been in effect since earlier in the day, insofar as "that morning beer had only been the first of a steady stream" (103). Enter Chlumenský's energetic, prattling brother-in-law, Konopásek. The men debate over whether Chlumenský should buy a motorbike, a purchase that would make him exit his comfort zone, the tavern. They recognize that in order to ride a motorbike, Chlumenský would probably need to improve his physical condition and even forgo his beloved breakfast ritual of morning beers. All the while, the tavernkeeper rereads the notice and keeps pouring himself šnyts. When it finally seems that Chlumenský has decided to pursue the motorbike, he hedges the grandiosity of this decision by declaring what he looks forward to most in the meantime: Getting sober again, and then drunk—on beer (103–7). Such sentiment about satisfaction echoes in the conclusion of the story, when Chlumenský downs yet another šnyt, turns on the tavern's lights and proclaims, "Maj tady dobrý pivo, sem budu chodit," or in English, "Good beer they have here. I'll have to stop by more often." (Hrabal, "U zeleného stromu" 47; Hrabal, "At the Sign of the Greentree" 122). I want to stress how in the Czech, Hrabal uses the word "chodit," an indeterminate verb that means to go repeatedly, not just once. That day at dusk, the tavernkeeper experiences a moment of illumination—compounded by his switching on the lights—as he realizes that he can rely on returning to the Greentree Tavern to enjoy volumes of beer, the modest source of his worldly satisfaction. Although the outcome with the motorbike seems uncertain, what is certain is that this tavernkeeper intends to continue his cyclical form of enjoyment by consuming future beers in situ.
Several of Hrabal's 1960s stories were subsequently adapted into a 1966 short film anthology entitled Pearls of the Deep [Perličky na dně] that featured emergent, young directors like Věra Chytilová, Jaromil Jireš, and Jan Němec, now regarded as prominent figures of the Czechoslovak New Wave.3 Petr Bubeníček refers to the decade as an era of "socially resonant literature" whence young directors became intrigued in the fringe figure of Hrabal together with his penchant for illustrating on elements of the everyday. There was a concerted interest in the "language of [Hrabal's] characters," whom the directors sought to enliven further through "audio-visual imagination" and provide them with a sense of "on-screen authenticity" beyond the bounds of text (27). Jiří Menzel, the youngest New Wave auteur, made his directorial debut in this series with his contribution, The Death of Mr. Baltisberger. Hrabal's original story features a curious Mother, an irritated Father, and a palavering Uncle Pepin traveling by car to the Brno Grand Prix to watch the motorbike races. The jovial ambiance at the racetracks is irrevocably interrupted with the deadly crash of the star racer Mr. Baltisberger. Hrabal details the pall that the crash imbues on the atmosphere by describing the gory cleanup efforts and including the disturbed spectators' reactions. The story ends on a dark note with a teenager in the audience asking sadly, "Is Mr. Baltisberger really dead?" (160, 164, 174). While beer does not play a major role in the story—Uncle Pepin passingly refers to brews as details within his dizzying digressions—the characters take swigs of bitters from a vinegar bottle throughout a tale that culminates in death (163).

Menzel's The Death of Mr. Baltisberger keeps the main characters and setting similar, with Mother, Father, and Uncle Pepin also driving to the Grand Prix. Hrabal collaborated closely with Menzel for this episode of Pearls of the Deep. Nonetheless, the black-and-white film arguably lightens the portrayal of the death of Mr. Baltisberger, rendering the event more subtle by dwelling less on the gory details and allowing the plot to develop further. Nurses rush to handle the downfallen driver; someone tosses a light tarp over his bike (see Figure 1). The response scene then dissolves into the exodus of spectators moving en masse while the non-diegetic tune "Entry of the Gladiators" effects a carnivalesque tone. The final scene features Mother, Father, and Uncle Pepin driving home from the Grand Prix, in a pensive silence. Suddenly, when a motorbike whizzes past their vehicle, they engender a lighter mood by collectively guessing the brand of the motorbike. Uncle Pepin provides the correct answer: Beemer. Beemer, he continues, is the name of a dark Bavarian beer. In Munich, Uncle Pepin explains, oxen would deliver Beemer on carts (see Figure 2). These oxen had especially long horns adorned with shiny brass balls so that everyone could see a special brew was coming. Uncle Pepin tells this tale as the car conclusively moves towards the horizon and then out of sight (see Figure 3). In this example of prose-to-celluloid transfer, the former form concludes in a darker fashion, with an anxious question regarding mortal termination. Menzel's film, however, ends on a lighter note with Uncle Pepin telling a lighthearted tale about cyclical ceremonies for Bavarian beer deliveries. The auteur's genesis Hrabal adaptation thus evolves the story to encompass a more calming sense of narrative resolution.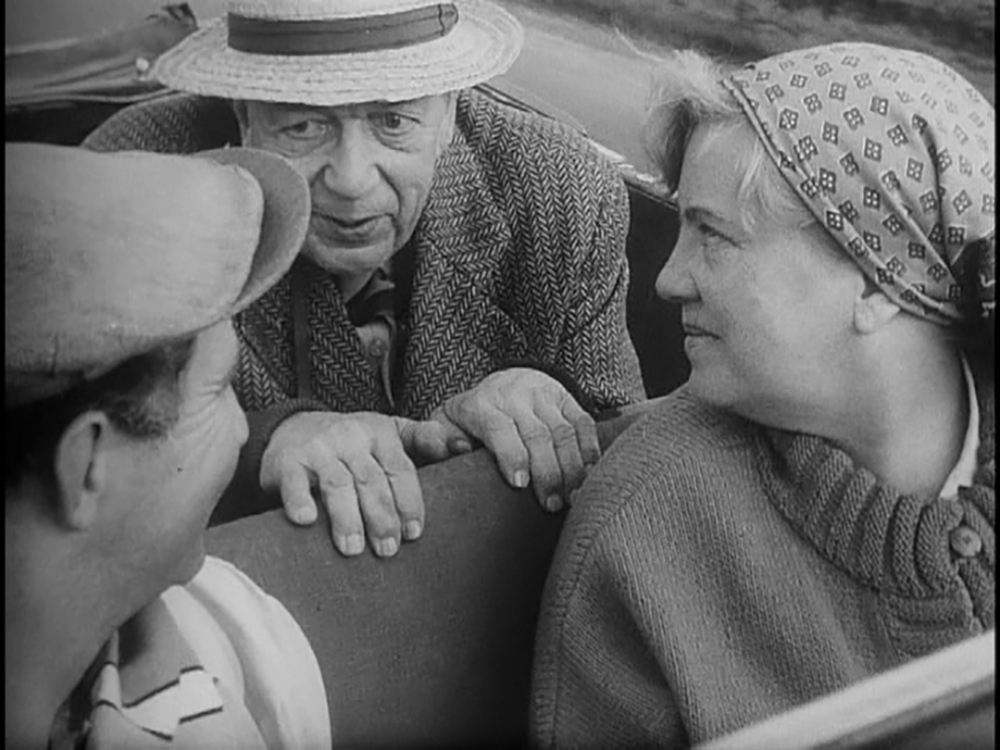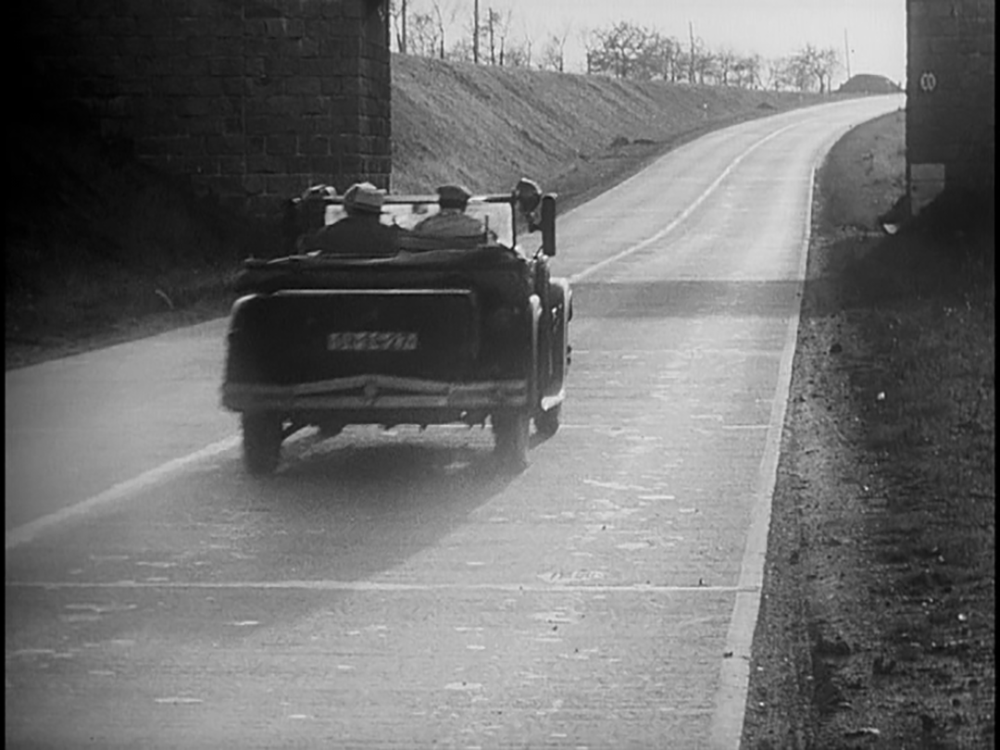 For his contribution to Pearls of the Deep, Menzel did not adopt an existential or experimental style characteristic of several of his New Wave cohorts. What is more, he remained the only director after the anthology's release to continue adapting Hrabal's works throughout and following the New Wave. In doing so, Menzel cultivated an approach for his feature films that carried into his penultimate directorial work, I Served the King of England. As late as the 2000s, Menzel was still citing a fundamental interest in Hrabal's ability to make people "scrutinize ordinary things in an extraordinary way," echoing the collective interest that inspired Pearls of the Deep about forty years prior (Johnston). Hrabal's novel I Served the King of England, which was first published unofficially in 1971, is now a well-known piece of Czech literature. With a stream-of-consciousness style akin to Too Loud a Solitude, I Served the King of England follows the inner monologue of Jan Dítě, a waiter and aspiring millionaire restaurateur whose career ascent coincides with the onset of the Second World War. Hrabal's interest in the modesty of beer seems to manifest through the critical gazes of Jan Dítě. While working at the Golden Hotel Prague, Dítě grows acquainted with a crew of wealthy male regular patrons, observing their habitual actions as he routinely polishes and replenishes their beer glasses. While the rich men sip their beer and taunt one another, Dítě notes how their discourse inevitably loops back into familiar topics, for example, arguments about the exact whereabouts of a little footbridge. Time and again, Dítě listens to them resume their heated arguments over the purported superiority of one particular Bohemian brewery, be it the one in Plzeň or Protivín or Braník or Krušovice (3–4). Dítě sees straight through the triviality of the rich men's beer-infused banter as they pontificate every day over beer—feigning snobbery over such a modest, everyday item. The nature of Dítě's profession, as a server of people of higher social strata, relates to Hrabal's interest in seemingly humbler fields of employment and how his "friends have always been the underlings in hotels and restaurants," as the author claimed (Pelán 66). Dítě's observations about regulars at establishments also speak to Hrabal's tendency to describe cyclical, repeated actions.
A seminal episode of Dítě's career ascent revolves around him serving not a group of regulars but rather a singularly special guest: the Emperor of Ethiopia. In preparing for this lavish feast at the Hotel Paris in Prague, Dítě is brought to the cellar for the first time to witness a cornucopia of specialty sparkling wines and cognacs, not to mention hundreds of bottles of Scotch whiskey (Hrabal, I Served the King of England 107–108). The Emperor brings to Prague a staff of his own Ethiopian cooks. Dítě and his peers decide to exchange alcohol: the Czech hotel staff drink shots of Ethiopian grass liquor, while the Ethiopian cooks enjoy steady streams of Czech pilsner (109). On the site of the extravagant feast for 300 guests, Dítě deals with anxiety related to personally serving the esteemed Emperor of Ethiopia and pouring him wine with grace, worrying that he has overstepped his bounds. Concurrently, tensions mount between Dítě and Mr. Skřivánek, the exemplary headwaiter who prides himself on having personally served the King of England. Following the successful completion of the banquet, Dítě attempts to toast a glass of cognac with Mr. Skřivánek. When the headwaiter rejects the toast, it leaves Dítě crestfallen, even suicidal. Counterposing Dítě's stress during this rarefied event is the experience of the Ethiopian cooks who grow ever more animated as they enjoy glass after glass of Czech pilsner (111–113). Like we saw with Haňťa in Too Loud a Solitude, Dítě's interactions with fancy alcohol during special occasions do not go so smoothly. On the other hand, the more modest Czech beer acts as a means for people to find pleasure in the roles they perform while reliably enjoying voluminous portions of the beverage.
Dítě's career track coincides with WWII and the Nazi occupation of the Czech lands. He marries a high-ranking Nazi woman Lise and uses the collection of rare postage stamps she stole from Polish Jews to finance his own luxury hotel and restaurant after the war ends. With the 1948 Communist coup comes the repressive period of Stalinism in Czechoslovakia, the bourgeois Dite's property is confiscated, and he is sent to prison for several years, serving time among fellow disgraced "millionaires." Upon his release, Dítě is ordered to repair roads in the Sudetenland border region from where the Bohemian German population had been expelled after the war. There, Dítě befriends regulars in the village pub and talks about his past as well as where he wants his remains to be disposed of after his death. Dítě grows more introverted towards the end of the book as he stops visiting the pub and consoles himself at home by writing. On a cold, dark Christmas night, several villagers visit him briefly before finding his home too awkward and scurrying out, leaving Dítě in solitude. He stares at himself in the mirror and thinks about how his troubled life has led to a story he feels compelled to transcribe.
Rather than progressing linearly as the book does, Menzel's 2006 film bifurcates into two courses whereby an older Dítě, released from prison, reflects upon his younger self. The older Dítě's voiceovers project over episodes of his youth, for example, the time he served the Emperor of Ethiopia and the time he spent in prison.4 Menzel's method of presenting the story of I Served the King of England reflects intermedial tensions that pervade the possibilities of narrative "transfer" versus "adaptation proper," as Brian McFarlane describes. While a film director may transfer certain significant elements of the story and rearrange the plot development, non-transferrable elements necessitate adaptation. Filmmakers thereby "enunciate" the telling of the story and make decisions about the extents to which they create autonomous works (26). Because fundamental formal and temporal differences impact verbal recounts and audio-visual presentation, the voiceover becomes a peculiar tool. McFarlane reminds us that the voiceover "cannot be more than intermittent as distinct from the continuing nature of the novelistic first-person narration" (16). That the younger Dítě barely has any spoken dialogue makes the intermittency seem especially pronounced. Concurrently, Dítě's aural past-tense narration loses its sense of omniscience with the visual components, guidance of the camera, and "perpetual immediacy" that the film frame effects (18). George Bluestone notes that since "literary characters are inseparable from the language which forms them, the externalization of such characters often seems dissatisfying" (23). The fact that "film cannot render thought" makes the "pictorial depiction of memory" problematic (48). Was Menzel struggling to execute enunciation of the story? Did I Served the King of England elicit an especially problematic adaptation case? According to the younger Czech director Jan Hřebejk, the "the novel is unfilmable." Hřebejk came to this conclusion based off of his own fraught attempt to adapt I Served the King of England (prior to Menzel's undertaking), grappling with his collaborator Petr Jarchovský over decisions on what to add or omit (CzechMate). Even if Menzel approached filming I Served the King of England with the prior experience of adapting five of Hrabal's texts, he still needed to address the literary complexities intrinsic to that particular novel.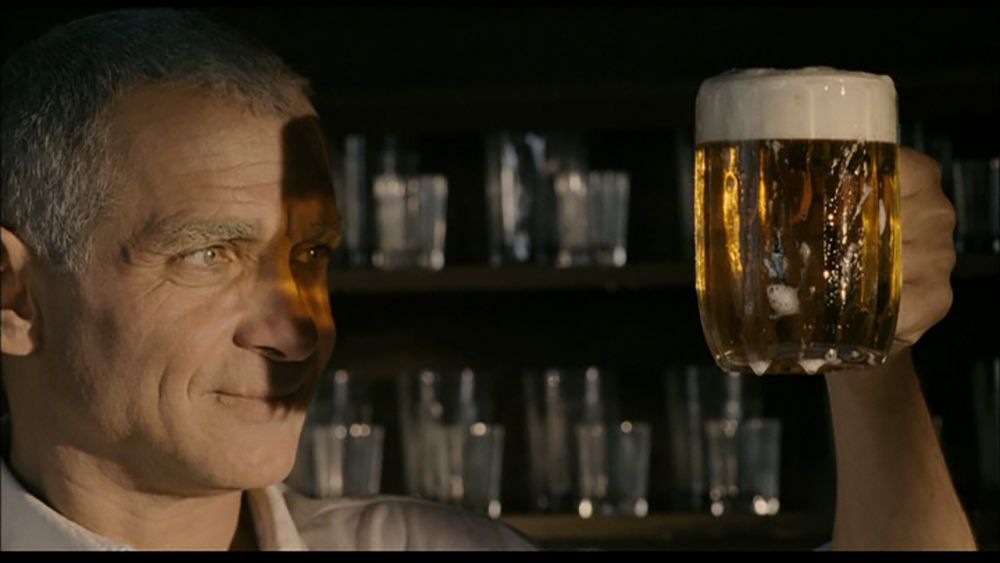 In contrast to the introspective ending of the Hrabal's I Served the King of England, in the film, Dítě ends the narrative with a more welcoming, even extroverted tone. The film embodies what Peter Hames calls a "scene of wish fulfillment" in which Dítě renovates his derelict quarters and converts the space into a new restaurant (48) (see Figure 4). The scene that seems to capture him opening his new business occurs during a mild morning enveloped by bucolic greenery—far different from the dark, wintry night of the book. Soft sunlight bathes the refurbished interior wherein Dítě works a polished tap to dispense a pilsner and inspect his pour, sunrays beaming through the golden liquid. After he serves, sits, and toasts "Na zdraví" ("Cheers!") with his first customer, Dítě breaks down the fourth wall by gazing into the camera to proclaim, "Tady mají dobrý pivo. Sem budu chodit," or, as the English translation expresses it, "The beer's good here, this is where I'll be coming." A finalizing iris shot closes in on Dite's glass as he gulps down his dear pivo. A reasonable reality of being a humble restauranteur subsumes the notion of becoming a millionaire (see Figures 5, 6).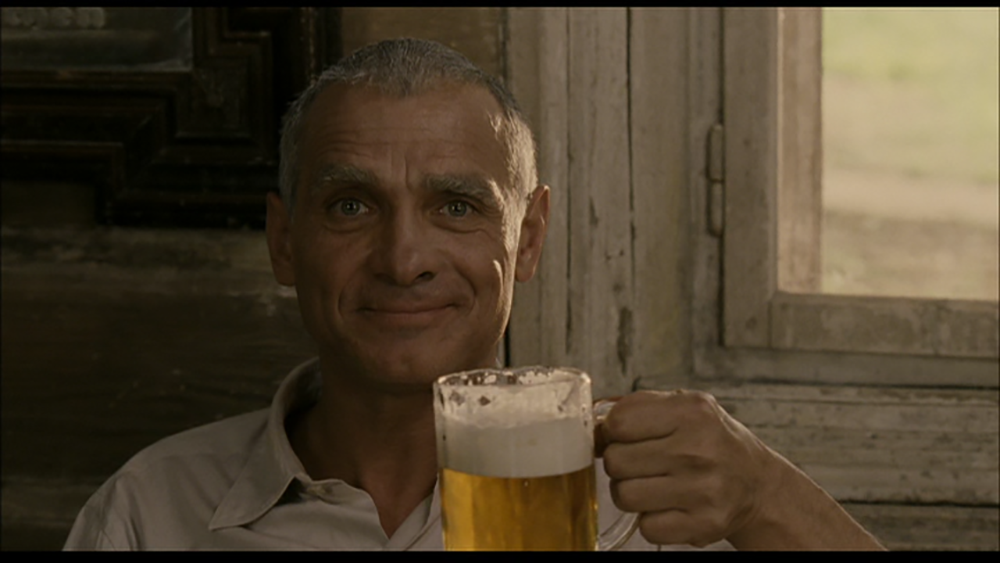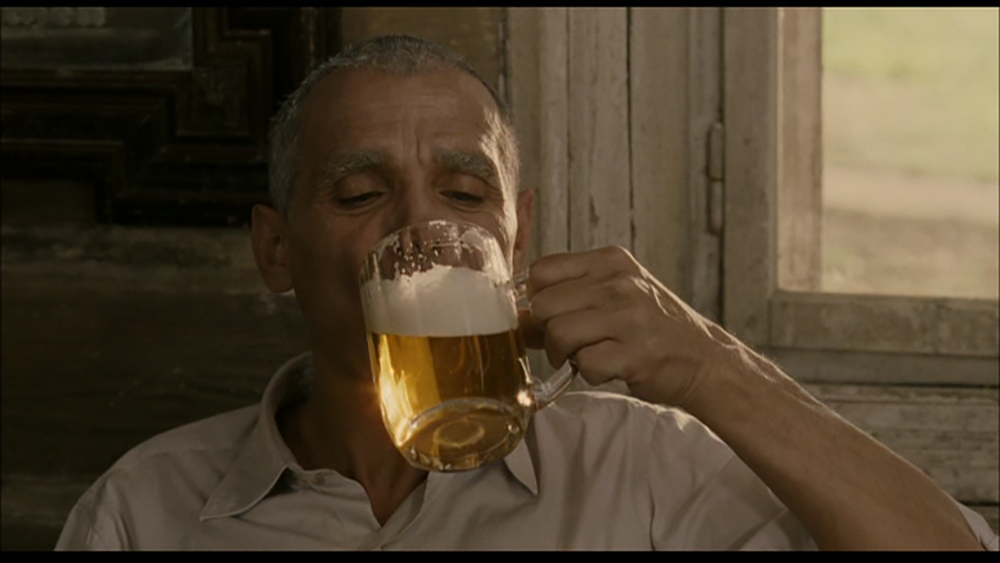 We can note here that Dítě's revelatory last line in the script directly mirrors the pronouncement of the tavernkeeper in the 1960s Hrabal short story "At the Sign of the Greentree," one which was not adapted for Pearls of the Deep. Beer serves as a Deus ex machina that concludes a complicated adaptation case of an intricate text that Menzel attempted to retell with periodic block quotations, in the form of voiceover. At the same time, the conclusive beer that Dítě's holds does not exist in isolation, but rather draws upon extensive interactions between Menzel's films and Hrabal's text. Quoting a crucial utterance from Hrabal's šnyt-infused short story from the 1960s invokes the cultural-temporal specificity from which Menzel's directing career commenced, amid the atmosphere of the New Wave in Czechoslovakia that led to the adaptation series Pearls of the Deep. Menzel claimed that he applied this quotation to end I Served the King of England because it was difficult to depict the older Dítě's inner thoughts ("Jiří Menzel dostal v Berlíně cenu kritiků"). Yet beyond eschewing the challenges of manifesting introspection on screen, applying this line intertextually allows the film to not only end on a lighter note than in Hrabal's book but also maintain loyalty to the author's affinity for "dobrý pivo" as a modest, reliable pleasure that transcends upward urges. The line additionally reflects Hrabal's interest in beer and cyclicality, with Dítě uttering "chodit," to go repeatedly, to forecast that he will frequent that very same establishment.
Made nearly a decade after Hrabal's death, Menzel's final adaptation of the author's work effectively circulates back to recurring notions of appreciations for beer and its reliable powers of modesty and cyclicality in voluminous quantities. With its direct quotation from a 1960s Hrabal short story, I Served the King of England incarnates a narrative technique that Menzel began in the 1960s with The Death of Mr. Baltisberger, allowing the motion picture to conclude with feelings of hope and humble jollity for which beer can serve as a renewable resource. The circularity of the beer and hopes for the future may have been an attempt at reconciliation for the temporal challenges of condensing the textual experience into film form, sidestepping the shortfalls of bifurcation with the voiceover. Whereas the complexities of the verbal format may have proved problematic to take to the frame, the "word-symbol" representations of pivo translate more easily into intelligible visual images of beer, readable as physical realities presented on the screen, readily comprehendible beyond the bounds of Czech cultural codes and specificities (Bluestone, 20; McFarlane, 29). Beer comes in handy in the especially challenging effort to handle an introspective novel and deal with "characters and incidents which have somehow detached themselves from language" (Bluestone 62). The tangible Dítě, detached from a conceptual system of synergistic lightness and darkness, beauty and anguish, pours himself a tangible light beer and tells the audience directly about his forecasted future of recurrent lightness.
Considering the legacy of Bohumil Hrabal, a prolific Czech writer's experience with beer drinking has begotten writings that emphasize Czech beer, reinforcing a cultural item of a society as a trope in its cultural products. In the closely read pages of Bohumil Hrabal's Too Loud a Solitude, beer exhibits three key characteristics: modesty, cyclicality, and voluminosity. Various contents from Hrabal's corpus have also served as the source of inspiration for various Czech film adaptations, especially by director Jiří Menzel, who reasoned that the allure behind Hrabal's writing lied in an inherent coalescence of beauty and tragedy. The stylistic tensions between Hrabal's prose and Menzel's films have caused Czech and foreign critics to detect a distinctive lightening of Hrabal's prose in the form of Menzel's films. By focusing on beer in Menzel's adapted films The Death of Mr. Baltisberger and I Served the King of England, I have assessed a strategy in which the director incorporates beer to conclude films on notes of levity. The multivalent motif of beer in I Served the King of England not only sidesteps the voiceover but also represents an entrenched decades-long interest in Hrabal's 1960s stories whence Menzel's career took foothold. Menzel thereby lightens the endings of his adaptations by emphasizing characters' interest in bountiful beer, a refillable, reliable element that repeats within the rhythms of Bohumil Hrabal's textual works.
Endnotes
1 Closely Watched Trains won the Academy Award for Best Foreign Language Film in 1968. Larks on a String, which satirizes the Stalinist era,was banned shortly after the Warsaw Pact invasion in 1968 and then released in 1990, after the regime change in Czechoslovakia.
2 The enumeration reflects the 1990 English translation by Michael Henry Heim, wherein beer appears on 31 out of 98 pages. The main character Haňťa commonly mentions beer directly as well as indirectly, for example, referring to keeping his pitcher full or alluding to the workings of breweries.
3 Věra Chytilová directed several New Wave classics including Daisies (1966) and Something Different (1963), the latter of which Menzel served as assistant director. She adapted The World Cafeteria for Pearls of the Deep.
4 Menzel simplifies the Emperor of Ethiopia scene by using the older Dítě's voiceover to briefly mention that the Ethiopian cooks drank beer as they spiced the food and omitting details such as the unsuccessful cognac toast with the headwaiter, Mr. Skřivánek.
Works Cited
"Beer Consumption by Country 2021." World Population Review, https://worldpopulationreview.com/country-rankings/beer-consumption-by-country. Accessed January 2, 2022.
Bluestone, George. Novels into Film. University of California Press, 1973.
Bubeníček, Petr. Subversive Adaptations: Czech Literature on Screen behind the Iron Curtain. Palgrave Macmillan, 2017.
Dungarpur, Shivendra Singh, et al. CzechMate: In Search of Jiří Menzel. Second Run DVD, 2020.
Fraňková, Ruth. "Indian filmmaker creates epic documentary from new Wave fascination." Radio Prague International, March 6, 2018, https://english.radio.cz/indian-filmmaker-creates-epic-documentary-new-wave-fascination-8167039. Accessed January 2, 2022.
"Jiří Menzel dostal v Berlíně cenu kritiků." iDnes, February 16, 2007, https://www.idnes.cz/kultura/film-televize/jiri-menzel-dostal-v-berline-cenu-kritiku.A070216_164231_filmvideo_ob. Accessed October 2, 2021.
Johnston, Rosie. "Jiri Menzel emerges as the director of 'I served the King of England'." Radio Prague. February 22, 2005. https://english.radio.cz/jiri-menzel-emerges-director-i-served-king-england-8096157.
Hames, Peter. Czech and Slovak Cinema: Theme and Tradition. Edinburgh, Edinburgh University Press, 2009.
"Hrabal, Bohumil." Encyclopedia of World Biography, edited by James Craddock, 2nd ed., 2014, pp. 173-176. Gale General OneFile. Accessed October 2, 2021.
Hrabal, Bohumil. "At the Sign of the Greentree." The Death of Mr. Baltisberger, translated by Michael Heim Evanston, Illinois, Northwestern University Press, 2010, pp. 103–113.
Hrabal, Bohumil. "The Death of Mr. Baltisberger." The Death of Mr. Baltisberger, translated by Michael Heim Evanston, Illinois, Northwestern University Press, 2010, pp. 157–174.
Hrabal, Bohumil. "A Dull Afternoon." The Death of Mr. Baltisberger, translated by Michael Heim Evanston, Illinois, Northwestern University Press, 2010, pp. 49–62.
Hrabal, Bohumil. Too Loud a Solitude. Translated by Michael Heim. 1st U.S. ed., San Diego, Harcourt Brace Jovanovich, 1990.
Hrabal, Bohumil. "U zeleného stromu." Automat Svět, Prague: Mladá Fronta, 1966, pp. 41–47.
Hrabal, Bohumil. "The World Cafeteria." The Death of Mr. Baltisberger, translated by Michael Heim Evanston, Illinois, Northwestern University Press, 2010, pp. 175–186.
McFarlane, Brian. Novel to Film: An Introduction to the Theory of Adaptation. Clarendon Press; Oxford University Press, 1996.
Menzel, Jiří. I Served the King of England. Sony Pictures Classics, 2008.
Menzel, Jiří, et al. Pearls of the Deep. Criterion Collection, 2012.
 Owen, Jonathan L. "Closely Observed Bodies: Corporeality, Totalitarianism and Subversion in Jiří Menzel's 1960s Adaptations of Bohumil Hrabal." Canadian Slavonic Papers vol. 51, no. 4, 2009, pp. 495–511.
Pelán, Jiří. Bohumil Hrabal. a Full-Length Portrait, Karolinum Press, 2020.
Rynda, Vojtěch. "Interview: Marek Epstein: With Kafka We Have to Go Punk!" Czech Film, Summer 2022, pp. 22–23.
Voráč, Jiří. "Menzlovy hrabalovské pohádky." Film a doba vol. 38, no. 1, 1992, pp. 20–24.