Ivo van Hove,
West Side Story,

and the Economics of Broadway Theatrical Production
Peter C. Kunze (Tulane University)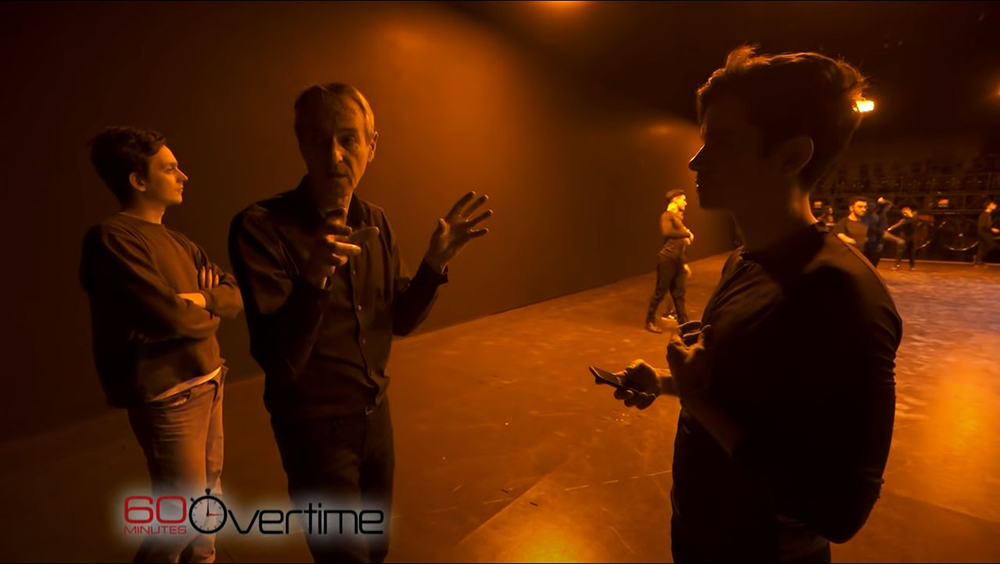 At first glance, a revival of the musical West Side Story helmed by one of the leading figures of the European avant garde seems an unlikely candidate for contemporary Broadway. Critics and scholars alike have long lamented the increasing commercialization of the Great White Way, where jukebox musicals, movicals, and megamusicals have largely pushed out more modest or daring productions. One might go so far as to suggest Broadway has followed Las Vegas in its desire to appeal predominantly to an audience of tourists, and in the process, it has yielded its position as the symbolic epicenter of US theatre. A costly revival of a legendary Broadway musical by a director known for minimalist, media-enhanced stagings presumably does not work within that economic model, yet when Broadway officially shut down in March 2020 in response to the global COVID-19 pandemic, Ivo van Hove's West Side Story was the third highest grossing show on Broadway behind Hamilton and Moulin Rouge!
Over the past six years, van Hove has demonstrated that he can direct artistically accessible work that thrives on the Great White Way in an incredibly competitive market. Studying his production of West Side Story via adaptation studies, therefore, reveals how van Hove adapted the musical—and what Joshua E. Polster has described as the director's "muscular, minimalist avant-garde aesthetic" (124)—to align with the logics and trends shaping contemporary Broadway theatrical production. It also draws critical attention to how the modifications made represent not only artistic choices, but also political and economic decisions as well. In addition to his own style, a revival of West Side Story prompts questions about how a problematic 1957 musical is staged in 2020—a production van Hove himself described as "a West Side Story for the 21st century" (qtd. in Green). What does a van Hove-led production of West Side Story show us about the director, his approach, and Broadway as an entertainment industry? To date, van Hove scholars have primarily focused on his formal and narrative choices as a reflection of his artistry, but less attention has been paid to the very production context in which he works and how it may shape his output.1 In fact, with few exceptions, theatre and performance studies has been reticent to study contemporary commercial theatre as an entertainment industry. A closer examination of this particular staging of West Side Story reveals how the business culture of Broadway informs production and how a study of the production may gesture toward the logics, trends, and production practices of Broadway today.
Theoretical Framework
Studying adaptation from an industrial perspective is not without precedent. Simone Murray has encouraged scholars to adopt a sociological approach to adaptation in part to "illuminate the contexts of their own production" (5). More recently, Kyle Meikle has observed the "sheer diversity of adaptations – almost exclusively musical – that have graced stages since the turn of the twenty-first century," affirming the importance of Broadway theatre for adaptation and for franchise storytelling (136). Understanding such contexts, for example, enriches and complicates our understanding of authorship in adaptation, where a range of stakeholders and forces influence production decisions. Furthermore, it allows us to see that adaptation is a form of labor in which a creative team navigates what works and what does not so as to create a coherent, satisfying, commercially viable product(ion). In the case of Broadway, where failure is common but a success can mean a years-long, highly profitable run, a team of producers, investors, critics, marketing and public relations teams, and audiences can shape the show in meaningful ways alongside the artistic team.
But van Hove is not only an artist; he is a brand. Advertisements, interviews, feature articles, marketing, and social media underscore the vision and genius of the director in an attempt to emphasize art over commerce while also securing against major financial losses. Timothy Corrigan and Leora Hadas, respectively, have noted the marketability of the auteur and its function in promotion by the film industry and beyond. With a production cost of over $15 million and a producing team comprised of Hollywood heavyweights Barry Diller, David Geffen, and Scott Rudin, it is unsurprising that the 2020 West Side Story would employ similar discursive tactics. Branding the production as van Hove's adaptation signals innovation, novelty, even prestige, a clear departure from the show's previous major revivals that were usually helmed by members of the original creative team. Furthermore, van Hove's production is not just a revival, but a revisal—that is, a revised revival.
Revisals are hardly new on Broadway, but with the resurgence of social justice movements—and perhaps just as importantly, the rise of social media platforms—in recent years, the need to update shows to avoid offending audiences and generating negative publicity online has become increasingly urgent. Yet such changes are more than just "political correctness" or "being woke," despite what detractors may claim; they help introduce new generations and new audiences to a show that understandably has become dated, even forgotten. Despite its increasing prevalence in recent Broadway seasons, the revisal remains largely understudied and undertheorized as an artistic and industrial form reflective of its historical moment. The show not only has to work as an artistic endeavor and a commercial venture, but as a sociopolitical statement. On the one hand, modifications are necessary for any restaging, and many are cosmetic, even gimmicky. Van Hove's work on West Side Story alternates between political statement and timely gimmick, depending on one's taste and preferences, but in describing and analyzing them below, I show how he adapts his vision to a different context—nationally, politically, and industrially. The methods employed here, therefore, are largely textual and discourse analyses. I compare the 2020 production to the published text of West Side Story as well as the 1961 Oscar-winning movie, co-directed by Robert Wise and Jerome Robbins. In fact, I argue the 2020 production must wrestle with both—what is laid down in the original by the show's creators and what many audiences are familiar with because of the film adaptation—to become a veritable palimpsest. Adaptation studies scholars have long observed their subject matter as such. In their discussion of the film musical Carmen Jones (Otto Preminger, 1954), Linda Hutcheon and Siobhan O'Flynn note that "from the film's title on, [the opera Carmen] haunts the work as a palimpsest" (158). Elements may be removed in order to correct, revise, or update, but nevertheless traces of the earlier version(s) persist in the most recent iteration. Indeed, one can see in the 2020 West Side Story that the production's palimpsestic nature is not only an artistic inevitability when reviving earlier theatrical work, but perhaps even a commercial strategy to anticipate and appease audience expectations.
Hutcheon and O'Flynn's "haunting" metaphor calls to mind Marvin Carlson's work, which offers useful strategies for thinking through adaptation even though Carlson himself generally avoids the term and the field of adaptation studies. In his influential study, The Haunted Stage, Carlson asserts, "All theatre, I will argue, as a cultural activity deeply involved with memory and haunted by repetition" (11). Previous stagings of a theatrical work haunt the current production, past performances by the actor shapes audience's perceptions of their current performance, and even earlier shows within a venue can inform how attendees see subsequent performances therein. Carlson's work has been influential in theatre and performance studies, but underutilized by adaptation studies scholars. Since Carlson's focus is primarily theatrical reception, applying his work to adaptation studies raises questions about how audiences might make sense of adaptations as well as how that shapes the very production of such adaptations in the first place.  Combined with Thomas Leitch's insight that adaptations are rarely text-to-text but rather texts-to-text (164-5), the van Hove production of West Side Story operates as a haunted palimpsest that both anticipates and caters toward an audience understandably more acquainted with the 1961 film version than the 1957 stage version. The audience presumably wants what the assurance that comes with a recognizable property, especially with Broadway ticket prices averaging around $124 in 2019 (Paulson), while also receiving the defining comforts of theatre: the supposed lack of mediation, co-presence with others, the ephemerality of the right-here and right-now, the excitement of liveness, and the very real possibility for error.
To briefly survey the US production history of West Side Story, the original production premiered in 1957, closed in 1959, went on tour, and reopened on Broadway in 1960. A month-long revival ran at City Center in 1964, and director-choreographer Jerome Robbins oversaw the 1980 revival at the Minskoff, which featured Debbie Allen as Anita. The 1961 film and subsequent stage versions of West Side Story have departed from the original stage production in significant ways. With a screenplay by Ernest Lehman, the film version restages "America" as between Anita and Bernardo, instead of between Anita and her friend, Rosalia. Rather than being performed by an "offstage voice," the song "Somewhere" became a diegetic duet between Tony and Maria.  The placement of songs throughout the show was significantly altered, most obviously with the movement of "Cool" and "One Hand, One Heart" after the rumble and moving up "Gee, Officer Krupke" before it. The 2009 Broadway revival, directed by Arthur Laurents, presents the Puerto Rican characters speaking and singing in Spanish. The creative team brought on Lin-Manuel Miranda, the Tony Award-winning creator of In the Heights (and later, Hamilton), to translate the lyrics. About five months into the run, portions of the lyrics were reverted back to English, according to producer Jeffrey Seller, to "provide a bigger dramatic wallop" (qtd. in Healy). In van Hove's production, elements of the film's revisions were incorporated into his version, including the battle-of-the-sexes staging of "America," in addition to his own revisions, most obviously, the removal of "I Feel Pretty" to facilitate a film-like presentation of the show without intermission.
Since many contemporary audience members presumably mediated their viewing of the 2020 revival through their memory of the film version, the 2020 revival becomes a movical of sorts—a screen-to-stage adaptation similar to the recent efforts of Disney Theatrical Productions or shows such as Anastasia or Moulin Rouge! Unlike Waitress or Groundhog Day, which were musicalized from nonmusical films, van Hove's West Side Story adapts a stage-to-screen musical while maintaining some of its major modifications. In so doing, it gestures toward the filmic iteration over the original staging since (quite obviously) the audience's nostalgia is more likely to be for the easily accessible film version rather than the original Broadway production six decades earlier. But the 1961 West Side Story is not a cherished comfort for all audience members; in fact, Frances Negrón-Muntaner lambasts it as "the Puerto Rican Birth of a Nation (1915): a blatant, seminal (pun intended), racialized, aestheticized eruption into the national consciousness" (88). Consequently, van Hove's production alternately must negotiate between an audience who finds the musical to be harmful and dehumanizing and another who greatly admires it.
The decisions made in adaptation, particularly in the context of high-stakes entertainment industries such as Broadway, are both artistic and business decisions. Understanding van Hove's production of West Side Story by comparison to earlier iterations alone is incomplete. Instead, this production must be understood as a major undertaking, costing millions of dollars and strategically staged after the critical and commercial success of van Hove's Network but before the much-anticipated release of the Steven Spielberg-directed, Tony Kushner-scripted film remake of West Side Story, initially planned for Christmas 2020 but postponed a year due to COVID-19. Restaging West Side Story—updated, mediated, innovated—make the property not only relevant and urgent, but also, of course, marketable. My focus on van Hove's characteristic use of video technologies in live performance, casting practices and representation, and revisions to the original text demonstrate not only van Hove's artistic decisions amidst the Broadway industry norms, but also how ideological and commercial expectations shape the productions that appear there.
Film & Theatre
Perhaps the defining feature of van Hove's work, much to the delight and frustration of international theatre audiences, has been his use of video technologies in live performances. In Network, camera operators moved among the actors, projecting images onto the screen at the back of the stage. At a critical moment, the protagonist Howard Beale (Bryan Cranston) leaves the theatre all together, though his actions outside remain clear to the audience members inside because of the video feed and the screen. This playful quality both expands the space of the theatre, while questioning the medium's very boundaries.
As the primary commercial venue for theatrical work in the United States, Broadway has set the standard for marketing commercial theatre to the public. Liveness has often been one of the major tactics employed, offering audiences a supposedly unmediated and site-specific experience. Philip Auslander has shown, in deconstructionist fashion, that liveness has been predicated on mediation: there was no need for deeming performances "live" until the introduction of recording technologies, and "live" theatre often involves various levels of mediation (56). On the one hand, we can think of amplification as a form of mediation as well as the use of screen technologies, such as digital projections and on-stage video feeds or recorded video. On the other hand, we might imagine how live entertainment anticipates the mediation of previous engagements with the content, whether it is having seen the film version before the stage adaptation or listened to the cast album before attending the show in person. In short, media has rarely been as absent from theatre as promotional discourses might suggest; indeed, it is often a crucial component of the commercial theatrical production.
Van Hove's production of West Side Story, unlike the overture, whistling, and balletic moves that open the previous versions, begins with a line of gang members standing across the stage. A camera operator tracks in front of them, projecting their grimacing faces on the screen behind them. This effect alternately brings the audience closer by showing greater detail while also distancing them via mediation. One may find their attention split between the actor on stage and a projection of the very same actor behind them, unsure where to focus one's attention. Purists may see this effect as shattering theatre's immediacy and liveness, but one could just as easily argue that it underscores those very same qualities: the represented and the representation, synchronously staged. Ironically, this production exhibits the very logic of remediation identified by Jay David Bolter and Richard Grusin: in its attempts to assure us of its immediacy, van Hove's West Side Story also evinces a hypermediacy.
Like Network, van Hove again uses the screen to expand the space of the stage, giving him a larger palette on which to work. After killing Bernardo, Tony runs through the rain-slick streets of New York in desperation, seeking both escape from what he's done and the loving arms of Maria amidst the dark urban landscape. Tony is not physically on stage any longer, but remains visible via exterior footage projected on the screen. Shortly after the Jets vicious assault her, the traumatized Anita lies to them, reporting that Chino murdered Maria for her infidelity with Tony. Chino's supposed execution of Maria violently plays out on the screen behind her. These two scenes, along with the opening tracking shot, affirms van Hove's commitment to a realistic approach, in which West Side Story is a still-relevant social statement rather than an urban-set romantic fantasy. West Side Story, with its ballet-dancing gang members and operatic lovers, has always teetered between its contemporary setting and urgent social themes and the stylized artifice of its characters and their behavior. This defining tension, in fact, may be a source of its beauty and longevity. In his use of media technologies, van Hove tackles this delicate balance head on to offer a grittier, even shocking approach that allows him to depict more—while also "distancing" (via mediation) the audience from the more violent representations.
And yet the use of said technologies also may remind the viewer of their own encounter with West Side Story, most likely through the 1961 film version. As discussed above, van Hove appeases that tendency in part through his staging of "America" akin to the film version. As one of the film's most memorable moments, it lends itself ably to producing stage spectacle, although what choreographer Anne Teresa De Keersmaeker offers eschews the balletic Robbins choreography for an approach that reflects more contemporary movement evocative of modern dance. Such gestures reject any intractable reverence toward the original show, creating room for revisiting and revision so the new artistic team can make their own mark on it and perhaps open it up to new audiences. For traditionalists, this decision amounts to desecration, but it also may reveal the imagined audience in the process. This West Side Story, in its attempts to see the show anew and update it, may find value in irking, upsetting, and unsettling the faithful adaptations of the past—and the often older, often metropolitan audiences that attended them. It betrays a generational, geographical, even aesthetic shift in the audience: away from the purism towards the reinvention welcomed by the less reverential. Nevertheless, the show cannot dismiss the traditionalists wholesale, and the production carefully negotiates both sensibilities. Its artistic success remains a matter of debate; its commercial success appears undeniable, albeit shortchanged by the pandemic. This is big budget entertainment culture today: slightly formulaic, safely provocative, strangely familiar.
Casting and Representation
The casting of the 2020 West Side Story reveals some of the labor involved in making adaptations work both artistically and financially. As an industrial practice, casting operates at the intersections of culture, business, and society. Casting decisions are both economical and political decisions as production teams strategically decide who can play the part, who will sell tickets, and how might it be perceived by a range of constituencies, including fans, critics, general audiences, and the public alike. In her study of casting and Black performance, Brandi Wilkins Catanese observes,
Nontraditional casting practices not only provide opportunities to challenge how we understand the nation as implicitly raced, they also risk acquiescing to a hierarchy of valuation, suggesting that their only function is to improve people of color. White theaters and white texts are affirmed as the pinnacle of artistic opportunity in practices that assumed that escaping nonwhiteness is the true task of color-blind social progress. (17)
More recently, Broadway has increasingly depended upon recognizable talent, usually from film or television, to lead major revivals and, less often, new works. Broadway has also turned to social media for talent, casting influential digital content creators in popular Broadway shows that target younger audiences: Todrick Hall in Kinky Boots, Colleen Ballinger in Waitress, and Cameron Dallas in Mean Girls. These stars bring the necessary attention that can generate buzz, drive ticket sales, and bring in audiences.
For instance, van Hove's Network undoubtedly depended on audiences' familiarity less so with the 1976 Sidney Lumet film than Bryan Cranston of Breaking Bad fame. The cast of the 2020 West Side Story, however,featured no major media stars. In fact, the cast boasted an impressive 33 Broadway débuts, most of whom were actors of color. The casting suggested a shift from the racial and ethnic tension of whites versus Puerto Ricans in the original to a racialized generational tension between the children of more established immigrants and those who had arrived more recently. As the cast members reminded interviewers on several occasions, West Side Story book writer Arthur Laurents refers to the Jets not as white but as "an anthology of what is called 'American'" (Romeo 137). This alternative casting actually adheres to Laurents' description while reflecting contemporary industry conversations following the success of Hamilton, in which actors of color portrayed the Founding Fathers. While some celebrated the move as a progressive one, others noted the characters themselves were still white— as was the view on US history and society.
West Side Story may be a musical drama of ethnic conflict in New York City, but only two Puerto Rican actors—Chita Rivera (Anita) and Jamie Sanchez (Chino)—were cast in speaking roles in the original 1957 Broadway production. Alberto Sandoval-Sánchez asserts that "With each production, the stereotypical representation of Puerto Ricans is activated and circulated. [...] West Side Story is not merely a period piece; it is a theatrical work that continues to sustain the dominant ideology" (82). Subsequent productions, including the 2009 Arthur Laurents-directed revival which featured the Puerto Rican characters singing in Spanish, diversified the casting, but van Hove's may be both the youngest and most diverse cast in the show's Broadway history. Nevertheless, the show still traffics in reductive representations and, at times, stereotypes of people of color for its dramatic conflict as well as its humor.
Despite encouraging developments in casting toward a more representationally accurate West Side Story and a more inclusive Broadway, the 2020 production was not without controversy on this front. Activists regularly picketed the production due to the casting of Amar Ramasar (Bernardo), who had been fired from the New York Ballet Company. A lawsuit brought by a female dancer had accused her ex-boyfriend (also a dancer with the company) of sharing explicit photos of her with other dancers via text without her express consent. The sexual misconduct allegations rocked the New York performing arts community amidst a larger conversation about predatory male behavior toward women in the entertainment industries, inspired by the #MeToo movement. Ramasar was later reinstated, but activists called upon producers to cast responsibly both to protect their performers and to signal support for survivors and for safer work environment. The producers of West Side Story affirmed their support of Ramasar, though, while actors in the production clearly seemed reticent to discuss the case in detail with the press. The controversy, however, reveals the limitations of industry leaders to embrace social justice as well as a perceived tension between their artistic freedom and calls for change from critics and activist groups alike. Months later, allegations emerged about the abusive behavior of producer Scott Rudin, who subsequently distanced himself from his projects. Such revelations nevertheless uncover the deeply ingrained culture of abuse at multiple levels of the industry, gesturing toward how it may enable and authorize others' misbehavior.
While the casting clearly improved the diversity of the cast, the text itself underserves those actors by providing limited opportunities. For example, the Jets have three songs of their own—"The Jet Song," "Cool," and "Gee, Officer Krupke"—while the Sharks have none. The 2020 production retains the battle of the sexes version of "America," in which Anita argues with Bernardo rather than Rosalia about the advantages of the mainland United States versus Puerto Rico. So "America" and their portion of the "Quintet" is the only singing Bernardo and the Jets do; the narrative remains almost exclusively focused on the Jets when it is not on Tony and Maria.
But this is not to say this portrayal of the Jets is always positive; in fact, van Hove makes it clear that the Jets' attack on Anita when she comes to Doc's to warn Tony is, in fact, a rape. Laurents states that Anita is shoved to ground and the shy Baby John is lifted on top of her, though Doc soon interrupts the violence. In the film version, Anita is aggressively shoved around by the boys while she cries; Doc interrupts the aggression and she leaves in tears after falsely claiming Chino has murdered Maria for her infidelity. The stage version, however, is far more explicit in the violence against Anita: one of the boys drops his pants and viciously assaults her. The youthful shenanigans that had made the Jets charmingly likable clearly yield to a forceful attack, dispelling any sense that their antics are innocuous and acceptable. Ironically, this production stages an indictment against the male-perpetuated mistreatment of women that its casting ultimately affirms. This is commercialized social justice in the 21st century: benign gestures that mask systemic iniquities. West Side Story showed promise in its efforts to cast a more diverse group of performers, but the production's failure to uphold inclusivity reveals the lip service too often paid to social justice by powerful interests and industry leaders.
Revise and Resubmit
Script changes, major and minor, abound throughout the 2020 revisal. The term itself was first popularized in the press during 1994-1995 Broadway season, as the production teams behind revivals of Damn Yankees, My Fair Lady, and Show Boat tweaked narrative and representational problems in shows so they would play better for modern audiences (Gerard). In some instances, it might mean rewriting lyrics—or removing songs all together, as when Harold Prince removed "In Dahomey," a song chanted by an supposed group of African natives in a made-up language, from the 1994 revival of Show Boat. The song was initially removed from the 1946 revival of Show Boat, but had appeared in more recent complete recordings. Some purists, in fact, might argue the shows should be performed in their entirety with the understanding that they are products of the past. This aesthetic dogmatism, however, neglects the careful negotiation of art and commerce at the heart of Broadway. A production of Show Boat that is faithful to the original 1927 staging may be a fascinating historical recreation, but it would obviously alienate some members of the misrepresented groups and their allies as well as theatregoers whose interest in theatre is less so cultural heritage than escapism. This approach might work for a small, not-for-profit theater, but becomes harder to pull off on Broadway, where production costs, union salaries, and taxes along with the need to fill houses with anywhere from 500 to 1,933 seats necessitate compromises and safeguards. With a cast exceeding 70 performers and one of the highest ticket prices on Broadway, the revival had to make accommodations to maintain its financial viability. After all, Hammerstein was an avowed liberal whose attempts at social justice fail to resonate in the same way in 1994. Perhaps a fidelity to his political sensibility is more important than to his artistic execution? Prince seemed to suggest as much when he said, "I know precisely where Oscar Hammerstein's head was" (qtd. in Span). In the effort to be faithful, we might ask if toward the intent is more important than toward the result?
Curiously, amidst the debates that season over revised revivals, Show Boat producer Garth Drabinsky mused that West Side Story as written could not proceed on contemporary Broadway. He told The Washington Post in 1994, "You could only do it as a historical piece. […] It was unbelievable bold. … But it would have to be handled differently" (qtd. in Span). As previously mentioned, the 2009 revival of West Side Story reverted back to some of the original English lyrics later in its run because the creative team felt the Spanish translations were hindering the dramatic effect of the show. Attempts to please ticket buyers win out over efforts to be more realistic—efforts which may seem somewhat strange in a musical featuring singing and dancing gang members. The 2020 production—one of only two Broadway revivals not directed by a member of the original creative team—was less allegiant to the text or first staging, not only out of artistic ambition, but sociopolitical and commercial imperative.
Revisals have re-emerged in recent seasons, fueled in part by Rodgers & Hammerstein Organization's progressive approach to adaptation, be it in the spirit of artistic experimentation or financial necessity. Daniel Fish's 2019 Broadway production Oklahoma!, for example,gestures toward the violence at the center of the American frontier mythology through its bold use of gun violence and stage blood, whereas the Jack O'Brien-directed Carousel attempts to address musical's troubling representation of domestic violence. Bartlett Sher tweaked the ending of My Fair Lady, where Henry Higgins brusquely calls for his slippers, by having Eliza Doolittle spiritedly exit into the audience instead. The revisal, in fact, lays bare the tension between art and commerce at the heart of the Broadway musical. In a risk-averse climate, Broadway producers habitually turn to—and modify—established properties to a general audience rather than develop and support innovative new material and emerging artists.
For his own part, van Hove has defended tackling such a beloved—and commercially successful—work by exclaiming his love for US culture. New York City has been a second home, both personally and professionally, for van Hove and his partner Jan Versweyveld for decades while they collaborated on productions for the New York Theatre Workshop and the Brooklyn Academy of Music, in particular. An avid follower of US politics, van Hove wrote in the Wall Street Journal, "You could call them European eyes, but these are European eyes that are very much aware of what's happening in America and in New York and in the world and trying to be updated also about what's going on." His adaptation of West Side Story is mediated through his lived experience as a Belgian and an esteemed member of the European avant garde as well as his consumption of media coverage of US politics. The 2020 production of West Side Story, with its footage of Puerto Rico devastated by Hurricane Maria and passing comments on immigration, police brutality, and racism, gestures toward a politically progressive sensibility, but it rarely offers a sustained, fully-developed political critique. Its passing remarks ultimately reassure a predominantly liberal crowd of its own values without ever really challenging such individuals, many of whom are members of middle and upper classes, to reflect on their complicity in the oppression of society's most disenfranchised. These toothless statements do not rally for social justice; in fact, they risk commodifying it.
But this is not to suggest that the stage version is a faithful adaptation to the original stage or film version, either. After all, van Hove's cultural capital as an avant garde director requires some kind of bold departure from the original. Perhaps most alarming for loyal Broadway fans was De Keersmaeker's retirement of the iconic finger snaps and les grands battements à la seconde in favor of more modern, minimalist movement. Revising the show makes it worth staging; reviving it warrants the ticket price. To what extent can one deviate while still delivering the expected pleasures, especially since, as Stanley Kauffmann noted in his review of the film version, "as exceptional as Sondheim's lyrics are, as lovely as Bernstein's score is, Robbins' contribution is the keystone" (28)? It says quite a bit that the show does away with the choreography, but maintains the score intact—except, of course, "I Feel Pretty."
The excision of "I Feel Pretty" serves multiple functions in van Hove's new production. On the one hand, it is a remarkably sweet, even naïve, song in a score full of rousing ballads and spectacular showstoppers. On the other hand, it becomes superfluous for easing the audience back into the show after the intermission because the 2020 production eliminated the traditional intermission. The show builds a fast pace and charges through the entire hour and forty minutes without pausing. Paraphrasing van Hove, Sasha Weiss explains that the director intended for the show "to move at the speed of adolescent instincts. These characters, he explained, have no time to think about what they're doing. They live in the now: They kill, they suffer; they kill again." It also makes the show run more like a movie, although the 1961 film did maintain the overture and intermission of the stage show.
Some may see these changes as corruptions of originals, but the production seemed to strategically deploy Stephen Sondheim, the show's lyricist and only living creator, in the press to dissuade any such judgement. On 60 Minutes, the 89-year-old lyricist insisted "A play or musical lives on by its reinterpretation" ("What"). He added his own theorizing of film versus the theatre: "The thing that essentially is different between let's say the theatre and movies and television is that it's changeable. Each generation bring new ways of looking at a play. [...] What's great about the theatre is it's a living organism, whereas movies and television are as if in amber. It's not that they're dead, but they're only alive in one shape, form, and tone" ("What"). But it probably did not complicate matters since Sondheim himself has frequently expressed his embarrassment about "I Feel Pretty," which he now feels has a silly, unrealistic lyric. In Finishing the Hat, Sondheim writes that friend and fellow lyricist Sheldon Harnick (of Fiddler on the Roof fame) noted that internal rhymes and wordplay might be too sophisticated for a teenage character who has recently arrived in New York City and speaks English as a second language. A champion of everyday language and verisimilitude in lyric writing, Sondheim agreed, but his more established collaborators "would have none of it—they liked it the way it was. And is. I have blushed ever since" (48). The 2020 staging grants Sondheim a long-awaited reprieve, removing or reimagining the show's lighter moments. In turn, he effectively authorizes their strategic unfaithfulness to his original text.
This bold reinterpretation is perhaps most evident in "Gee, Officer Krupke," a comedy song in which the Jets backtalk the cop who has been harassing them with a sarcastic explanation for their juvenile delinquency. In the 1957 stage version, "Gee, Officer Krupke" is quite deliberately the comic relief between Tony and Maria's dramatic "Somewhere" duet and Anita's confrontation and conciliation with Maria in "A Boy Like That / I Have a Love." Sondheim disliked this placement because he felt "it was hard for me to believe that a gang on the run from being accessories to a double murder would stop on the street to indulge in a sustained comic sneer" (51). His collaborators disagreed, deferring to the porter scene in another Shakespeare play, Macbeth. Jerome Robbins was opening to switching "Gee, Office Krupke" and "Cool" as Sondheim hoped, but the staging would not accommodate the change, though Robbins did make the swap in the film version (52). In his production, van Hove returned to the original arrangement, but cast the song as a searing indictment of police brutality. The actors performed the song with a noticeably angry delivery while filmic images of police harassment played behind them. As Krupke gets ready to assault one of the boys, the Jets remove iPhones—another obvious sign of the show's resetting—in an attempt to stymie his aggression. The decision to make the comic relief instead a timely statement on systemic injustice rang false for many reviewers. David Rooney of the Hollywood Reporter noted a dissonance between the angry tone and comedic lyrics, while the New Yorker's Alexandra Schwartz contended "Naturally, this plays to big applause, but the effect is obvious and pandering, effacing the specificity of the characters' experience in favor of generic sociological observations." While the number indeed may prompt an audience response, is it one that challenges or reaffirms the presumed politics of the largely liberal, largely privileged Broadway theatre audience? And in the context of the larger narrative trajectory, this commentary on systemic injustice of police brutality demonstrates a somewhat superficial engagement with a deeper, more pervasive issue. In the end, it makes a vague gesture rather than a coherent, sustained statement—but this is exactly the kind of tentative, agreeable remark that plays well eight times a week to the ten thousand audience members.
This production consciously engages with contemporary US social justice politics, offering more diverse casting (not just in terms of race and ethnicity, but also gender presentation), changing the dress shop to a sweatshop, and underscoring the gun violence. It follows an attempt to revisit the Golden Age musical through a contemporary lens to revise and ameliorate the troubling representations and storylines, in part because of their beloved scores or cultural longevity. In a culture of comfort, trafficking in the familiar, Broadway depends on these established properties to bring in audiences. An argument can also be made by the left that these shows maintain a white hegemony on Broadway. Although they may cast actors of color, or may reimagine the show with artists of color (such as when David Henry Hwang revised Richard Rodgers and Oscar Hammerstein II's Flower Drum Song), they nevertheless preserve a piece of racist culture rather than creating a space for the production of a new work by people of color, with people of color, for people of color. These productions, cosmetically updated, maintain their racist infrastructures and largely imagine their audience as more or less the same, racially speaking. How might the Broadway theatre create a generative space for traditionally excluded performers and audiences alike? And with the economics of Broadway following Hollywood in delivering higher production costs, familiar properties, popular media stars, and other risk management measures to balance costs, pricing, and profits, how feasible will it be to launch major musicals by people of color without considerable buzz? And why are artists of color not allowed to fail in the ways their white counterparts?
Conclusion
In his revisionist staging of West Side Story, much like his previous Broadway production of Paddy Chayefsky's Network, Ivo van Hove and his producers alike capitalize on the director's avant garde credentials while staging a safe, marketable commodity. In turn, drama critics have pushed back against popular and marketing claims to van Hove's radical innovations. Charles McNulty of the Los Angeles Times, for instance, observes that "he has been operating less like a daring artisan than a factory for a multinational company," while the New Yorker's Alexandra Schwartz bluntly asserts "The avant garde period is over; he is simply of the garde, influential and much imitated, not least by himself." The 2020 West Side Story curiously toggles between presenting a popular and well-loved musical and offering the bold reimagining by an iconoclastic director. In so doing, the creative team tries to avoid charges of crass commercialism or snobby elitism while also inevitably commercializing the director's remaining credibility in the international avant garde. To this end, this most recent production of West Side Story reaffirms David Willinger's 2018 claim that producing van Hove's work on the Great White Way represents "van Hove at his most conservative, but Broadway at its most radical" (137).
By positioning Ivo van Hove as an artist working in a specific sociohistorical and industrial context, we can better understand how he adapts his avant garde aesthetic to the commercial demands of Broadway theatrical production as well as how he adapts media technologies to create a live stage event. It also underscores van Hove as an artist, a signature aesthetic, a brand, and a creative laborer. Ironically, moving van Hove to the biggest stage of the world and taking one of the most recognizable properties reinforces not so much the accessibility of his work (be it artistically or financially), but rather its marketability.
Furthermore, this case study brings to the fore key theoretical concerns with adaptation studies, including the role of author, media, and the too often-understudied role of industry in adaptation. It draws attention to adaptation not only as a text or a process, but as a form of creative labor. Van Hove adapts West Side Story via his defining minimalist avant garde aesthetic for the highly commercialized, high-demand, risk-averse world of Broadway theatrical production. Thus, adaptation functions as a sophisticated, context-sensitive type of labor that artists perform while producing culture. Examining van Hove reminds scholars that adaptation functions as a historically situated, geographically bound, industrially informed labor practice that helps us to uncover the complex exchanges between cultural producers, creative properties, and audiences.
Endnotes
1 A noticeable exception is David Willinger, who briefly discusses van Hove's work in the European theatre scene. See "van Hove, virtuoso," in Ivo van Hove Onstage, edited by David Willinger (New York: Routledge, 2018), 7-10.
Works Cited
Adler, Steven. On Broadway: Art and Commerce on the Great White Way. Southern Illinois University Press, 2004.
Auslander, Philip. Liveness: Performance in a Mediatized Culture. 2nd Ed. Routledge, 2008.
Bolter, Jay David, and Richard Grusin. Remediation: Understanding New Media. MIT Press, 1998.
Catanese, Brandi Wilkins. The Problem of the Color[blind]: Racial Transgression and the Politics of Black Performance. University of Michigan Press, 2011.
Carlson, Marvin. The Haunted Stage: The Theatre as Memory Machine. University of Michigan Press, 2003.
Corrigan, Timothy. A Cinema Without Walls: Movies and Culture after Vietnam. Rutgers University Press, 1991.
Gerard, Jeremy. "The 'Revisals' Bow on B'way." Variety, 6 Mar. 1994, https://variety.com/1994/legit/news/the-revisals-bow-on-b-way-118905/.
Green, Adam. "How Ivo Van Hove Remixed West Side Story for the 21st Century." Vogue, 9 Nov. 2019, https://www.vogue.com/article/west-side-story-broadway-ivo-van-hove.
Hadas, Leora. Authorship as Promotional Discourse in the Screen Industries: Selling Genius. Routledge, 2020.
Healy, Patrick. "Some West Side Lyrics Are Returned to English." New York Times, 26, Aug. 2009, https://www.nytimes.com/2009/08/27/theater/27west.html.
Hutcheon, Linda, with Siobhan O'Flynn. A Theory of Adaptation. 2nd Ed. Routledge, 2012.
Kauffmann, Stanley. "The Asphalt Romeo and Juliet." New Republic, 23 Oct. 1961, pp. 28-9.
Sondheim, Stephen. Finishing the Hat: Collected Lyrics (1954–1981) with Attendant Comments, Principles, Heresies, Grudges, Whines and Anecdotes. Alfred A. Knopf, 2011.
Leitch, Thomas. "Twelve Fallacies in Contemporary Adaptation Theory." Criticism, vol. 45, no.2, Spring 2003, pp. 149-71.
McNulty, Charles. "West Side Story Blasts onto Broadway, a 2020 Vision at Its Core." Los Angeles Times, 20 Feb. 2020, https://www.latimes.com/entertainment-arts/story/2020-02-20/ivo-van-hove-west-side-story-broadway-review.
Meikle, Kyle. Adaptations in the Franchise Era: 2001-16. Bloomsbury, 2019.
Murray, Simone. The Adaptation Industry: The Cultural Economy of Contemporary Literary Adaptation. Routledge, 2011.
Negrón-Muntaner, Frances. "Feeling Pretty: West Side Story and Puerto Rican Identity Discourses." Social Text, vol. 18, no. 2, Summer 2000, pp. 83-106.
Paulson, Michael. "Broadway's Box Office Keeps Booming. Now Attendance is Surging, Too." New York Times, 29 May. 2019, https://www.nytimes.com/2019/05/29/theater/broadway-box-office.html
Polster, Joshua E. "Ivo van Hove and the Art of Humanity." Ivo van Hove: From Shakespeare to David Bowie. Edited by Susan Bennett and Sonia Massai. London: Metheun Drama, 2018. 101-05.
Romeo and Juliet and West Side Story. Laurel-Leaf, 1965.
Rooney, David. "West Side Story: Theater Review." Hollywood Reporter, 20 Feb. 2020, https://www.hollywoodreporter.com/lifestyle/arts/west-side-story-theater-1280016/.
Sandoval-Sánchez, Alberto. José, Can You See?: Latinos On And Off Broadway. University of Wisconsin Press, 1999.
Schwartz, Alexandra. "A Grim Take on West Side Story." New Yorker, 2 Mar. 2020, https://www.newyorker.com/magazine/2020/03/02/a-grim-take-on-west-side-story.
Span, Paula. "Another Openin' Another Show Boat," Washington Post, 2 Oct. 1994, https://www.washingtonpost.com/archive/lifestyle/style/1994/10/02/another-openin-another-show-boat/60643348-4e03-49d5-bab1-09a888731b60/.
van Hove, Ivo. "What Theater Director Ivo van Hove Can't Live Without." Wall Street Journal, 26 Feb. 2020, https://www.wsj.com/articles/what-theater-director-ivo-van-hove-cant-live-without-11582724189.
Weiss, Sasha. "How West Side Story Was Reborn." New York Times, 22 Jan. 2020, https://www.nytimes.com/2020/01/22/magazine/west-side-story.html
"What Does Sondheim Think of the New West Side Story?" YouTube, uploaded by 60 Minutes, 16 Feb. 2020, https://www.youtube.com/watch?v=zLIhJQI0r3I.
Willinger, David, ed. Ivo Van Hove Onstage. Routledge, 2018.