Schulberg vs. Robson: Adapting
The Harder They Fall
Josh Sopiarz (Governors State University)
Schulberg accused Robson of having directed [The Harder They Fall] "with hate" and disassociated himself from this film. Robson has never forgiven him for this.1
1956 was a busy year for boxing fans. Thanks to television's newfound ubiquity, that year they waved goodbye from their armchairs as Rocky Marciano retired with a perfect 49-0 record. They watched Sugar Ray Robinson whip former middleweight champion Carl "Bobo" Olson for the fourth and final time. And they witnessed history as Floyd Patterson became, at 21, the youngest ever heavyweight champion by defeating Archie Moore in Chicago. They tuned in to boxing programming other than fights, too. That October they somberly watched Rod Serling and Ralph Nelson's Playhouse 90 teleplay "Requiem for a Heavyweight" which chronicled the pathetic post-boxing life of a former champion expertly played by Jack Palance. Likewise, there were two major motion pictures about boxing released that year.2 These films, along with some big budget boxing films of 1955, enjoyed popular and critical success; however, boxing film historian Leger Grindon writes that the films of these years also "constitute the last glimmer of a fading genre" (56); it was a glimmer which mirrored the decline of the "Golden Age of Boxing," specifically the 1920s-1950s, in America as well.
Of the two boxing films released in 1956 the first, in March, was Mark Robson's The Harder They Fall, adapted from Budd Schulberg's novel of the same title published in 1947. The film is a gritty look at the criminal boxing "racket" and is presented as a cross, in Grindon's apt description, between the newspaper exposé film and the boxing noir; it took an obvious stance against boxing. Second was the July 4th-release of Robert Wise's Somebody Up There Likes Me, which borrowed a great deal from the biography film and juvenile delinquent cycles (Grindon 56). Wise's film, based on the life of middleweight champion Rocky Graziano (played by a young Paul Newman), treats boxing more neutrally than Robson's even if it portrays Graziano as a vicious and punishing—sometimes raging—fighter and one of its late subplots involves criminals attempting to convince Graziano to take a dive. Robson's film, in contrast to Wise's, and even more starkly its own source material, is concerned with not only exposing the criminal underbelly of boxing, but the outright abolition of the sport.
Robson's The Harder They Fall is a boxing noir and second wave social problem film starring Humphrey Bogart in his last role as Eddie Willis, an unemployed sportswriter with a good reputation recruited by a crooked fight promoter to write press on a phony contender he has brought to the United States from abroad. At first glance the film might not stand out; it is, after all, one of nearly fifty films about, or related to, boxing made between 1947 and 1956 (Singer 67). And, it is like other social problem films in that it exposes corruption and follows a pattern wherein "a tough guy hero rises to success" and then, "prompted by a young ingenue, decides to go straight" (Roffman 273). But, upon closer inspection, the film does differ significantly from others in the boxing cycle.
For one, the film's main character is not a prizefighter, but rather an aging sportswriter. As such, the film tells the "story of how an exposé comes to be written, and it is, itself, an exposé" (Brody). The film stands out for its promotion of Robson's staunch anti-boxing sensibilities—first present in his film Champion (1949)—which are on full display in The Harder They Fall, and over which Schulberg and Robson quarreled. While Schulberg applauded Robson's film as a "fairly faithful and certainly forceful motion picture . . . taut and fierce," "well acted" and "vivid in detail," he also called it an "inaccurate and overstated picture of boxing evils as they exist today" (Sparring 71). Schulberg wrote that:
The big fights of recent years have all—or nearly all—been on the level. . . Yes, there have been barneys in boxing . . . But boxing is not yet a vaudeville. It is a professional sport which too often hides its face from scandal—a sport infected with Carbos and Palermos and their complacent piecemen. (Sparring 71-72)
He continued,
And yet—and here The Harder They Fall fell down for me . . . If I had been making the picture I would have 1) frankly planned it as a period piece or 2) updated it to a time when rogues still infest the fight biz but when they no longer operate with the crudity of a waterfront mob. (Sparring 72)
Schulberg then walked through the fixed fights in Robson's film explaining how each arrangement would fail to pass muster for a mid-1950s audience familiar with the sport. Those scenes in the novel were written to recall the obscenities of the early 1930s, he reminds readers, and not the realities of the middle 1950s. Notably, though, Schulberg offers no comment on Robsons's use of the chicken-wire-in-the-mouthpiece trick Schulberg depicts in his novel and then again later in his short story, "The Pride of Tony Colucci," published in 1953. In both instances, unscrupulous actors insert a small piece of metal wire behind the mouthpiece of a fighter too prideful to take a dive as instructed. With each punch the wire cuts the fighter's gums causing him to bleed profusely from the mouth. Thus bloodied, it does not look like he is taking a dive, but rather that he is a tough fighter beaten fairly. In Schulberg's tellings, the trick offers fighters the chance to lose with their pride intact. In Robson's film, however, it is employed against an opponent who refuses to participate in the scam.
For these reasons, Robson endured three distinct difficulties adapting the novel for his film. The first involved the challenges he faced bringing a story of crime and corruption from the 1930s to a boxing-savvy audience watching in 1956. Perhaps most importantly, this meant Robson had to reckon with the advent of television and boxing's role in its ascent during the late 1940s and 50s. Second was his own disdain for boxing or, as Schulberg put it, "I accuse my friend Mark Robson of making his film out of hating for the sake of hating, without taking the trouble, or the artistic trouble, the Dostoevskian trouble of first learning to love that which he would destroy" (Sparring 74). And third, Robson needed his protagonist to be clean and free of the criminal influence under which that character operated in the novel. To achieve this, Robson had to sanitize his protagonist while avoiding making him too good to be believable; the man does, after all, need to agree to work for a mafia boss in order for the story to be successful. At the same time, Robson needed audiences to believe this character's record was just sketchy enough that such a figure would trust him to run the graft.
By the time Robson adapted Schulberg's novel, the media landscape in the United States had changed considerably since the real-life events that inspired the book. Television had replaced radio as the primary medium for in-home sports consumption and football on TV had become so popular that in 1956 the NFL mandated that visiting teams wear white so viewers at home, watching on black and white sets, could tell the teams apart.3 But it was boxing that "was television's preferred sport, dominating the prime-time schedule" as early as the late 1940s with the boxing ring functioning as "the ideal target for the primitive iconoscope camera" (Cressman 480). In his book, Troy Rondinone notes the "sudden rise of television" and "boxing's almost symbiotic relationship with it" (3). By 1951, boxing had become a $90,000,000 a year business and there were so many fights the networks aired them six nights a week throughout the 1950s (Kubrick). At the time, the average number of professional fighters in the United States averaged between five thousand and six thousand each year (Silver 35). "Boxing in the 1950s," writes Jeffery Sammons, "reportedly sold as many television sets as Milton Berle, and it rivaled 'I Love Lucy' in the ratings" (149). In 1954, The Ring magazine began publishing its annual issue on "TV Fights" (see Figure 1). And in addition to the televised nightly fights, there are those nearly fifty films that involved boxing in their plots made between when the novel was published in 1947 and the film debuted in 1956 (Stanfield 80).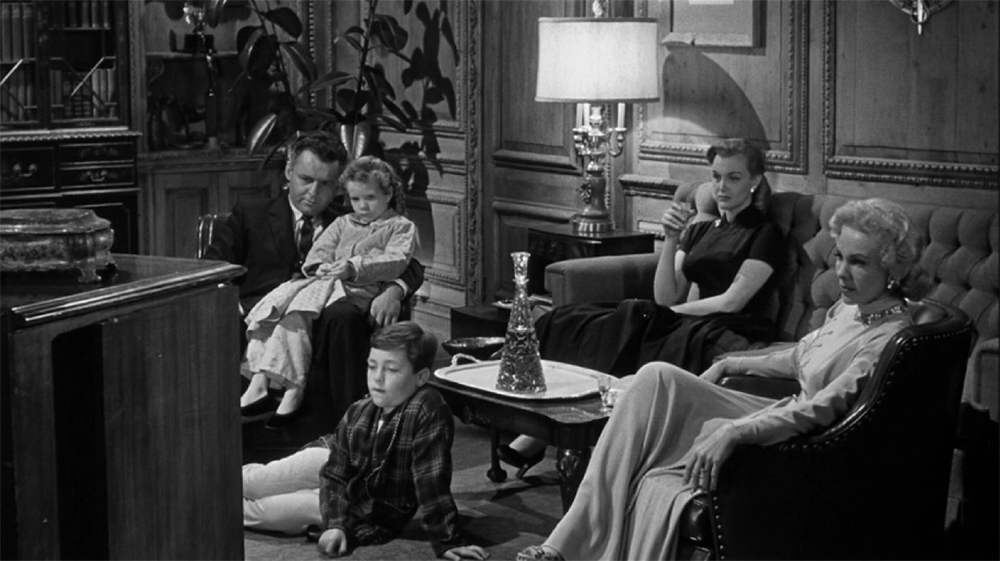 Schulberg's The Harder They Fall is itself an adaptation of the Primo Carnera story which remembers how the gangster Owney Madden controlled boxing like something of an underworld commissioner during the early 1930s. Robson's film adapts the novel with enough fidelity that after its release Carnera sued Columbia Pictures and Budd Schulberg for $1.5 million; he lost. Both are fictionalizations of how Madden made a fortune promoting a circus strongman from Italy to heavyweight champion of the world. The scam was as ingenious as it was grimy: Madden and his gang convinced Primo Carnera, 6' 6" and weighing 265 pounds and quite large compared to even the biggest heavyweight fighters of the time, of his own strength and boxing prowess; they planted bogus stories about him in the newspapers, and they fixed his fights without him ever knowing. Ultimately, they turned him into a media sensation, a movie star and, perhaps most remarkably, heavyweight champion of the world. And then, in 1934, they put him in the ring with Max Baer—his one-time costar in the Frances Marion-penned film The Prizefighter and the Lady (1933)—who knocked him down eight times and broke his jaw, nose, ribs, and ankle before referee Arthur Donovan stopped the fight in the eleventh round saving Carnera from further punishment (or even death; two men died as a result of wounds sustained in their fights with Baer).4 After the fight, "Owney and his cohorts, having bet on Baer and having earned millions off the hide of Carnera, vanished from the world of the Ambling Alp. They refused to spend a nickel on their defeated fighter's hospital bills" (Sussman 54). It was Baer that ended up covering Carnera's medical expenses.
These criminals undeniably victimized Carnera, and, for this, he has become a sympathetic character who is often best remembered as a kind and generous man. Still, there are black marks on Carnera's personal record. Apart from his phony prowess, wickedly memorialized by Lil' Johnson in 1936 when she mocked him as "Primo Canary" in her song "Winner Joe (The Knockout King)," he was, whether intentionally or not, a representative of the National Fascist Party in Italy before and during the Second World War. Mussolini adored Carnera and he "wore the black shirt," as it were, back in Italy. During the war, the Fascists in Germany and Italy used Carnera in their propaganda efforts after famously photographing him enjoying a gondola tour of the canals with Max Schmeling—the former world champion and Nazi darling who split decisions with the American heavyweight Joe Louis in 1936 and 1938—while the two men socialized together in Venice (Page 183).
Schulberg first outlined The Harder They Fall in 1940-1941 as a follow-up to his novel What Makes Sammy Run?, but shelved the project after the attack on Pearl Harbor recognizing that the "fight world no longer seemed to demand attention" (Sparring 72). By the time he returned to the work, after the war, Schulberg still considered the story "essentially a portrait of the fight game at its base worst in the early 1930s" (Sparring 72). To make the Carnera-inspired character palatable to an audience fatigued after years of war with the Axis powers, Schulberg brought Toro to the United States from Argentina, rather than Italy. This is a savvy move—perhaps not surprisingly—for Schulberg who, as the son of a Hollywood mogul, developed his flair for historical storytelling while growing up amongst screenwriters and directors in New York and California. Italians emigrated to Argentina in substantial numbers during the late nineteenth and early twentieth centuries and remain the largest ethnic minority in the country. There are other cultural analogs as well, including an embrace of proto-fascistic politics, Catholicism, and a rural peasant class built around economies of agriculture. In 1936, President Roosevelt made a goodwill trip to Buenos Aires in support of his Good Neighbor policy with South America and, upon his return, "directed that priority be given to the creation of a first class passenger-cargo service linking the East coast of the United States and the great ports of Brazil, Uruguay, and Argentina—Rio, Santos, Montevideo, and Buenos Aires" thus establishing direct routes between the United States and several South American countries (Lee). Schulberg wrote of a time when underworld criminals like Arnold Rothstein, Abe Attell, and Owney Madden openly controlled boxing. As such, the novel is a raw insider's perspective of their past racket. Schulberg later recalled his book was once considered around "Jacobs' Beach (or Cauliflower Alley)"5:
The harshest put-down of boxing ever written in America. It exposed the deliberate exploitation of a manufactured champion, the chicanery, the greed, the casual disregard of fighters' sensibilities and economic needs that is pugilism at its worst. But our interest was in the reform of boxing, not its execution. (Sparring 33)
It is true there are no heroes in Schulberg's novel. Still, Robson criticized the sport even more severely.
As if Champion was not evidence enough that Robson's disdain for boxing was real, he treated The Harder They Fall as a true exposé, relying at times on journalistic devices to lend documentary authenticity to his thesis that boxing should be abolished. This is most obvious in the film's Art Leavitt character. In the novel, Leavitt is a rabble-rouser, a newspaper writer "not even syndicated," and thus, not a real threat to the graft (204). In the film, however—as another example of Robson recognizing the changed mediascape—Leavitt is a television journalist with a nightly sports program reaching "coast to coast." When Leavitt doubts his old friend Eddie's motives and questions his involvement in Nick's project, he invites Eddie into a film room at the television studio to show him an interview he had taped with a former fighter. The scene is an actual unscripted interview with a real-life former fighter named Joey Greb who retired in 1940 with a record of sixty-eight wins, eighty-two losses, and eighteen draws (68-82-18). Greb fought 168 times for a total of more than one thousand rounds across the feather, welter, and middleweight divisions over twelve years for an average of fourteen fights per calendar year.6 In his most active year, 1931, he fought twenty-two times; that November alone he fought three times in eleven days. For perspective, most professional fighters today take one to three fights per calendar year. Greb lost quite a lot more than he won, including his last ten fights in a row.7 By the time he was interviewed for The Harder They Fall fifteen years after retiring, he was clearly brain damaged and struggling with the deleterious effects of his years in the ring (see Figure 2). Standing on the street as the camera catches the action in tight focus, Leavitt (played by Harold J. Stone) and Greb (as himself) stand next to one another on Skid Row—a poster ironically advertising an upcoming boxing match can be seen at the right of the screen.8 Leavitt is attired in a suit and tie and Greb, leaning in as if he cannot hear Leavitt and wobbling from side-to-side, is disheveled, missing most of his teeth, and clearly not at all well. On cue, Leavitt launches into a series of questions. Greb responds, seemingly unable to control the volume of his voice:
Art Leavitt (AL): What's your name?
Joey Greb (JG): Joey Greb.
AL: How old are you?
JG: 57 years old.
AL: How many fights have you had?
JG: 243
AL: What do you do now?
JG: I'm looking for work, I am. 
AL: Where are you living?
JG: I sleep in my car opposite the Ranch Market, I do.
AL: Are you married?
JG: (unintelligible) No! My wife passed away.
AL: Any children?
JG: Yeah, my boy got lost in the war, he did.
AL: Why don't you get a regular job?
JG: Huh?
AL: I said, why don't you get a regular job?
JG: (silence)
AL: Well, have you got a trade?
JG: No. I ain't got no trade outside of fightin'.
AL: Joey, what do you think of the managers?
JG: Managers go on forever, but fighters only last a short time.
AL: Do you think there should be a home for fighters?
JG: Definitely and specifically. (unintelligible)
AL: What are your plans for the future, Joe?
JG (distractedly): Huh?
AL: The future?
JG (exclaiming): What future?9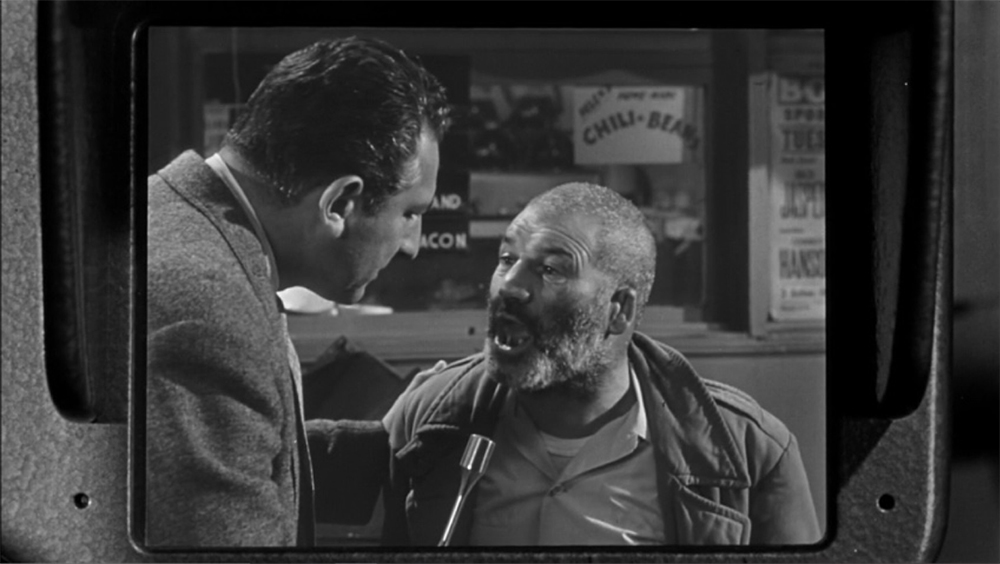 Back in the film room Eddie turns away from the screen clearly bothered but what he has just seen. When Leavitt presses and asks if he wants to see more, Eddie spits back at him to "just stop looking at me like I picked your pocket." Schulberg considered the Greb interview "capsule sociology and lightning theater," but added cynically that it was a "nice touch" (Sparring 74). His skepticism over Robson cherry-picking Greb, whom he called a "broken faced wino, on Skid Row" is obvious and he suggested that "anyone who draws from the frightful scene the conclusion that all old fighters are toothless penniless punchies should attend the next session of the Veteran Boxers Association" (Sparring 74). Certainly, there is a middle ground to be gained here, but the two argue their points as they do. And, while Schulberg contends he is not an "apologist" for professional boxing, the disparaging way he describes Greb is uncouth at best. At worst, it trivializes the very real long-term sufferings of many fighters of whom as many as ninety percent develop some degree of brain damage; the worst of these (about one in five) are diagnosed with a condition called "dementia pugilistica"—a phrase specifically referring to damage sustained from absorbing repeated blows to the head. This interview, and the images of an unsteady Greb mishearing the questions, rambling incoherently, and shouting his responses would have landed hard with viewers of the time. By 1956, investigative reporters like Edward R. Murrow, Walter Cronkite, and Mike Wallace had already become household names and viewers would have been accustomed to seeing bombshell material like this on news programs. Robson also accounts for television when he shows Nick watching a Toro fight at home in New York with his wife, his children, and Eddie's wife, Beth. And again later, when in Chicago Nick tells Eddie that "we're getting close to the big money you know. Toro's not only a west-coast sensation, there's not a kid in New York that wouldn't recognize him. That's the power of television today." Robson originally ended the film calling for the abolition of boxing, but Schulberg protested and the studio acquiesced. Even so, Schulberg was still dissatisfied with the film concluding on a melodramatic call for an act of Congress to clean up the fight game. In his "Hollywood Hokum" piece for Sports Illustrated, Schulberg countered matter-of-factly that "boxing needs no act of Congress" but rather a national commission like in baseball with a "front office wise enough to cooperate in the rehabilitation of the juvenile delinquent of American professional sport" (Sparring 74).  
Lastly, Robson had to sanitize the Eddie character for his film to argue his larger point that boxing was irredeemably corrupt and should be abolished; this is where he breaks most significantly with the novel. His protagonist needed to be clean enough for Robson to make his case against boxing and just dirty enough to convincingly do the bidding of a criminal. To achieve this, Robson rid Eddie of his vices which were indelible to his persona in the novel. Although Eddie drinks cocktails during meals throughout the film, he avoids the dark places; he is never shown imbibing to excess even as others around him do; and, he displays genuine concern for Toro. In the film, Eddie and Beth are married and he rejects the advances of women hired by Nick's henchmen as they cut from city to city promoting Toro and fixing his fights. In the novel though, Eddie cannot bring himself to marry Beth. Instead, he sleeps with other women; he disparages fighters and fight fans; he blacks out while drinking. In short, he behaves just like the criminals with whom he associates.
It is clear that Eddie is not close with Rod Steiger's character, Nick Benko, in the film; in fact, he dislikes him strongly and only associates with him and his otherwise intolerable crew because he is unemployed and Nick offers him a handsome salary of $250 a week, "tax free," plus an expense account, and the promise of ten percent of the total take once the graft has run its course. Nick needs Eddie and his well-respected name to legitimize Toro and his rise to the top of the ranks (see Figure 3). When Eddie hesitates, realizing Toro could get hurt, Nick argues that "the fight game today is like showbusiness. There's no real fighters anymore, they're all actors. The best showman becomes the champ. Now, you wouldn't hesitate to publicize an actor would you?" When Eddie seeks assurances, Nick's bookkeeper, Leo, promises that "no one gets hurt!" Eddie is rightly dubious over this claim, but he relents and privately makes it his goal to not only promote Toro, but to protect him from Nick as well. Eddie, despite his hardboiled exterior—bravely acted by an ailing Bogart—in the end, is as naïve as Toro.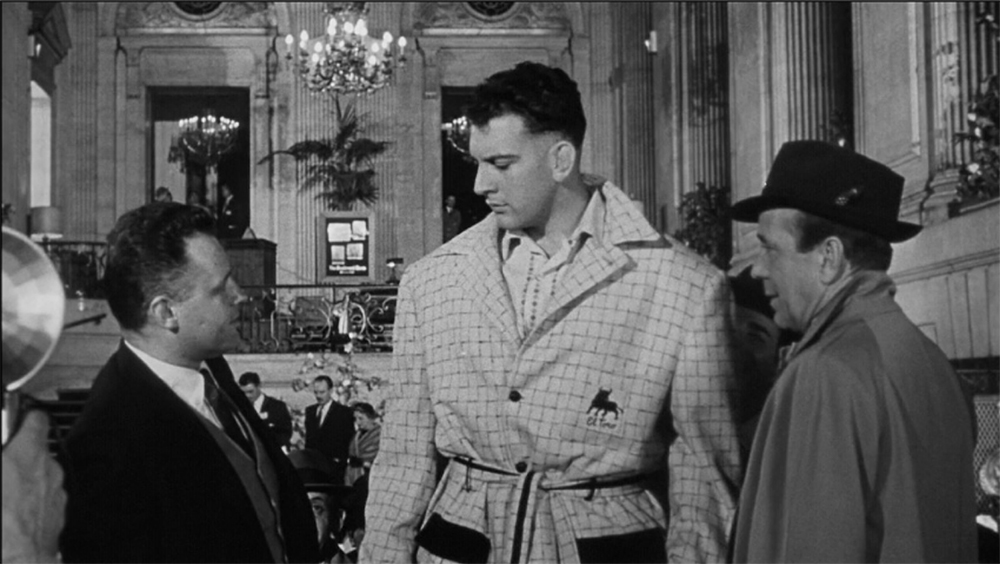 In contrast, in the novel Eddie is too close to Nick. He lounges about the mobster's country retreat; he expenses drinks and nights out with the criminals on Nick's payroll; he disdains fight fans and calls them "suckers." Like the others inhabiting this seedy underworld, he calls the fighters in his orbit "bums." This is in explicit contrast to the film, where in one scene Eddie lectures a group of corrupt managers who refer to their fighters this way. Or when Nick compares Toro to a horse in his stable and Eddie snaps that "he's not a horse, he's a human being!" In the novel Eddie is an active and eager participant in the Toro scam, privately relishing his cleverest moments like when he writes prediction pieces the public would be lead to believe were penned by Toro and his opponent, Gus Lennert, themselves. Looking over these "brilliant pieces of creative writing" he "had just knocked out" as they appeared in the paper one morning, Eddie thinks to himself:
Not bad . . . As convincing as this stuff ever is. Toro's essay was a re-write of one I had written a year earlier for a French middleweight, but who'd know the difference? Certainly not the suckers who read the stuff. The other one sounded more like Lennert than Lennert himself. (292)
Then, before the two even fight, Eddie assumes Lennert's voice and writes his "How I Got Licked" piece which he planned to run in the next day's paper:
So I batted out something that began, 'In my thirteen years in the ring, I have stayed with the best of them. So I can honestly say this Argentine Giant is the most powerful puncher I ever faced.' (292)
Only, Eddie never got the chance to run Lennert's "postmortem," as he ironically referred to it before the fight. Rather Lennert, who had sustained an undetected brain hemorrhage in his previous match with Buddy Stein, died while in the ring with Toro. While it is clear to his handlers that Lennert died from wounds he received in the Stein fight, Nick allows Toro to believe he killed Lennert—much to Toro's psychic injury—so that he can generate even more hype and increase the gate for Toro's next bout.10 Eddie writes cynical stories confirming that Toro is a "killer" and, with Toro's reputation thus garnered, earns him a fight with the champion, Buddy Stein. By this point in the novel, a severely compromised Eddie realizes he has become friends with a womanizing criminal from Nick's gang aptly nicknamed "The Killer."
After Lennert dies, with Toro grief stricken and ritualistically praying the rosary, Nick instructs Eddie to "take the big dope [Toro] . . . and go have some fun." He says, "The Killer will get you all the gash you want. Do anything as long as you don't let that big bum knock up a high-school girl or get himself a dose" (319). The following excerpted description of their ensuing bacchanal, perhaps more than anything, marks the stark differences between Eddie in the book and the film and demonstrates why Robson needed to sanitize the character as thoroughly as he did. Fully resigned at this point, Eddie complies with Nick's request and recalls:
So we started that afternoon. Pepe broke out a case of champagne and the Killer sent up six girls, including a couple of spares, in case some of them went flat, he said. What we started that afternoon may have lasted a week or maybe it went for three, I never knew for sure. I think I remember Pepe betting Toro a hundred dollars he couldn't drink a bottle of champagne without stopping and Toro falling asleep on the floor and Pepe having one of the girls wake him up in a way that made us laugh . . . It seems to me there was a showgirl of Amazonian proportions sent up expressly for Toro, and I think we all watched and cheered them on. There was a night in Philadelphia, or maybe it was Boston, for I guess we were moving around, when we all seemed to be in a large bed together. I think it must have been in a house because I vaguely remember a mirror on the ceiling. . . there seemed to be an endless switching of partners and good-natured comparing of notes. There were girls who were spiritlessly accommodating and there were girls who were impersonally tempestuous. There were girls who would submit to the most extreme indignities but would not allow their ears to be assaulted with profanity. . . There were girls who indulged in entertainments that are not to be described. (319-320)
After this binge, as Eddie comes to, he is surprised to find he is in his own home, unaware of how he arrived there and wretchedly hungover. He spies a picture of Beth on his bureau as the "whole empty, frenetic, saturnalia closed in and threatened to crush" him (321). Then, as the novel ends, Eddie is forced to watch as the champion, Buddy Stein, brutalizes Toro, whom he has come to pity and, in his way, respect as someone who is down and out himself. In the film, conversely, Eddie routinely dismisses women clearly eager to sleep with him out of respect for his relationship with Beth. He keeps the alcohol and the prostitutes away from Toro. He teaches the fighter English and makes sure he gets to sleep on time each night.
At this point in the novel, severely injured and left penniless by his mob handlers—with his contract sold to another greedy manager who plans to go back "over the same territory" believing that "home-town fans'll put their bucks down to see the local boy beat hell outa the Giant" (340)—Toro asks Eddie to get him his money; but, there is none to give him despite the gate for the Buddy Stein vs. Toro Molina fight reaching $1,356,893.50 (336). Eddie realizes he played a major role in bilking Toro and, in the process, that he has lost Beth for good. And so, he binges on whiskey and retreats to the den of a woman named Shirley with a reputation for sleeping with only "her badly beaten fighters" (342). In the novel, Eddie occasionally suffers the annoyances of what he calls "a thousand little gnats of conscience," but he never actually does anything about it (277). In truth, he cannot. Even after the entire scheme has ended, and it is clear that Nick, recently made rich, has cooked the books so that Toro actually owes him money, Eddie's efforts to stand up to Nick are impotent and short-lived.
In the film, though, Eddie takes a firm stand against Nick. After he has been paid his ten percent, which is $26,000 (roughly $250,000 in today's dollars), Eddie learns Toro—after having suffered the beating of his life—is going to be paid just $49.07 and sent back out west with the crooked manager, Jim Weyerhause, to once again fight the men he had previously faced on the way to his title shot. Toro longs to return home to Argentina so, at considerable risk to them both, Eddie steals him away from the hospital and hurries him to the airport. On the way, with Nick's killers in pursuit and suffering the pangs of extreme guilt, Eddie attempts to mollify his conscience and gives Toro his entire share of the take. He never lets on that Nick planned to give Toro just $49.07 or that his contract had been sold to Weyerhause for $75,000. Toro flashes a wired-shut smile and tells Eddie his plans to buy his mother a house and his father new shoes once back in Argentina. "You are a smart man," he tells Eddie, who only winces in response. Shortly after, when Nick and his men find Eddie at home with Beth, Eddie threatens to expose Nick's scheme in writing rather than pay Nick the $75,000 he cost him by sending Toro home. "You go ahead and write, it's been tried before. Who reads and who cares?" Nick condescends, alluding to the reality that New York newspapers suffered crippling readership losses after employees at six of the seven dailies went on strike in late 1953 and that television news was on the rise anyway. In fact, it is implied in their first meeting in the film that Eddie, by all accounts respected and good at his job, is only unemployed because his newspaper had gone out of business. Despite Nick's very real threats, Eddie persists in his task, and as Beth pours him a cup of coffee he sits down to type the beginning lines of his exposé which he titles, "The Harder They Fall." He begins the piece demanding that Congress open an investigation into boxing's criminal actors (see Figure 4).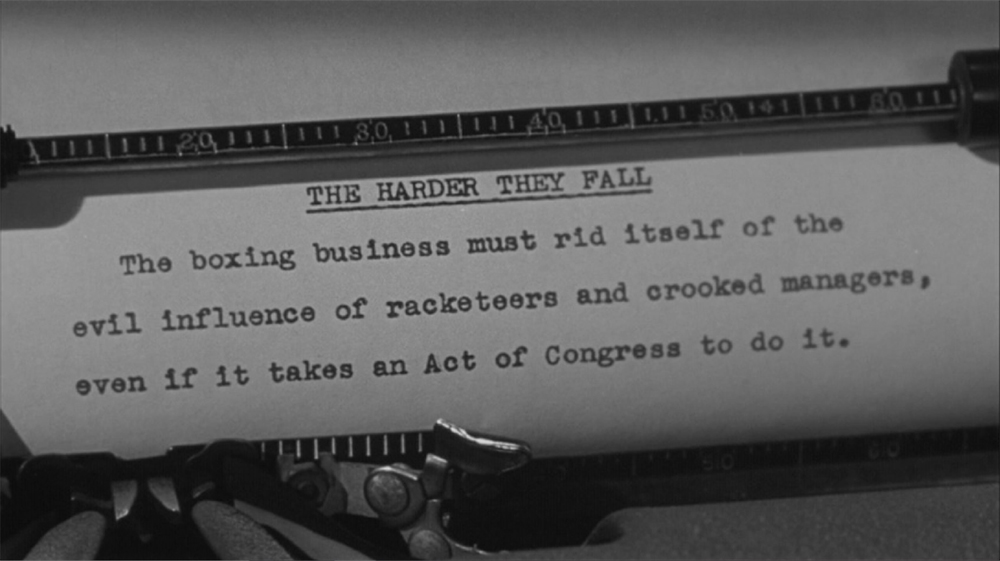 In the novel, most of the pressure on Eddie to do the right thing comes from Beth who is indignant over his associations with Nick. At one point she confronts Eddie, saying "It's time I knew the man I was sleeping with. I never know whether I'm going to bed with one of Nick's boys or someone who can think for himself" (130). To which Eddie replies, "I guess I'm one of Nick's boys." He then argues, unconvincingly, that "Nick's dough may look a little soiled but they still exchange it for nice crisp new bills at any window" (131). In the film, however, Robson emphasizes Eddie's crises of conscience and how the events of the narrative push him toward doing the right thing. Here the pressure is mostly internal, with Beth giving him the push he needs to do the right thing.
Unlike the film, Eddie does not threaten an exposé in the novel because Schulberg abhorred the idea. He wanted a national commission like what Major League Baseball had to regulate boxing and unify the various state commissions, but he did not want to abolish the sport like Robson. Second, Eddie does not threaten an exposé because he is too mixed up with the illegality of the scheme to write about it believingly or without indicting himself in a number of criminal conspiracies. Schulberg hated Robson's original ending(s), and so did New York Times film critic Bosley Crowther, who wrote on May 10, 1956 that, "as for the ending, in which the writer sits down to do a staggering exposé of the fight game, as salve for his conscience—that's a Hollywood hoax. Phooey! Fake!" In fact, Schulberg titled his own take on the film "Hollywood Hokum."
In the years between the novel's publication (1947) and the release of Robson's film (1956) 164 fighters died from injuries suffered in the ring. This is a tragic number and fight fans at the time would have been aware of these deaths. And so it happened that in 1960 Congress did investigate boxing. Most famously, this resulted in Jake LaMotta admitting under oath that he threw his fight with Billy Fox because Blinky Palermo and Frankie Carbo had promised him a chance at a title in exchange for doing so.11 Whether or not Robson's film inspired the Congressional investigation is not clear, but Arthur Daley of the New York Times echoed Robson's sentiments when he wrote on June 22, 1960 that "Boxing is the slum area of sports and the forces of evil have thus far been able to prevent any attempts at clearance or rehabilitation. . . Perhaps Congress can sweep clear the debris and order the garbage jettisoned" (42). In the end, Palermo and Carbo both received twenty-five- year sentences for their crimes in the boxing racket and, for a time at least, a couple of the sport's major criminals were held accountable.
It was also at this point, as boxing historian Mike Silver documents, that the "Golden Age" of boxing came to its end. By 1962 networks aired just one nationally televised bout per week and, following the televised fight in which Benny 'Kid' Paret would later die from wounds sustained at the hands of Emile Griffith, newspaper editorials did begin calling for the abolition of boxing. Come 1964, for the first time in twenty years, boxing was off network television entirely (Silver 42). Ironically, the years that boxing on television went dark are the very same that witnessed the rise of one of the sport's most popular characters, Muhammad Ali, who would reign as heavyweight champion of the world off and on between 1964 and 1978. Ali (born Cassius Clay) fought to a 56-5-0 record and absorbed an estimated 200,000 blows to his head and body before developing Parkinson's disease and permanently retiring from boxing at age thirty-nine (Eig xiv). Scientific literature suggests a link between concussive brain injury and Parkinson's disease.12
The films of the Rocky franchise and Martin Scorsese's Raging Bull catapulted boxing cinema back into the top of the ranks between 1976 and 1985 and their effects remain today as boxing films surge in popularity once again. Mark Robson passed in 1978, between Rocky (1976) and Rocky II (1979) and decades before the United States legislature enacted "The Professional Boxing Safety Act of 1996" and the "Muhammad Ali Boxing Reform Act of 2000." And while calls for a national commission continued even after those reforms, on November 16, 2005, the House of Representatives, by a vote of 233-190, voted down H.R. 1065, "The United States Boxing Commission Act," which had been introduced to "establish the United States Boxing Commission (USBC) to protect the general welfare of boxers and to ensure fairness in the sport of professional boxing."13 Budd Schulberg, long a proponent of a national commission of this kind, passed away in 2009. Ali, after a very public battle with his illness, passed in 2016. There is still no national commission for the sport of professional boxing.
Endnotes
1 Herbert G. Luft, "Mark Robson Did Not Dally Overlong with Message Films." Films in Review, XIX, No. 5 (May 1968).
2 Both films were nominated for "Best Cinematography, Black and White" at the 29th Annual Academy Awards (1957). Somebody Up There Likes Me (Joseph Ruttenberg) won the Oscar. https://www.oscars.org/oscars/ceremonies/1957
3 In his recent book, Travis Vogan discusses the development of the relationship between television and boxing in the 1950s.
4 On August 26, 1930 (the day after their fight), Campbell died from wounds sustained in the ring with Baer. Baer was charged with manslaughter, but the charges were later dropped. Two years later, Baer badly beat Ernie Schaaf in their fight. Schaaf developed meningitis of the brain and died after fighting Primo Carnera—the model bout for the Toro and Gus Dundee fight in The Harder They Fall. A note on surnames: while all characters mentioned keep their first names, they have different surnames in the film. The following is novel/film: Lewis/Willis, Molina/Moreno, Latka/Benko, Stein/Brannen, and Lennert/Dundee. The Art Leavitt character retains his surname in the film.
5 Jacobs' Beach (aka Bashed Beak Boulevard, Cauliflower Canyon or, in Schulberg's usage, Cauliflower Alley) was one city block of W. 49th Street between Broadway and Eight Avenue in New York City. The block was bookended by Madison Square Garden to the west and former heavyweight champion Jack Dempsey's restaurant to the east. "Cauliflower" is a reference to "cauliflower ear"—a disfiguration of the ears common among boxers who absorb blows and headbutts regularly.
6 Assuming Greb is accurate in reporting that he fought 243 times, the remainder were likely amateur or even unsanctioned bouts.
7  I compiled the Greb statistics from this BoxRec page: https://tinyurl.com/y2lkw4nz In 2018 In 2018 the Association of Boxing Commissions (ABC) voted 34-2 to make BoxRec the official record keeper for professional boxing.
8 Harold J. Stone also played Nick Barbella in Somebody Up There Likes Me (1956; dir. Robert Wise) that same year.
9 This is a modestly abridged transcript of the interview.
10 This exact scenario played out in February 1933 when Ernie Schaaf died fighting Carnera after suffering undetected injuries in his previous fight with Max Baer.
11 Scorsese's Raging Bull (1980) dramatizes LaMotta's testimony.
12 See Jafari et al.
13 A record of the vote can be found here: LINK Committee reports here: LINK
Works Cited
Avildson, John G., director, Rocky. United Artists, 1976.
Brody, Richard. "The Harder They Fall" The New Yorker. March 12, 2010. Web. Last Accessed November 21, 2020.
Cressman, Dale L. and Lisa Swenson. "The Pigskin and the Picture Tube: The National Football League's First Full Season on the CBS Television Network." Journal of Broadcasting & Electronic Media, vol. 51, no. 3, 2007, pp. 479-497.
Crowther, Bosley. "'Harder They Fall' Opens; Prizefight Film Stars Bogart and Steiger . . ." New York Times. May 10, 1956. Web. Last Accessed December 3, 2020.
Daley, Arthur. "Sports of The Times," New York Times. June 22, 1960. Web. Last Accessed December 8, 2020.
Eig, Jonathan. Ali: A Life. Houghton Mifflin Harcourt, 2017.
Jafari, Siavash, et al. "Head Injury and Risk of Parkinson Disease: A Systematic Review and Meta-Analysis. Movement Disorders, vol. 28, no. 9, Aug. 2013, pp. 1222–29.
Grindon, Leger. Knockout: The Boxer and Boxing in American Cinema. UP of Mississippi, 2011.
Kubrick, Stanley, director. Day of the Fight. RKO Radio Pictures, 1951.
Lee, Robert C. "Mr. Moore, Mr. McCormick—And the Seven Seas!" 15th Newcomen Lecture, U.S. Coast Guard Academy. New London, CT. October 16, 1956. Web. https://tinyurl.com/t43qjgl
Nelson, Ralph, director. Requiem for a Heavyweight (teleplay). CBS, 1956.
---. Requiem for a Heavyweight (film). Columbia Pictures, 1962.
Page, Joseph S. Primo Carnera: The Life and Career of the Heavyweight Boxing Champion.
Robson, Mark, director. Champion. United Artists, 1949
---. The Harder They Fall. Columbia Pictures, 1956
Rondinone, Tony. Friday Night Fighter: Gaspar 'Indio' Ortega and the Golden Age of Television Boxing. U of Illinois P, 2013.
Rossen, Robert, director. Body and Soul. United Artists, 1947.
Sammons, Jeffrey T. Beyond the Ring: The Role of Boxing in American Society. U of Illinois P, 1988.
Schulberg, Budd. Sparring with Hemingway: And Other Legends of the Fight Game. I.R. Dee, 1995.
---. The Harder They Fall. Random House, 1947.
---. "The Pride of Tony Colucci." Some Faces in the Crowd, Random House, 1953, pp. 107–20.
---. What Makes Sammy Run? Random House, 1941.
Scorsese, Martin, director. Raging Bull. United Artists, 1980.
Silver, Mike. Arc of Boxing: The Rise and Decline of the Sweet Science. Mcfarland, 2014.
Stallone, Sylvester, director. Rocky II. United Artists, 1979.
Stanfield, Peter. "A Monarch for the Millions: Jewish Filmmakers, Social Commentary and the Postwar Cycle of Boxing Films." Film Studies, vol. 7, no. 1, 2005, pp. 66–82.
Sussman, Jeffrey. Boxing and the Mob: The Notorious History of the Sweet Science. Rowman & Littlefield, 2019.
United States. Professional Boxing.: Hearings before the United States Senate Committee on the Judiciary, Subcommittee on Antitrust and Monopoly, Eighty-Sixth Congress, Second Session, Eighty-Seventh Congress, First Session, Eighty-Eighth Congress, Second Session. U.S. G.P.O., 1960. Hathi Trust, https://tinyurl.com/uthbx8n
Van Dyke, W.S., director. The Prizefighter and the Lady. Metro-Goldwyn-Mayer, 1933.
Vogan, Travis. The Boxing Film: A Cultural and Transmedia History. Rutgers UP, 2020.
Wise, Robert, director. Somebody Up There Likes Me. Metro-Goldwyn-Mayer, 1956.