The Actor's Aging Body: Norma Shearer as MGM's Juliet
Allison Kellar
Despite film star Norma Shearer's immense popularity in the pre-sound era and in the 1930s, her role in film and Shakespearean adaptation history has been dismissed or at best footnoted. As Jeanine Basinger in The Star Machine observes, "whereas [Loretta] Young's career has been devalued over time, Shearer's reputation has been totally destroyed. . . . She's a movie dinosaur" (357). Shearer, MGM producer Irving Thalberg's wife, was "the queen of the MGM lot" in the late 1920s and 1930s (Balio 150). She even accepted an Oscar for her performance as a cuckholded wife who evens the score, divorces her husband, and eventually reunites with him in The Divorcee (1930). MGM transformed her star image several times in the 1930s. Continuing to play women with dubious sexual mores in films like A Free Soul (1931) and Riptide (1934), she then portrayed high culture literary characters in The Barretts at Wimpole Street (1934) and Romeo and Juliet (1936).1 Biographers and critics often note that Irving Thalberg wanted the role of Juliet to be a jewel in his wife's crown: he sought to construct "Norma as the screen's Katharine Cornell" (Flamini 252). Yet few, if any, critics have fully analyzed why Thalberg chose the role of Juliet to try and immortalize not only his wife's image, but also MGM's brand and his own image as an MGM producer. Thalberg thought that "[a] successful studio, [as] he began to say in 1933, was justified in making a few high-quality pictures every year that would enhance its prestige without necessarily making a profit" (Flamini 134). As one of Thalberg's "prestige pictures" (Balio 190), Romeo and Juliet redefines Shearer's image as well as MGM's, attempting to woo not only Shearer's fans, but also more refined audiences. As the star of this prestigious Shakespearean film, the wife and mother of two was to be made over in her title role as Juliet: a woman in her mid-thirties, Shearer played a girl of thirteen, communicating to the audience that while she was a wife, mother, and film star, she was youthful and elegant. The image also communicated that while MGM was maturing in years in the film business, its productions and stars were aging gracefully and performing challenging roles.
Given the cast in her eye and her modest height, Shearer's star appeal seemed improbable at the beginning of her career (Lambert 15). These physical imperfections (by Hollywood's standards) and lack of professional training even led some critics to speculate that this woman would not have snagged impressive roles without her husband's influence (Hay 87). Yet despite her supposed physical flaws, she became one of the biggest stars of the 1920s and 1930s. While starting out her career as an extra in films like The Flapper (1920) and The Restless Sex (1920) (Quirk 247), Shearer signed a contract with MGM in 1923 and soon starred in films like Pleasure Mad (1923), as a flapper, and He Who Gets Slapped (1924), as a circus girl (Lambert 32, 52). Although Shearer's popularity was rising, she was not content with the types of roles she played in "routine pictures," complaining to Thalberg that other girls got better roles because of their connections (Flamini 86-87).
In 1927, Shearer's marriage to Thalberg created connections for her: as Basinger remarks, "her career rose to new heights. She had married the machine" (360). Her first sound film, The Trial of Mary Dugan (1929), was extremely popular: Shearer played a showgirl accused of killing her lover (Lambert 122-24). Through her award-winning performance in The Divorcee (1930), Shearer portrays the inner turmoil of a successful woman who divorces her husband, has many male admirers as a divorcee, and almost breaks up another marriage before deciding to reconcile with her husband. A man who drinks his cares away and uses threatening words and menacing actions, her husband is no angel, and so one is left at the end of the film wondering if her decision to return to him will be her ruin. The "fallen woman cycle," fashionable in the early 1930s, receded in production value by 1933, and the stars at MGM, such as Norma Shearer, Greta Garbo, and Joan Crawford, were reconstructed to portray different female roles. Shearer began to act in "sophisticated (but not sinful) dramas" instead of the good girl gone bad plot (Balio 238-39).
Apparently, one of these films was a little too "sophisticated" and still relies on the fallen woman motif. The Legion of Decency condemned MGM's Riptide (1934), in which Shearer played a wife who must choose between her husband and her old flame: Daniel Lord called the film "'insidious' and denounced Irving Thalberg for making its star and his wife, Norma Shearer, play a 'loose and immoral woman'" (qtd. in Black 168). The message was clear: Lord felt that the film threatened American values, applauding a married woman and mother for portraying an immoral role. Five years earlier, in 1929, Thalberg wrote, "'there is a very general tendency to over-emphasize the moral and educational influence of the motion pictures' and that 'the sole purpose of the commercial motion picture is to entertain. It cannot be considered as education or as a sermon or even indirectly as an essentially moral or immoral force'" (qtd. in Balio 47). Yet while Thalberg often demonstrated his commitment to art and entertainment over moral issues and censorship, Lord's comments about his wife may have changed Thalberg's mind when it came to the kind of roles that Shearer played.
After Riptide, Shearer's film projects revolved around established literary and historical figures while Thalberg was alive. Shearer starred in a less controversial film as the frail Elizabeth Barrett in The Barretts at Wimpole Street in 1934. Balio argues that the film" not only gave Shearer her most widely acclaimed great-lady-of-the-theater role but also earned a substantial profit. The number of prestige pictures rose dramatically thereafter, and for the remainder of the decade they constituted 50 percent of the pictures on Film Daily's Ten Best" (189). Thalberg, excited by the film's success, planned more projects with prestigious roles for his wife, including Marie Antoinette and Juliet (Lambert 211, 220). Two years after The Barretts of Wimpole Street, Shearer, the mother of two young children, graced the screen as MGM's young Juliet.
Critics often note that MGM cast older actors to play Romeo and Juliet because they were following staged productions, which also relied on older actors to play Shakespearean roles, the fear being that the younger actors might muck up the difficult dialogue (Rothwell 39-40). While this argument is sound, Thalberg could have had another motive for casting his wife to play this role: redefining her image and his productions after the rebuke his wife and he experienced in 1934 for Riptide. MGM's Romeo and Juliet presents the star-crossed lovers as sweethearts instead of passionate youth: with maturity and spirit, Leslie Howard (Romeo) and Norma Shearer play innocent romantics well after both actors could be considered sinless by the Legion of Decency's standards. Shearer, playing sinful women in the films before The Barretts at Wimpole Street, is remade as the young Juliet, becoming a symbol of innocent beauty. Seasoned actors provide several advantages to young ingénues for these roles. Shearer and Howard are known stars, and they are experienced enough to master the dialogue (at least more so than ingénues). Kenneth Rothwell observes, "Howard and Shearer speak their lines well, with clarity and conviction but not with the transcendent fire that makes the words burn in the heart" (44). Just as important, however, if not more so for 1936, as middle-aged actors, Shearer and Howard make the story of Romeo and Juliet less risqué; Romeo and Juliet become two lovers who are mature enough to make their own decisions, not two adolescents who are disobeying their parents to fulfill a lustful infatuation. Granted, the play has moral complications that could have potentially caused an uproar from Catholics and the Legion of Decency: young Romeo and Juliet rebel against their parents and become lovers and then commit the permanent transgression of suicide. MGM, however, strives to mask these moral issues by casting older actors to play Romeo and Juliet, ridding the lovers of unbridled sexual impulses, and downplaying Romeo and Juliet's violent deaths.
The Shakespearean film was produced on an expansive budget of two million dollars (Rothwell 39). MGM sought to strengthen the American production and fend off critical reviews by giving many of the main roles to "expatriate British actors" like Leslie Howard and Violet Kemball Cooper (39). Robert F. Willson aligns Thalberg's cast and production crew choices with Thalberg's concern for having the production show fidelity to Shakespeare (181): "Jennings, who had collaborated with Thalberg on other films, was renowned for his care in retaining the style of literary classics. Some of the raunchiest exchanges between Romeo and Mercutio and between Mercutio and the Nurse were therefore excised from Jennings's script" (181). This reasoning, while plausible, does not fully explain why it was important for a film audience to see Howard and Shearer in the roles instead of two young ingénues and for Jennings to cut the sexually suggestive lines: censorship and audience marketing may have been on Thalberg's mind. By casting his thirty-four-year-old wife as Juliet, he had to be careful not to present an overly impassioned pair of lovers, which could cause audiences to think that the forty-three-year-old Howard and Shearer were cast to make the love story seductive instead of a tale of first love. The picture needed to portray Shearer as innocent enough to play Juliet, but sophisticated enough to handle the Shakespearean language.
Shearer and the studio, however, had some work to do in making her out to be the budding thirteen-year-old Juliet. She had no background in classical acting and greatly feared speaking the blank verse instead of the informal prose she delivered in her previous roles (Lambert 221). To alleviate her anxiety, her husband hired acting coach Constance Collier to train Shearer for the Shakespearean role (221); Shearer had Collier on the set for the entire filming to make sure that she was living up to the part and speaking Shakespeare's language with precision (229). In addition to Shearer's inexperience, she had been on hiatus from the movies in order to have her second child. Clearly, off screen at the age of thirty-four she could not be classified as a young virgin – two kids and a husband somehow gave her away. Yet with the help of costumes, props, and lighting, Shearer effectively appears as the young Juliet. In the opening scenes, audiences see a Juliet whose open-mouthed smile and starry-eyed expression communicate youthful innocence and bashfulness. Shearer's performance of a shy, sweet-natured Juliet reveals as much about MGM's marketing strategies as it does Shearer's acting abilities.
The thirty-four-year-old had the ethereal face that Thalberg wanted to sell to refined audiences and educators as MGM's image: enchanting and timeless (see Figure 1). As Balio notes, "Educated middle-class Americans were not habitual moviegoers. In 1936 the Hays Office estimated that 36 million such people attended movies infrequently, as little as once a year or only for special pictures" (190). Hollywood's Shakespearean productions were intended to draw this audience into the theater (190). But Romeo and Juliet also sought to encourage teachers and students to view the film, releasing a study guide for the play and movie. In a note at the beginning of A Preliminary Guide to the Study and Appreciation of the Screen Version of Shakespeare's Romeo and Juliet, the publisher declares,"This study guide, of which some half million copies will be distributed in secondary schools throughout the country, is . . . to demonstrate to the reader the efforts that major motion-picture companies are expending to stress the educational features of their products" (Publisher's Note 270).2 Appearing in a film with "educational features" and literary appeal, Shearer's graceful, wholesome portrayal of Juliet is both safe for younger audiences and sophisticated enough for culturally cultivated spectators.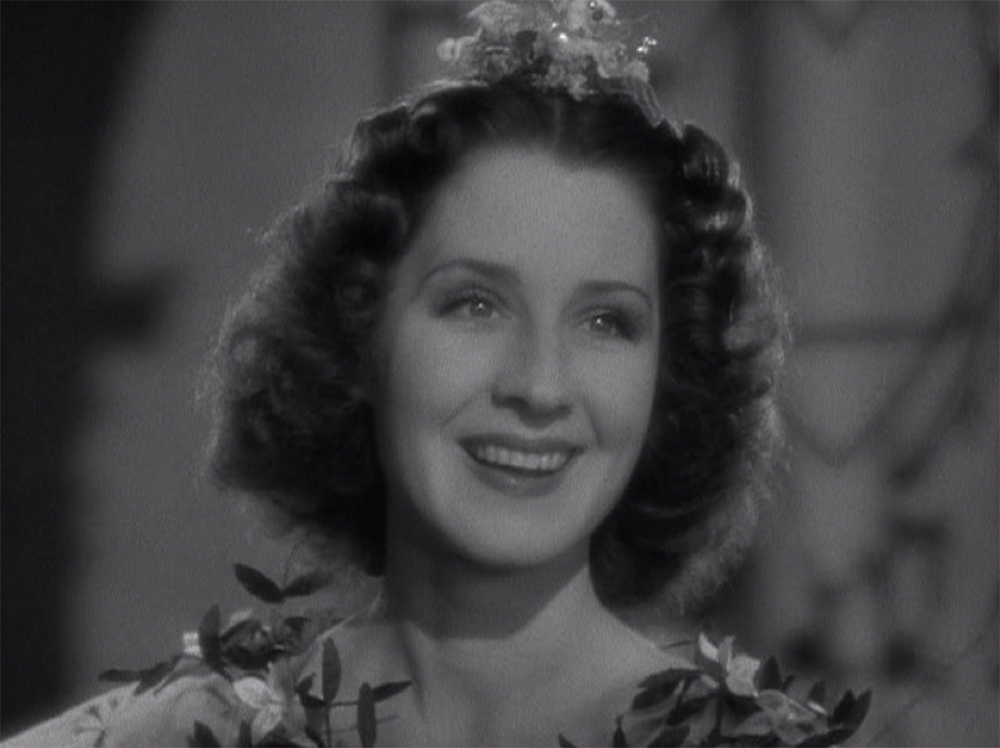 Perhaps, in an attempt to appeal to some audience members' romanticized notions of the play, Cukor and Thalberg's Romeo and Juliet introduces the film as if the audience is about to see and hear a fairy tale. After the credits, each main character is introduced by a decorated frame, providing a cameo shot of each actor in connection with the actor's character name at the bottom of the picture frame. Then, a tableau vivant reveals a character reading a scroll that provides the play's prologue, setting up a "Once Upon a Time" storytelling effect for the audience. We then see a painted set model of a city that then shifts to a close up of the largest of the city's buildings, the church. The movie begins and ends with the church as a focal point for the audience, seeking to establish MGM's detailed attention not only to the play's time period and location, but also, perhaps, to religious values.
Thalberg and Cukor use this same fairy tale approach to establish Shearer as the pure, youthful Juliet. The first time we see Juliet in the film, she is feeding a pet deer out of her hands, as if she could charm animals with her beautiful appearance and melodious voice.3 The camera provides a close-up of Juliet's gleaming eyes and carefree smile. Hearing her nurse's call, Juliet breaks from her pastoral tranquility to meet with her mother. She sits at her mother's feet with her nurse coddling her (see Figure 2). As she timidly tells her mother that she will "look to like, if looking liking move; / But no more deep will I endart mine eye / Than your consent gives strength to make it fly" (1.3.99-101), she playfully pretends to aim a bow and arrow at a target. The bow and arrow prop and the deer work a little too hard to establish her as a young girl instead of a thirty-something wife and mother; fortunately for her, Shearer's smile and line-free facial expressions create a more believable childlike image, or the scenes' props would be disastrous.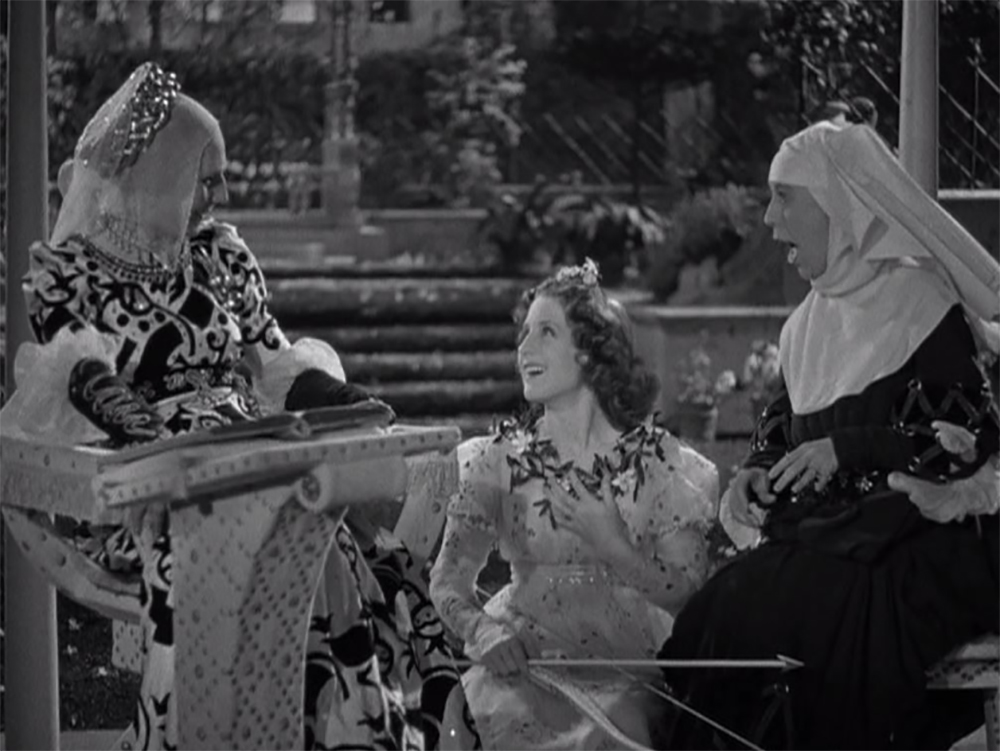 Unrealistic props aside, Shearer's comments about Juliet also reveal some inconsistencies in whether the film and its actors were committed to historical accuracy or to a fairy-tale version of the past. Regarding Juliet's decisions and actions as a character who in "four days … grows from a girl to a woman," Shearer observes, "We come upon her, innocent, inexperienced but a worldly sophisticated woman mentally, due to a broad and liberal education which the young ladies of that period were given. Women of her day had found a new freedom of expression and a broader outlook with the coming of the Renaissance" (Shearer 233). Shearer's idealistic view of women's roles in the early modern period actually speaks less to the role of Juliet and much more to Shearer's role as a female star in the 1930s, able to portray both fallen women and innocent girls.
To turn back the clock to more youthful days, Shearer also has some help from the lighting department and production shoots. For the balcony scene, the set was lit brightly behind her, creating an angelic halo effect above her soft curls. Romeo, at the bottom of the balcony, was often in the shadows (see Figure 3). This production choice ironically mirrors Leslie Howard's statement that "[Juliet] is the perfection of youth, beauty, passion, and unswerving fidelity. . . . [Romeo's] principle function is to be the object of Juliet's affection" (Howard 239). The lighting makes it clear throughout this scene that the main focal point is the saintly Juliet. Shearer's remarks about the scene, unlike Howard's statement, are at odds with the final product: "In this [balcony] scene, Juliet is alternately a timid girl, a coquette and a daring woman" (Shearer 233). Shearer's description of Juliet as "coquette and a daring woman" seems to be a remnant of her previous acting personae rather than the focus for the classical film's character development. Although the editing department had multiple takes of the balcony scene to shape the final product (thanks to Thalberg's insistence that the scene be filmed in close-up, medium, and long shots) (Lambert 228), Juliet appears "timid" and innocent throughout the scene, never giving over to her "daring" side, if she has one, a boldness that Shearer laudably portrays in films like The Divorcee (1930), A Free Soul (1931), and Smilin' Through (1932), the latter two of which also featured Leslie Howard. The directing and editing of this scene seem intent on portraying Howard's Romeo and Shearer's Juliet as young, sweet innocents instead of passionate lovers. Hence, Shearer's angelic image, the directing, and the editing keep the film pure for audiences and the censor brigade.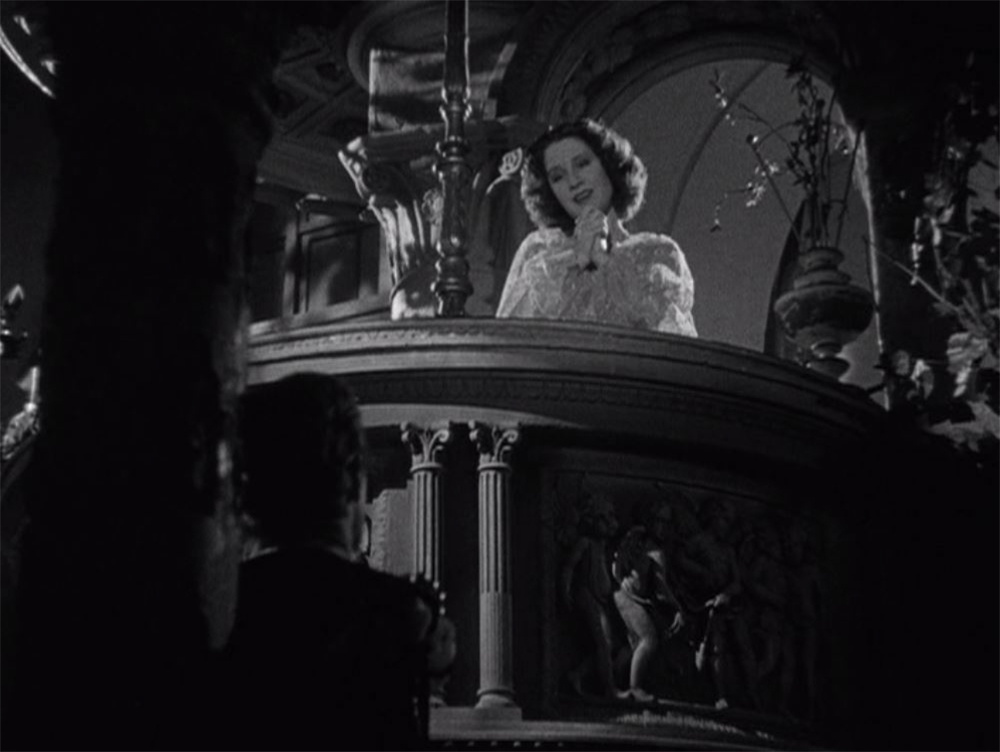 Purity and discretion also drive the staging of Romeo and Juliet's second balcony and bedroom scene in which they consummate their marriage. After Romeo climbs up the balcony on a makeshift rope ladder that Juliet has thrown down, much like an image of Rapunzel letting down her long hair for her knight in shining armor, the couple walks into Juliet's room. The camera, however, does not follow the married couple to their nuptial bed; instead, the audience is whisked away to view a montage of mountains, trees, stars, and a lake. As the strings music playing in the background reaches its climax, the camera cuts to show Juliet and Romeo the morning after their last night together. Both are fully clothed. Juliet lies in bed, looking up adoringly at her husband.  Romeo awkwardly sits on the edge of the bed, leaning over her with his feet on the ground (see Figure 4). As they say their farewell lines, they do embrace and kiss, but their kisses adhere to proper etiquette for public displays of affection.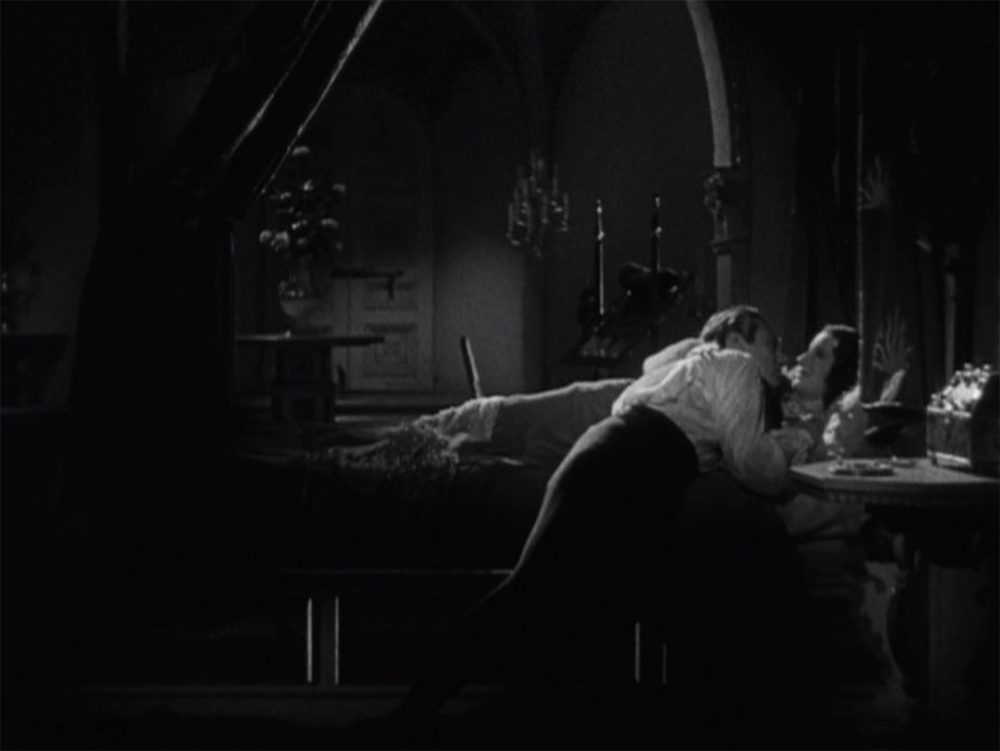 Much like Romeo and Juliet's passion, the violent act of suicide is downplayed in the tomb scene where Romeo and Juliet reunite in death (see Figure 5). When Howard takes the poison, he does not lurch or gasp for air; he dies peacefully by Juliet's bed. Likewise, when Shearer plunges the dagger into her breast, she does not cry out in pain and agony. Instead, she falls over Romeo's inert body. Their death scene is relatively short and void of melodramatic acting, perhaps indicating that Thalberg and Cukor did not want to make suicide look exciting to young spectators and also wanted to avoid any criticism that the stars were overacting.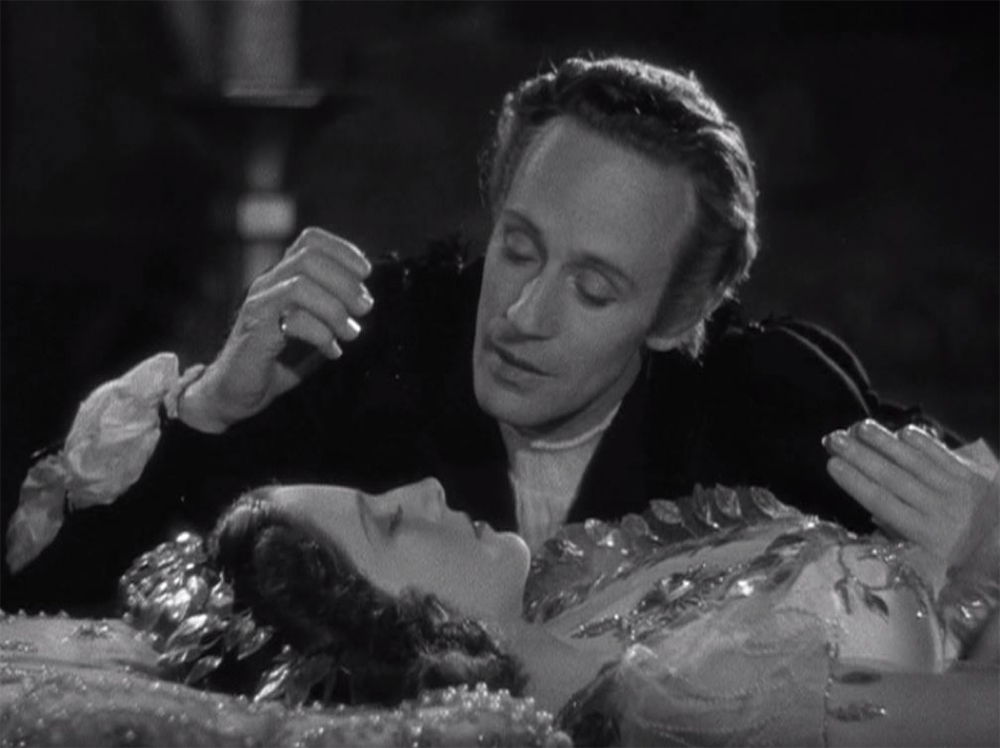 Film reviews of the movie varied regarding the performances, but reviewers seem to agree that the production was a successful adaptation. At the time of its release in 1936, some critics fervently praised the film: Helen Gwynn of The Hollywood Reporter claimed, "everything about the production will make you proud to be a movie fan" (qtd. in Jacobs and Braum 210). Michael Orme of Illustrated London, however, did criticize the casting of the American production: "Mr. Leslie Howard and Miss Norma Shearer, though a gracious and poetic pair of lovers, are a shade too carefree, too reticent. They bring to their passion and their grief a hint of precise preparation and a circumspection alien to the youth of Romeo and Juliet. They preserve a poise, even in despair which takes from their tragedy something of its poignancy" (774). Other critics' comments were more favorable: "Coming to Juliet, inexperienced in the wiles of Shakespeare's histrionics, Miss Shearer is remarkably good. She is inclined to coyness at the start, but from the balcony scene on, she plays with simple intensity and profound assurance. In her most ambitious role, she does the finest acting of her career" (Barnes). Yet Orme's critique of the couple being "too reticent" and Barnes' comment on Juliet's "coyness" in the earlier scenes hint at the actors' respective ages and MGM's attempt to mask Shearer's past roles and restrain from creating a passionate love story.4
Critics after the 1930s, however, have pointed to the actors' ages as one of the reasons to question the film adaptation's merit. Paul Dehn proves quite critical of Shearer:
Mr. Howard, at this time had reached the peak of his powers. He was old enough to understand Romeo, and the camera made him look young enough to play him. Miss Shearer, on the other hand, had somewhat dropped from her zenith. She gives the impression of being no longer young enough to remember how Juliet must have felt, and a little too old to be able to simulate (even with the camera's help) what she must have looked like. (qtd. in Rothwell and Melzer 249)
Praising Zeffirelli for choosing a younger Romeo and Juliet, Anthony Davies remarks, "the visualization of adolescent love gives to that film a dimension of credibility, despite the gaucheness of Leonard Whiting and Olivia Hussey, which is patently lacking the more intelligent performances of Leslie Howard and Norma Shearer in Cukor's Romeo and Juliet" (168). Similarly, Jack Jorgens notes that "Leonard Whiting and Olivia Hussey are credible and likeable lovers as Leslie Howard and Norma Shearer or Laurence Harvey and Susan Shentall are not" (91). This sampling of criticism regarding the ages of Juliet and Romeo communicates several troubling concerns. In the case of Dehn, Shearer's aging body is criticized more sharply than Howard's, even though both are well beyond their teenage years. In addition, the commentary fails to acknowledge that Shearer and Howard played romantic interests in two previous films, A Free Soul and Smilin' Through (albeit, the latter's roles are a little more complicated since Shearer doubles as Howard's niece and murdered fiancé). In Romeo and Juliet, they appear to attempt to avoid rekindling audiences' memories of their previous, more mature relationships, and yet Shearer and Howard's cautious behavior is what is criticized when compared to Zeffirelli's actors. While critics have sought to applaud choosing actors who are age appropriate for the roles, critics have dismissed actors who are past their prime, which creates a different problem that hints of fidelity criticism when scholars and critics argue that the 1936 film is too faithful to the text.
Although the reviews were favorable, the tickets sales for Romeo and Juliet were not strong enough to outweigh the two-million-dollar production costs (Balio 192). Recent scholars blame the film's financial flop on the adaptation's adherence to authenticity while downplaying the film's contributions. As Willson affirms, "Hollywood's first full-scale treatment of Romeo and Juliet . . . reveals the industry's conservative approach to filming literary classics and the period's belief that the playwright is an icon whose work must be preserved, not reinvented, even when produced for a popular audience" (181). In agreement with Willson, Rothwell remarks that "Irving Thalberg and George Cukor revered Shakespeare so much that they suffocated his play" (39).5 While Thalberg and Cukor may have had a "conservative approach" to the Bard, their fidelity may have had less to do with "rever[ing]" the playwright and more to do with Thalberg's vision that this film would enhance his wife's artistic reputation as well as that of the film industry.
Thalberg held off producing the picture until sound was established in the industry, arguing that "the screen is equally able to portray the settings appropriate for Romeo and Juliet: the Renaissance ballroom, the moonlit garden of the Capulets, in which a Romeo and a Juliet can charm their audience with the magic of Shakespeare's poetry. This is the new province which the art of the motion picture has now captured" (Thalberg 15). Thalberg's Romeo and Juliet was not only a vehicle for Shearer, but a vehicle for convincing audiences and critics that sound film was a viable, successful way to adapt literature for the cultured and the masses alike. After seeing Romeo and Juliet, Frank S. Nugent of The New York Times praised the film as "a dignified, sensitive and entirely admirable Shakespearean – not Hollywoodian production." The stakes for Thalberg and Shearer were not how to change the play for the screen, but how to create a screen version that audiences and critics would see as Shakespeare, not Shakespeare watered down for non-classical actors like Shearer. As the first actress to play Juliet on screen with sound, Shearer claimed that she hoped she would not be compared to Juliets of the stage (Shearer 233); however, her intense training and Thalberg's careful overseeing of the production make it clear that neither one wanted her to fall short of stage actresses' portrayals of Juliet. Sadly, Thalberg passed away right after the film was produced, so MGM's lack of interest in producing more Shakespeare films after Romeo and Juliet may have had more to do with a change in leadership and less to do with the film's lack of a monetary profit.
Between the years of 1934 and 1938, Shearer starred in three movies that projected her as various period icons of femininity: The Barretts at Wimpole Street (1934), Romeo and Juliet (1936), and Marie Antoinette (1938). With various costumes, lighting design, and makeup to fashion her into character, each movie became another fairy tale for Shearer to star in, yet the fairy tale princess was getting older. Shearer retired from the film business in 1942 (Lambert 319). While Shearer is said to have identified with and reminisced most about her role as Marie Antoinette (Lambert 345), her approach to life after the movies eerily reflects critical commentary regarding whether MGM made the right choice in casting a mid-thirty-year-old woman as the youthful Juliet. She turned down roles out of concern over her age and avoided publicity events (Quirk 236, 242-43). Unlike the days when she played the young Juliet, much to her dismay, Shearer could not mask the wrinkles of time in the last phases of her life. And yet this anxiety over aging is as much Hollywood's and critics' fault as it is Shearer's own insecurities. The aging actor's body, especially the female body, is still regarded as a problem in the industry, one that is often erased in the editing process, diminished through plastic surgery, or circumnavigated altogether by casting a younger woman instead of the more seasoned actress. Rather than acknowledging that age, like any other feature, should not overshadow an actor's noteworthy performance, producers, viewers, and critics alike allow established, narrow casting conventions to interfere with their focus on the ordinary, aging body's success.
Endnotes
1 Two years after Thalberg's early death due to lobar pneumonia (Lambert 232), Shearer starred in Marie Antoinette (1938), another one of her husband's projects, which was based on Stephan Zweig's biography (Flamini 221): this role, like Shakespeare's Juliet, was intended to elevate and preserve Shearer's status as an immortal film icon.
2 Warner Brothers also marketed their production of A Midsummer Night's Dream to schools with price conscious copies of the play (Balio 190).
3 Three years later, her association with the deer is revived for her cameo shot at the beginning of The Women (1939): an animal precedes each main character's cameo, symbolizing each woman's role for the audience. While a deer personifies Shearer's face, Crawford's animal image is a cheetah. Shearer's characters in both Romeo and Juliet and The Women are constructed as innocent victims. 
4 Simon Ryle discusses several reviews that appear to be more critical of Howard's acting and age (158-59).
5 Yet Rothwell acknowledges in Shakespeare on Screen (1990), "I believe the film should be cherished as a masterwork from antiquity: a bit archaic, a little rigid, slightly overdone, but yes, still withal warm and good (KSR)" (249).
Works Cited
Balio, Tino. Grand Design: Hollywood as a Modern Business Enterprise, 1930-1939. Scribner, 1993.
Barnes, Howard. Review of Romeo and Juliet, dir. George Cukor and prod. Irving Thalberg. The New York Herald Tribune. 21 August 1936. Norma Shearer. http://normashearer.com/filmography/1930s/romeo-and-juliet/.
Basinger, Jeanine. The Star Machine. Alfred A. Knopf, 2007.
Black, Gregory D. Hollywood Censored: Morality Codes, Catholics, and the Movies. Cambridge UP, 1996.
Davies, Anthony. Filming Shakespeare's Plays: the Adaptations of Laurence Olivier, Orson Welles, Peter Brook and Akira Kurosawa, Cambridge UP, 1988.
Dehn, Paul. Talking of Shakespeare, edited by John Garrett, Hodder & Stoughton, 1954, pp. 59. Shakespeare on Screen: an International Filmography and Videography by Kenneth S. Rothwell and Annabelle Henkin Melzer, Neal-Schuman Publishers, Inc., 1990, pp. 249.
Flamini, Roland. Thalberg: The Last Tycoon and the World of M-G-M. Crown Publishers, Inc., 1994.
Gwynn, Helen. Review of Romeo and Juliet, dir. George Cukor and prod. Irving Thalberg. Hollywood Reporter. 16 July 1936. The Films of Norma Shearer by Jack Jacobs and Myron Braum, A. S. Barnes and Co., 1976, pp. 210.
Hay, Peter. MGM When the Lion Roars. Turner Publishing, Inc., 1991.
Howard, Leslie. "Romeo." Romeo and Juliet by William Shakespeare. A Motion Picture Edition, Random House Publishers, 1936, pp. 237-40.
Jorgens, Jack J. Shakespeare on Film, Indiana UP, 1977.
Lambert, Gavin. Norma Shearer: A Life. Alfred A. Knopf, 1990.
Nugent, Frank S. "Metro's Film of Romeo and Juliet Opens at the Astor." Review of Romeo and Juliet, dir. George Cukor and prod. Irving Thalberg. The New York Times. 21 Aug. 1936, http://www.nytimes.com/movie/review?res=9E00E0D81E3FEE3BBC4951DFBE66838D629EDE.
Orme, Micheal. Rev. of Romeo and Juliet, dir. George Cukor and prod. Irving Thalberg. The Illustrated London News & Sketch, Ltd. 31 October 1936, pp. 774.
Publisher's Note. A Preliminary Guide to the Study and Appreciation of the Screen Version of Shakespeare's Romeo and Juliet, by Max J. Herzberg, Romeo and Juliet, by William Shakespeare. A Motion Picture Edition, Random House Publishers, 1936, pp. 270.
Quirk, Lawrence J. Norma: The Story of Norma Shearer. St. Martin's Press, 1988.
Rothwell, Kenneth S. A History of Shakespeare on Screen: A Century of Film and Television. Cambridge UP, 1999.
Rothwell, Kenneth S. and Annabelle Henkin Melzer. Shakespeare on Screen: an International Filmography and Videography. Neal-Schuman Publishers, Inc., 1990, pp. 249.
Ryle, Simon. Shakespeare, Cinema and Desire: Adaptation and Other Futures of Shakespeare's Language. Palgrave Macmillan, 2014.
Shakespeare, William. Romeo and Juliet. The Norton Shakespeare, edited by Stephen Greenblatt, et al., 3rd ed., W. W. Norton & Company, 2016, pp. 967-1035.
Shearer, Norma. "Juliet." Romeo and Juliet by William Shakespeare. A Motion Picture Edition, Random House Publishers, 1936, pp. 231-36.
---, performer. Romeo and Juliet. Metro-Goldwyn-Mayer, 1936.
---, performer. Smilin' Through. Metro-Goldwyn-Mayer, 1932.
---, performer. The Divorcee. Metro-Goldwyn-Mayer, 1930.
---, performer. The Women. Metro-Goldwyn-Mayer, 1939.
Thalberg, Irving. "Picturizing Romeo and Juliet." Romeo and Juliet by William Shakespeare. A Motion Picture Edition, Random House Publishers, 1936, pp. 11-16.
Willson, Jr., Robert F. "Star-Crossed Generations: Three Film Versions of Romeo and Juliet." Approaches to Teaching Shakespeare's Romeo and Juliet, edited by Maurice Hunt, Modern Language Association of America, 2000, pp. 179-185.