"I know thee not, old man:" Falstaff on Television
Hugh Davis
In 1968, Orson Welles, while appearing as a guest on The Dean Martin Show, spoke directly to the camera. With the strains of "Greensleeves" playing in the background, Welles sat at a faux makeup mirror (set up so he was looking at the audience when he "looked" into the mirror) and began transforming himself. In a meta-theatrical moment (one that recalled the opening of the then-contemporary musical Man of La Mancha), Welles began donning makeup and a costume while explaining the character he was about to become (see Figure 1). With typical Wellesian flair, he explained that this character might well be a late fifteenth century version of a "swinger" and that "you might even say that he was the great-great-grandfather of all the flower children." Welles, who was adding stage makeup, a putty nose, moustache, and wig as he spoke, was discussing this "huge hill of fat, this ton of man, this reverent vice, this grey iniquity," the great Falstaff, one of Welles' favorite characters. As he put on further padding (joking that it was nice to still need to add some padding), Welles explained that Falstaff "was a funny man; he was a fat man, but he was a great man."
Welles proceeds to announce the character serves as a "spokesman, you might say, for Merrie England...when even villainy was innocent" and emphasizes that, while he might be seen as "one of the boys," he is in fact Sir John, amounting to "a knightly dropout." Just as Falstaff's comments on honor have been linked to a "resistance to moral imperative" (Ardolino 89), Welles links Falstaff to the contemporary counterculture of the late 1960s, proclaiming him both "a bohemian" and "a beautiful bum," "a great expert on wine, women, and song." In a powerful moment showing the cultural potential of television, Welles then completes his metamorphosis as he delivers Falstaff's speech from Act 4, Scene 2 of Henry IV, Part 2, extolling the virtues of sherris sack (see Figure 2). While Welles jokes in his introduction that this soliloquy "is Shakespeare's first, and greatest of all commercials for...booze," he delivers these lines, in character, as a testament to the power and vitality of the imagination and the world.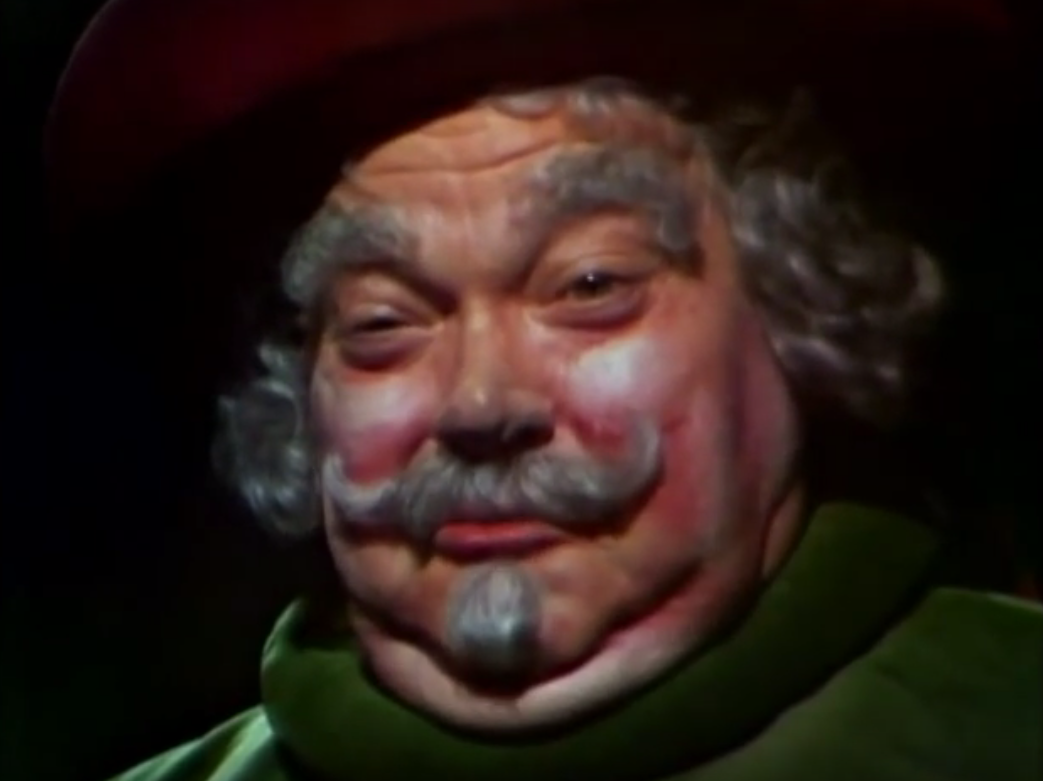 Harold Bloom sees this very speech in the same way, focused upon but not truly about strong drink and being not about distilled spirits but serving instead as a distillation of the energy that surrounds and defines John Falstaff. Bloom notes the lovable knight "is life itself" and exists forever, for he is "among the Everliving" (Falstaff 120); Falstaff's love for and admiration of sack and its power expands beyond a drunkard's exhortations into a tribute to life itself. Just as sack can spark the imagination and, in turn, prompt new creation, so too does Falstaff embody the immortality and excitement of the world. Bloom further notes that, throughout his appearances in Shakespeare's plays and beyond, "the Immortal Falstaff retains his vitality, unmatched in all of Western imaginative literature" (158).
The vital and immortal character of Sir John Falstaff is certainly one of the, if not the, most famous of William Shakespeare's creations, and that larger-than-life figure has long captivated audiences. A dominant and popular figure in the two parts of Henry IV, Shakespeare kills the character off-stage in Henry V, preventing the old knight from overshadowing the story of Hal's ascent to the throne as King Henry. Resurrected (at least according to tradition) at the request of Queen Elizabeth I, Falstaff has continued to be popular with readers and theatregoers, and his appeal has continued to grow over the years, as especially seen through the variety of pop cultural adaptations of the Henriad. Cinematically, Falstaff's story has been most famously (re)told in Chimes at Midnight (1965; dir. Orson Welles) and My Own Private Idaho (1991; dir. Gus Van Sant)1, but the old knight has also been brought to life on television multiple times, particularly in three BBC series which adapt Shakespeare's history plays: An Age of Kings (1960; dir. Michael Hayes)2, the Henriad plays from The Complete Works of William Shakespeare (19793; dir. David Giles), and The Hollow Crown (2012; dir. Richard Eyre4)5. With each production, Falstaff is created, recreated, and re-envisioned, and viewers can witness the evolving presentation of the character.
The history of highlighting and emphasizing Falstaff is a long one. The "Falstaffiad" of the two Henry IV plays (Bloom, Invention 276) has long inspired writers and directors, starting, of course, with Shakespeare himself, with the shift of Falstaff from aged knight and (potentially poor) counsel to the prince to comic lover in The Merry Wives of Windsor. That comedy, by its very nature and structure a departure from the dramatic necessities of the history plays, shows at the very least the flexible potential for plump Jack, and Shakespeare's own decision to shift his creation into a comedic play is the beginning of textual transformations for the character and his world. Just as Falstaff is "always transforming himself, always thinking, speaking, and overhearing himself in a quicksilver metamorphosis" (Bloom, Invention 281), so, too, is Falstaff always being transformed and being rethought and reconsidered. One might even argue that Shakespeare also demonstrates the character's narrative flexibility between the two parts of Henry IV and through his final discussion in Henry V, with the old knight shifting from narrative center in the first part to a more secondary role in the second part, for Falstaff shares the stage with Hal only twice in the latter drama (and with one of those being the rejection scene [Wilders, Part 2 11]), to even being eliminated from the final play of the tetralogy, his death simply the narrated and muted discussion of the Boar's Head Tavern faithful. This "miracle of a character" (Quayle qtd. in Fenwick, Part 1 25) goes from dominating his first play (Fenwick, Part 1 25) to being dominated at times in Henry IV, Part 2 (Wilders, Part 2 11), to having a death scene narrated and announced for the purposes of the audience finding closure for Falstaff (indeed, the recently-crowned king is never informed of the death, leaving only the tavern crew and the playgoers to mourn the loss) (Wilders, Henry V 15).
That flexibility and dominance of the character—even in his theatrical death—speak to the vitality and enormity of Falstaff as a literary figure. Harold Bloom suggests that "Falstaff surprised Shakespeare and ran away from the role originally intended for him" (Invention 272), with the character's instant popularity driving further uses but also prompting the playwright to decrease his subsequent appearances. Bloom further argues that Shakespeare's greatest "tribute to Falstaff is that, belying his own promise to the audience, he dared not allow Sir John to appear on stage in Henry V,…[for] Falstaff needs an audience and never fails to find it" (314). His success in finding an audience has remained clear throughout the years. The "Falstaff spin-off play" Merry Wives of Windsor, while a relatively modest success in the canon of comedies, has served as significant source material for musical adaptations, inspiring the operas Falstaff (1799 and 1893, by Antonio Salieri and Giuseppe Verdi, respectively), the Singspiel The Merry Wives of Windsor (1849, by Otto Nicolai), Sir John in Love (1924-28, by Ralph Vaughan Williams), and Plump Jack (1984, by Gordon Getty), as well as the "symphonic study" Falstaff (1913, by Edmund Elgar) and the musical comedy film The Merry Wives of Windsor (1950, dir. by Georg Wildhagen). Robert Nye's novel Falstaff (1976) reshapes a variety of sources into a prose (fictional) biography, and several dramatic presentations have attempted to craft a singular narrative out of the multiple plays in which the character appears.
As early as 1623, the conflation of the two parts occurred, and several spinoffs and adaptations have been produced over the years (Anderegg 127). The comic knight "became Shakespeare's most popular and influential character in the seventeenth and eighteenth centuries" (Ardolino 89). The Pacific National Exhibition at the San Diego World's Fair offered The Life and Death of Falstaff in 1936, a pastiche play combining Falstaff's scenes from both parts of Henry IV along with sequences lifted from Merry Wives (Loomis 51). In 1939, the Mercury Theatre mounted the first part of Five Kings, a two-part play adapting Shakespeare's two tetralogies;6 the first part, adapted by, directed by, and starring Orson Welles as Falstaff, combined elements from the Henriad and anticipated Welles' 1960 stage production Chimes at Midnight, which, in turn, laid groundwork for the later Welles film.7 A Hungarian film, Sir John Falstaff (1977; dir. Lászlo Vámos & Peter Müller) follows Welles' lead in presenting the knight's story in a single narrative. In the twenty-first century, Jack O'Brien's Tony-winning Henry IV (2003-2004), a single play adapted by Dakin Matthews from the two original, separate history plays and starring Kevin Kline as Falstaff, ran to rave reviews (Brantley, "Falstaff and Hal"), and in 2012, the Playmakers of UNC-Chapel Hill offered in repertory Henry IV and Henry V, offering for the former a singular play which featured virtually all of 1 Henry IV along with the tavern sequences, the death of the king, and the rejection scene from 2 Henry IV.8 In 2015, DruidShakespeare: The History Plays condensed the entire Henriad into one marathon, seven-hour production, while the Donmar Warehouse Henry IV combined the two parts into "one compact and explosive whole" in an all-female production (Brantley, "Henry IV").9
The Falstaffian trait of seeming both always to need and always to find an audience has been clear throughout the years, and, it would seem, directors are drawn to Falstaff even when the text at hand might not require his presence. Loomis notes that neither Olivier nor Branagh could "resist the impulse to put Falstaff into…[their cinematic adaptations of Henry V]; despite the fact that Shakespeare carefully leaves Falstaff out of his account of Henry V's victory over France…, Olivier and Branagh include flashback scenes" in their films (55). While their films tell the story of England's victory at Agincourt from differing viewpoints, each director does include Falstaff in his adaptation, despite Shakespeare's original only involving Mistress Quickly telling of the old man's death. In Olivier's version (1944), Falstaff (George Robey) sits up on his deathbed and is shown in close up (his face falling) while a voiceover recites the rejection speech from 2 Henry IV in a scene of muted color and darkened lights, in contrast to the otherwise brightly-lit Technicolor film. In Branagh's version (1989), Falstaff (Robbie Coltrane) is shown in flashbacks to the Boar's Head scenes.10 With text drawn from both parts of Henry IV, Falstaff speaks the majority of the appropriated lines, with all lines related to his rejection spoken by Hal (Kenneth Branagh) through an echo-tinged voiceover.11 In both cinematic cases, Falstaff proves to be too dominant a character to be left off-screen, and he thus finds his way into the cast of a history in which he did not originally appear. Although "We do not want Sir John Falstaff to die" (Bloom, Falstaff 120), and "Shakespeare will not let us see him die" (151), filmmakers have attempted to offer a death scene and farewell. The tendency to augment one play with lines from another is not limited to the cinema; in 2004, the Virginia Shakespeare Festival directed 1 Henry IV as a standalone play except for one moment at the end, when Falstaff stands, in tableau, and a recorded voiceover from Hal pronounced the "fall to thy prayers" lines from the rejection scene.12 Falstaff's story continually proves too large for a single play.
That large story of Falstaff and his royal companion has been adapted for television multiple times, including two series which are currently unavailable commercially: The Life & Death of Sir John Falstaff (1959), featuring Roger Livesey in the title role for seven half-hours which adapt elements of 1 & 2 Henry IV and Merry Wives, and The Wars of the Roses (1990),13 a series of filmed plays by the English Shakespeare Company dramatizing the sequence of history plays, with Barry Stanton playing Falstaff.14 Viewers can watch this "English epic" (Wilders, Part 1 12) unfold in such productions as Age of Kings, with the Falstaffiad sequence at its heart.15 This live television event offers sweeping productions of each play, and its Falstaff (Frank Pettingell)16 is a dominant but primarily comic figure. He repeatedly takes (literal) center stage (which, in these studio-bound programs, means to dominate an often-small space), and he is played with a lively but authoritative air. Pettingell delivers his lines with a twinkle in his eye and a somewhat light touch, and, though he conveys sufficient gravitas in the role, his performance is at times undercut by the use of "comic" music to score scenes. The return from the Gad's Hill Robbery is played with the blurting of a trumpet in somewhat stereotypical fashion for a comedic overture, and while, at times, this might help punctuate a scene, the majority of these efforts undermine the tone of the scenes with an appeal to a broader—and perhaps lesser—comedic aesthetic. For the most part, however, even amidst occasional spit- and double-takes, Pettingell emphasizes Falstaff's wit and aims for a subtle and thoughtful portrayal, offering a fun-natured but seriously-motivated knight.
Pettingell's wry Falstaff stands in contrast to Age of Kings' Hal (Robert Hardy), a clearly mature and resolute royal. Hal is presented as confident from the start, making it clear he is preparing all along to cast off his tavern friends when he needs to take the throne. This Hal, presented as somewhat older than many portrayals, is calculated and even smug, with his rejection of Falstaff cold and cruel. The rejection is given with an indifferent tone, like a rehearsed line being impersonally and dryly recounted. The newly-crowned king's line is given in such a meaningless way that it takes Falstaff a moment even to realize the full meaning of the words. He then staggers and literally falls to his prayers, helped by his friends as he appears about to swoon while speaking his final lines. In this sequence, the music, which was boisterous and full when Falstaff first encountered his king, has been muted to a barely audible level, and the fanfare recedes as Falstaff's sorrow grows. Bloom declares "the rejection of Falstaff...is a rejection of our own will to live" (Falstaff 149), and the audience joins with the knight in his pain. The production uses its diegetic sound, coupled with a succession of images of the forlorn knight, starting at extreme close-up but drawing back with each cut (until the knight and his entourage of doomed souls are shown from a distant and high angle), to convey Falstaff's (and, in turn, the viewers') heartbreak.
The connection between Falstaff and the television audience is made repeatedly through the times in Age of Kings that the old man breaks the fourth wall. Every one of his soliloquies is given directly to the camera, and the speeches are aimed right at the viewer (see Figure 3). Except for William Squire, who delivers the Epilogue for 2 Henry IV over its credits (while meta-theatrically removing his makeup on-camera, a reversal of Welles' trick from The Dean Martin Show) and who then serves as the Chorus in Henry V, no other actor in this mini-series addresses the camera directly, nor do any other characters within its 947 minutes of running-time break the fourth wall. Only Pettingell's Falstaff is afforded the opportunity to speak directly with the audience, and that trick, afforded through the use of close-ups and the camera's eye, inextricably links Falstaff with his viewers, connecting them uniquely. While actors in "Elizabethan theater repeatedly acknowledge the audience," film and television actors only do so when "intentionally violating film convention" (Crowl 179), and these violations both link the old knight to Renaissance tradition and bring Falstaff closer to the audience than any other character in the series. With Falstaff "a subtle chorus reminding the audience to ask for itself 'Is not the truth the truth?'" (Loomis 49), Pettingell's portrayal reinforces for the viewer that he helps them see that truth.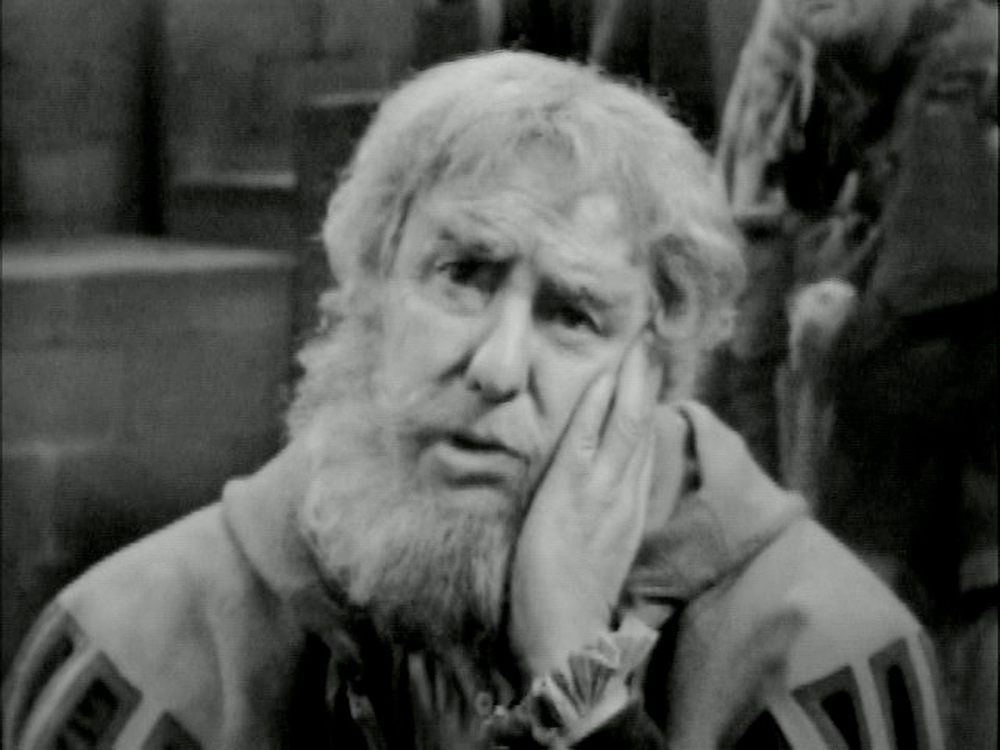 David Giles' Henriad entries for the BBC Shakespeare series also link its Falstaff (Anthony Quayle) and his search for truth with its audience through the use of close-ups and direct address. In both parts of Henry IV, only Quayle's Falstaff gets to address the camera directly, which makes it "as though he were taking us into his confidence" (Crowl 189). While Rothwell felt the "epical Henriad" shrunk "down in scale" (113) on television screens (a criticism which might also be offered about Age of Kings), the installments, while set-bound, are solid adaptations which resonate emotionally and dramatically. They suffer perhaps slightly from an episodic feel, as these installments were created early in the production, when the producers were still finding their vision for the overall series, but Giles seems well in control of the options presented him for the small screen. The connections made through these productions helped forge one of the earliest senses in the BBC Shakespeare of an overall, linked vision for the plays. While Quayle acknowledged the challenges of how big to play Falstaff (qtd. in Fenwick, Part 1 25), Giles' use of varying shots reveals a complete and complex take on the plays. Though he does rely on close-ups to show "those frightened eyes for Falstaff" throughout the two parts (Fenwick, Part 1 25), the shots vary at critical points; the rejection scene is actually broadcast through a medium shot of the king (David Gwillim), intercut thrice with increasingly closer shots of Falstaff, his face falling with each cut. The medium shot of the royal party matches King Henry's soft delivery of the "I know thee not" line; just as the audience is held at a distance, so too is Henry's approach to his old friend. Quayle's Falstaff "leaves the trilogy with tears streaming down his face," his crushed dreams revealed in a final, extreme close-up before he staggers off in a contrasting extreme long shot, stuttering out his final pleas (Messina, Part 2 9) (see Figure 4).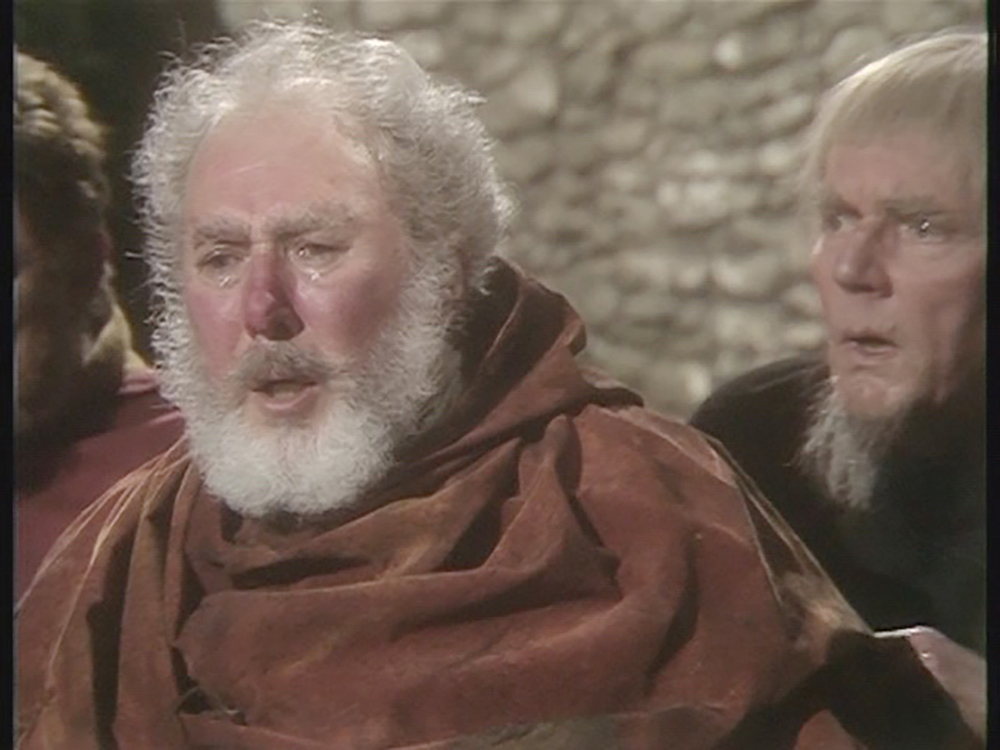 Much of the effectiveness of these telefilms comes from the presence of Anthony Quayle. Playing the role for the third time (Fenwick, Part 1 25), Quayle gives a "remarkable, marvelous performance" (19), becoming the character with whom he is closely linked (Fenwick, Part 2 22). First playing the role in the 1951-52 season at Stratford (in which he performed Falstaff in an intentional production of the entire Henriad sequence), Quayle's portrayals of Falstaff de-sentimentalize the character (Anderegg 129) and presented, on stage and on small screen, a "darker-than-usual presentation" of the old knight (140). While Quayle still mugs somewhat in his delivery of comedic lines, he presents a sober and weary man. Quayle found "a smell about Falstaff of decay" (qtd. in Fenwick, Part 2 24), and he uses those whiffs of decay and age to inform his performance as the old man seeing the loss of his older world.
That sense of plump Jack feeling the pain of a faded dream is also palpably felt in The Hollow Crown's Falstaff (Simon Russell Beale). In between Quayle and Beale's pained Jack Falstaffs sits one oft-forgotten portrayal of the character, when Lynn Mathis played the old knight in "The Prince of Wags," an episode from the 1990s PBS series Wishbone. This children's program involved its titular Jack Russell Terrier (played by a dog named Soccer and voiced by Larry Brantley) narrating the stories of literary classics, which parallel the events happening to the dog's master Joe (Jordan Hall) and his friends. Because the literary work is offered as roughly half of the half-hour episode, "Prince of Wags" is a significantly abbreviated--and significantly sanitized--version of 1 Henry IV. Where the other adaptations have encompassed the full Henriad, this only considers the first half of the Falstaffiad, using the play to parallel concerns about leadership that Joe faces as part of his basketball team. The presentation of Hotspur (Ashley Wood) is faithful to the play, and his rivalry with Hal (represented in the reenactment by Wishbone himself) drives this retelling. Falstaff becomes a secondary character, left with the crowd at the "Merrie Hounde" (standing in for the Boar's Head) and limited in his interactions with Hal. Matthis, who is made up with a long grey beard and hair, plays Falstaff with a twinkle, and the comedic elements are emphasized, such as having him snore comically and loudly prior to having Hal place an apple into his wide-open mouth. This slapstick moment is a prelude to Falstaff asking for the time, with Hal's reply converted to references of "cups of ales" and "if minutes were chickens." The episode includes the Gad's Hill sequence (highlighting the comedy of Hal catching his friend in a lie) and the Battle of Shrewsbury (using Falstaff feigning his death for its humor and then allowing Hal to show his generosity by allowing Falstaff credit for killing Hotspur). The new King Henry's rejection of his old friend is not included (nor would it fit the contemporary narrative based around athletics). Although Bloom suggests "the entire mingled Henriad and Falstaffiad is nothing but that rejection" (Falstaff 143), the removal of that rebuffing lessens its impact and leaves the audience (potential young readers of Shakespeare) with a very polished impression of a gracious Hal. The Wishbone take on the play (the show's only presentation of a Shakespearean history17) keeps Hal, as he grows into his role as a monarch and leader, as the heart of the saga.
Meanwhile, in The Hollow Crown, Beale's "touching, witty…natural" performance is at the heart of its saga ("Making of Henry IV"), and his Falstaff shows a tenderness alongside his flashes of humor which make him a wholly human dramatic creation. Among these productions, Hollow Crown most clearly differentiates the two parts of Henry IV, showing a dampened Falstaff who grows wearier with each exchange. Beale's Falstaff even seems to grow greyer as the scenes progress (see Figure 5). Anthony Sher found Beale's Falstaff "haunted by his own mortality," becoming "not so much a life force as a death's head" (5). Although Sher disagrees with the interpretation, Beale believes "Falstaff is haunted by death from the start" (33), and he plays the aging knight as one progressing towards and confronting an inevitable demise.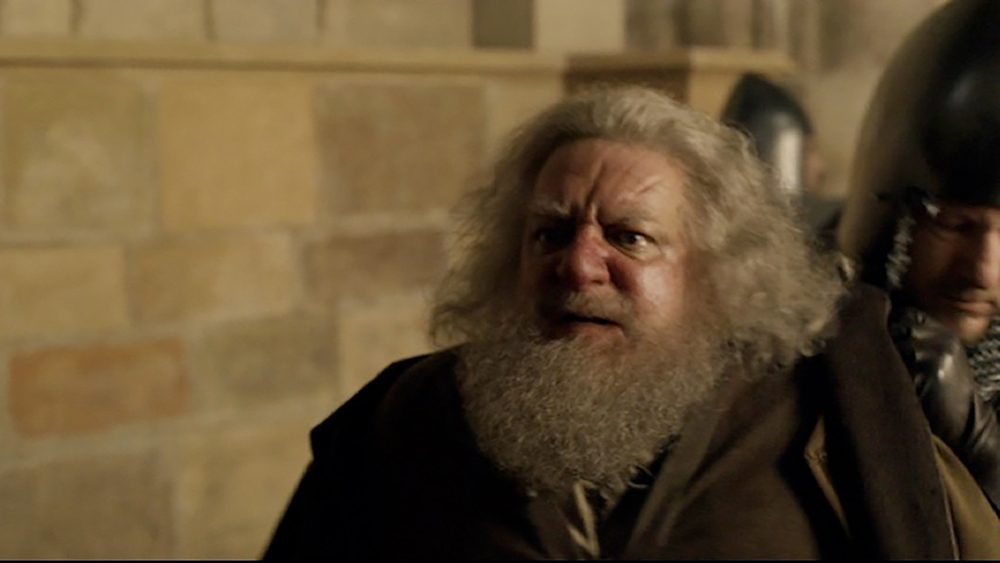 Of the different television presentations, Hollow Crown is the most overt in its use of filming techniques. Instead of being set-bound, it films outdoors and shows a more extensive use of voice-overs to offer characters' speeches.18 Scenes are shown with a variety of intercuts and overlapping visual narrative techniques. Falstaff's rejection is handled in a variety of medium shots and close-ups, with King Henry (Tom Hiddleston) offering a clipped delivery of these lines initially directly to Falstaff and then given to the entire crowd (held in long shots to show the masses). Across these lines, and throughout a sequence dominated by diegetic sound, medium shots show Falstaff's face fall as he staggers and tears up before limping off, held in a close-up as the viewers are given a long, if not longing, view of the forlorn old knight.
Thea Sharrock's Henry V provides one last connection to the old knight in its depiction of the Chorus (John Hurt). This narrative figure, often presented as removed from the onstage action of the play, is instead tied not only to this play but to the entire historical sequence. Henry V starts with King Henry's funeral (transplanted from 1 Henry VI), linking the two tetralogies via this character. As the Chorus gives the Epilogue at the end of the adaptation, scenes intercut with these lines show that the grown Chorus was Falstaff's boy in 2 Henry IV, last shown walking away, lost and alone, as Falstaff was arrested and taken off heartbroken. Sharrock connects the Chorus, who reminds viewers of the need for imagination and the powerful connection between audience and saga, with Falstaff's faithful companion, thus reinforcing the audience's bond with Jack Falstaff.
Audience bonds with Falstaff and the entire Falstaffiad are strong and recurring. Tom Hiddleston saw these plays, and Shakespeare in general, as an "Olympic torch" passed from generation to generation ("Making of a King"). As each generation passes the torch, so, too, do they (re)discover the story of the old knight. Just as the Boar's Head Tavern crowd, and even Hal, orbit the "absurd sun" Falstaff (Messina, Part 1 8), audiences are drawn to him as a character and as a "force of life" (Quayle qtd. in Fenwick, Part 1 26). With each transformation and televised/broadcast Henriad, these Falstaffs allow the viewers to know the old man.
That old man is a "lord of misrule" (Bloom, Invention 272; Desmet 172) and a "Monarch of Make-Believe" (Torrance 111), an imaginative figure who disrupts but who is, as Welles points out, "Sir John," a member of the order and a representative of old England; he is a member, a lord, of the order that his misrule disrupts. The televised Falstaffs tend to limit him, emphasizing the misrule and mischief he might create and suggesting a merely disruptive character. At their most simplistic, the programs play Falstaff solely as a clown and heighten his comedic charms but do so without an acknowledgement of the old knight's pathos.
By intentionally creating versions of the Henriad (as opposed to individual productions of the plays), these small screen depictions of Falstaff actually connect with a theatrical tradition for the plays. Starting in the mid-twentieth century, the presentation of 1 Henry IV as part of a tetralogy (and not as a single play) has become common so that, "toward the end of Part 1, Falstaff is usually well on the road to rejection. The qualities of the character found in Part 2 are read back into Part 1," shaping the presentation of the character (Peat 381). Just as stage productions have pulled elements from the second part into Part 1, the televised versions use those elements to color the view of Falstaff and to shape the narrative slightly. As Peat notes, the plays that follow this pattern focus "on the Hal/Falstaff relationship, the rejection of Falstaff and the development of Hal's character to Kingship," with the effect that, under this outline highlighting elements of the plot, Falstaff has lost some of his importance, especially toward the end of Part 1 (381). These televised productions seek to cover the entire tetralogy, and thus the presentation of all the histories, and characterizations, are influenced by the overall saga and are not presented as though part of a single play. The episodic approach of Age of Kings perhaps most clearly creates the sense of each installment's interconnectedness, but all three of these televised productions have the effect of bringing to life a Falstaff who is affected by his role in the larger context of the Henriad.
Although Peat suggests "there is a tendency to downplay Falstaff's comedy" (382), perhaps the greater danger is not that the televised Falstaffs downplay the comedy so much as they either highlight the clown or highlight his mortality, with limited balance offered. Falstaff becomes, alternatively, a figure of fun and a figure of melancholy. Ironically, given each of these production's endeavors to tell a complete version of the Henriad, such extreme presentations of Falstaff undercut the depth of the character. At its most simplified, Falstaff becomes, what Antony Sher calls, the "Stratford-souvenir-shop image--in this case, a merry old buffer with a tankard of ale" (13); Sher pushes audiences to look past that image and what Shakespeare wrote to see the complexity of the "greatest character part ever written" (23). Sher's approach on stage was to present Falstaff in "a realistic portrait of an addict," but not all presentations of the character might take his approach (120). The televised takes from Pettingell, Quayle, and Beale all do get past the "souvenir shop" image, the Falstaff of beer ads and Toby Jugs, as their contrasting deliveries of the rejection scene reveal.
Falstaff connects to his audience. The "greatest vitalist in Shakespeare" (Bloom, Invention 309), he shares that vitality. In both Age of Kings and the BBC Shakespeare, Falstaff breaks the fourth wall to share moments with the audience. In Hollow Crown, Beale does not break the fourth wall, but the use of regular close-ups (more of him than any other single actor) connects the audience and character through proximity. Falstaff's vitality connects through the small screen. The cinematic Falstaffs, particularly Welles in Chimes at Midnight, dominate the screen but do not intentionally connect with viewers. In My Own Private Idaho, Bob Pigeon (William Richert) is deliberately kept distant, shot through different angles and placed in the background to show that he is already alienated from Scott Favor (Keanu Reeves), that film's Hal. When the film parallels sequences like the Gad's Hill Robbery, Bob dominates scenes, but these sequences are limited, thus limiting the viewers connecting with him. In Chimes, Falstaff is the center of attention and the action, and the audience is clearly drawn to him, but the effect of the big screen keeps him separated from the audience. Welles' larger-than-life Falstaff remains then even larger than the viewer.
The televised productions are more intimate, and the use of regular close-ups and studio-based filming serves to keep Falstaff directly in the action and at the heart of the story. The "creation of Falstaff is a wonder of art" (Sher 71), and that (re)creation in these productions drives and defines the takes on the history plays. The viewers can know the old man and his vitality through these television productions, for the extended connections created through the television camera reinforce the importance of the character. On television, Falstaff finds his home. 
Endnotes
1 For an analysis of Idaho as a modernized Henriad, see "'Shakespeare, he's in the alley'" (Davis 116-121) and "Henry IV, Part I (1596-97); Henry IV, Part II (1598)" (Welsh & Davis 26-28).
2 The DVD release of this fifteen-part series, which dramatizes both history tetralogies, labels it Shakespeare's An Age of Kings, but the on-screen title for the series did not include the author's name.
3 The entire series was produced from 1978-1985, but 1 and 2 Henry IV and Henry V were all produced in 1979; Richard II, the first play in this tetralogy, was produced the previous season, in 1978 (and was also directed by Giles). The Merry Wives of Windsor was produced in 1982 but featured Richard Griffiths as Falstaff and was not made as part of a linked sequence of plays.
4 Richard Eyre directed both parts of Henry IV; Rupert Goold directed the adaptation of Richard II, and Thea Sharrock directed the adaptation of Henry V.
5 The Hollow Crown was screened as part of the 2012 Cultural Olympiad, the celebration of British history and culture produced to coincide with the 2012 Summer Olympics, held in London.
6 The Mercury Theatre was only able ever to produce the first half of this ambitious production; Welles' original scope and plan was perhaps only outdone by his own original plans as a teenager to create a school play, Winter of Our Discontent, a similar amalgam of several of Shakespeare's history plays, in which Welles would play Richard III (France 5).
7 For a thorough review of Welles' ambitious plans and for detailed analysis of his film, see "The Shakespearean Camera of Orson Welles" by Bridget Gellert Lyons (Lyons 3-19) and consult her casebook on the picture.
8 The alternating plays, produced under the umbrella title The Making of a King, were co-directed by Joseph Haj & Michael Donahue, with Michael Winters as Falstaff (and as the Chorus in Henry V). The adaptation and textual selections were credited to the co-directors.
9 In 2016, the entire Henriad was presented in sequence by the Royal Shakespeare Company at the Brooklyn Academy of Music in "King and Country: Shakespeare's Great Cycle of Kings," with Antony Sher as Falstaff drawing out the character's "piteous poignancy" (Isherwood).
10 Coltrane's Falstaff is costumed and made up to match the image of the character in Eduard von Grützner's painting Falstaff mit groβer Weinkanne und Becher (1896).
11 The film includes a third sequence taken from the earlier parts of the Henriad, with the "do not hang a thief" sequence delivered in a flashback but with Bardolph (Richard Briers) giving Falstaff's original line.
12 The VSF production at William & Mary was directed by Gregg Brevoort.
13 The BBC broadcast another mini-series named The Wars of the Roses in 1965 which televised the minor tetralogy of plays. The Hollow Crown was followed in 2016 by The Hollow Crown: The Wars of the Roses, a series of three screen adaptations, offering a two-part Henry VI and Richard III as a mini-series.
14 Stanton also portrayed the Welsh Captain (in Richard II), the Chorus (Henry V), the Duke of York (Henry VI), and the 2nd Murderer (Richard III).
15 Henry IV, Part 1 is split into the episodes "Rebellion from the North" (airing 26 May 1960) and "The Road to Shrewsbury" (9 June 1960); Henry IV, Part 2 is split into the episodes "The New Conspiracy" (23 June 1960) and "Uneasy Lies the Head" (7 July 1960); Henry V is split into the episodes "Signs of War" (21 July 1960) and "Band of Brothers" (4 August 1960).
16 Pettingell also plays the Bishop of Ely in the episodes based on Richard III.
17 In its three seasons, Wishbone also offered versions of Romeo and Juliet and The Tempest.
18 Multiple sequences, particularly those in the Boar's Head Tavern and of Falstaff with Shallow, evoke parallel scenes in Chimes at Midnight, linking the two takes on the Henriad; Welles' film is also one of the most cinematic of Shakespearean films.
Works Cited
Age of Kings, An. Dir. Michael Hayes. Perf. Tom Fleming, Robert Hardy, & Frank Pettingell. BBC, 1960. DVD.
Anderegg, Michael. Orson Welles, Shakespeare, and Popular Culture. New York: Columbia UP, 1999. Print.
Ardolino, Frank. "Falstaff's Anti-Honor Catechism and Sheridan's The Rivals." The Shakespeare Newsletter. 57.3 (Winter 07/08): 89-90, 114). Print.
Bloom, Harold. Falstaff: Give Me Life. Shakespeare's Personalities Series. New York: Scribner, 2017. Print.
---. Shakespeare: The Invention of the Human. New York: Riverhead Books, 1999. Print.
Brantley, Ben. "Falstaff and Hal, with War Afoot." New York Times. 21 November 2003. Web. 10 March 2014.
---. "'Henry IV,' Donmar Warehouse's All-Female Version." New York Times. 11 November 2015. Web. 21 July 2016.
Chimes at Midnight. Dir. Orson Welles. Perf. John Gielgud, Keith Baxter & Orson Welles. Planet Film Distributors, 1965. DVD.
Crowl, Samuel. Shakespeare and Film: A Norton Guide. New York: Norton, 2008. Print.
Davis, Hugh H. "'Shakespeare, he's in the alley': My Own Private Idaho and Shakespeare in the Streets." Literature/Film Quarterly 29.2 (April 2001): 116-121. Print.
Desmet, Christy. "Re-membering Falstaff with Digital Tools." Approaches to Teaching Shakespeare's English History Plays. Ed. Laurie Ellinghausen. New York: MLA, 2017. 172-178. Print.
Fenwick, Henry. "The Production." The Shakespeare Plays: Henry IV, Part 1. Literary Consultant John Wilders. New York: Mayflower Books, 1979. 19-27. Print.
---. "The Production." The Shakespeare Plays: Henry IV, Part 2. Literary Consultant John Wilders. New York: Mayflower Books, 1979. 19-25. Print.
France, Richard. "Introduction." Orson Welles on Shakespeare: The W.P.A. and Mercury Theatre Playscripts. Ed. Richard France. New York: Greenwood Press, 1990. 1-27. Print.
"Guest Starring Orson Welles and Edgar Bergen." The Dean Martin Show. Dir. Greg Garrison. Perf. Orson Welles. 26 September 1968. Web.
Henry IV, Part One. Dir. David Giles. Perf. Jon Finch, David Gwillim, & Anthony Quayle. BBC, 1979. DVD.
"Henry IV, Part 1." The Hollow Crown. Dir. Richard Eyre. Perf. Jeremy Irons, Tom Hiddleston, & Simon Russell Beale. BBC, 2012. DVD.
Henry IV, Part Two. Dir. David Giles. Perf. Jon Finch, David Gwillim, & Anthony Quayle. BBC, 1979. DVD.
"Henry IV, Part 2." The Hollow Crown. Dir. Richard Eyre. Perf. Jeremy Irons, Tom Hiddleston, & Simon Russell Beale. BBC, 2012. DVD.
Henry V. Dir. Laurence Olivier. Perf. Laurence Olivier, Leslie Banks, & George Robey. United Artists, 1944. DVD.
Henry V. Dir. Kenneth Branagh. Perf. Kenneth Branagh, Derek Jacobi, & Robbie Coltrane. Renaissance Films, 1989. DVD.
"Henry V." The Hollow Crown. Dir. Thea Sharrock. Perf. Tom Hiddleston, & John Hurt. BBC, 2012. DVD.
Isherwood, Charles. "Review: Royal Shakespeare Company's 'King and Country' at BAM." New York Times. 4 April 2016. Web. 21 July 2016.
Loomis, Catherine. "Falstaff in America." Shakespeare and the Middle Ages: Essays on the Performances and Adaptation of the plays with Medieval Sources or Settings. Eds. Martha W. Driver & Sid Ray. Jefferson, NC: McFarland & Co., 2009. 49-61. Print.
Lyons, Bridget Gellert. "The Shakespearean Camera of Orson Welles." Chimes at Midnight. Ed. Bridget Lyons. New Brunswick, Conn.: Rutgers UP, 1988. 3-19. Print.
"Making of a King, The." The Hollow Crown. DVD Special Feature. Dir. Richard Eyre. BBC, 2012. DVD.
"Making of Henry IV, The." The Hollow Crown. DVD Special Feature. Dir. Richard Eyre. BBC, 2012. DVD.
Messina, Cedric. "Preface." The Shakespeare Plays: Henry IV, Part 1. Literary Consultant John Wilders. New York: Mayflower Books, 1979. 7-10. Print.
---. "Preface." The Shakespeare Plays: Henry IV, Part 2. Literary Consultant John Wilders. New York: Mayflower Books, 1979. 7-9. Print.
My Own Private Idaho. Dir. Gus Van Sant. Perf. Keanu Reeves, River Phoenix, & William Richert. New Line, 1991. DVD.
Peat, Derek. "Falstaff Gets the Sack." Shakespeare Quarterly. 53.3 (Fall 2002): 379-385.  Print.
"Prince of Wags, The." Wishbone. Dir. Rick Duffield. Perf. Sean Hennigan & Lynn Mathis. PBS. 1999. Videocassette.
Rothwell, Kenneth S. A History of Shakespeare on Screen: A Century of Film and Television. New York: Cambridge UP, 2000. Print.
Sher, Antony. Year of the Fat Knight: The Falstaff Diaries. London: Nick Hern Books, 2015. Print.
Torrance, Robert M. The Comic Hero. Cambridge, MA: Harvard UP, 1978. Print.
Welsh, James M. and Hugh H. Davis. "Henry IV, Part I (1596-97); Henry IV, Part II (1598)." Shakespeare Into Film. Eds. James M. Welsh, Richard Vela, and John C. Tibbetts. New York: Checkmark Books, 2002. 26-28. Print.
Wilders, John. "Introduction to Henry IV, Part I." The Shakespeare Plays: Henry IV, Part 1. Literary Consultant John Wilders. New York: Mayflower Books, 1979. 11-17. Print.
---. "Introduction to Henry IV, Part 2." The Shakespeare Plays: Henry IV, Part 2. Literary Consultant John Wilders. New York: Mayflower Books, 1979. 10-17. Print.
---. "Introduction to Henry V." The Shakespeare Plays: Henry V. Literary Consultant John Wilders. New York: Mayflower Books, 1979. 9-16. Print.